Planning to set up a blog or a site without all the hassles of going into the technical aspects?
Don't have the knowledge of coding or don't want to waste your time in learning the coding to set up a blog for you.
Then you must install WordPress on your Blog or Website. If you are not a user of WordPress, then you must read this post of mine that why you must be using WordPress for your Website or blog. And if you are going to go with WordPress in India then there is the best Hosting provider which are specialized in WordPress hosting, so I am here with a review about that. The Dockerized WordPress hosting solutions from MilesWeb which is designed for everyone – from the non-tech savvy to the advanced user. This will help you to Setup your blog in minutes and start publishing your posts. It's as easy as signing up and providing your details. MilesWeb delivers value-for-money plans that maintain the perfect balance between reliability, speed, the quality on the one hand and affordability on the other.
Why is MilesWeb WP Hosting Different?
Here are the main reasons why you will find MilesWeb's WordPress hosting solutions to be different:
Preinstalled Plugins – You don't want to mess around with different plugins. There are pre-installed essential WordPress plugins that ensure total security and proper functionality for your blog or site. You will not have to bother about installing anything new for the basic functionalities.
Isolated Account – Don't worry about other users hosted on the server affecting your Website or blog. Your site will be fully isolated from them.
Managed WP – MilesWeb manages everything. All you have to do is focus on developing your site or blog to achieve your goals. Leave everything else related to hosting management to MilesWeb.
Latest Updates – The hosting provider also installs the latest versions of WP. The update will take place automatically, and you will not have to search around for the latest patch.
Backup – MilesWeb performs a daily backup. It is also extremely easy to restore the data as and when required.
Professional Themes – You can also choose from thousands of attractive and unique WP themes to make your site or blog stand out.
MilesWeb also runs malware scans to detect and block attacks even before they occur. Not to forget that the hosting company uses branded server hardware (RAID) which further ensure the highest possible reliability.
In simple terms, MilesWeb takes care of everything except your site's content!
Also Read:
How to get a perfect Domain for your blog or website?
So what are the WP hosting plans offered by MilesWeb?
There are three Docker-based WordPress hosting plans on offer. All provide the fastest SSD storage, free dedicated IP, and SSH/SFTP access for single site hosting.
Classic Plan – It offers 14GB of SSD storage and 1.75GB RAM, powered by a 3.5 core processor. This plan is suitable for those with maximum 50K monthly visitors.
Enterprise Plan – This WP hosting plan from MilesWeb is for those who expect a maximum of 100K monthly visitors. It is powered by 3GB RAM and has 24GB SSD storage and a 6-core processor.
Infinite Plan – This plan has 34GB of SSD storage space, 4.25GB RAM, and an 8.5-core processor.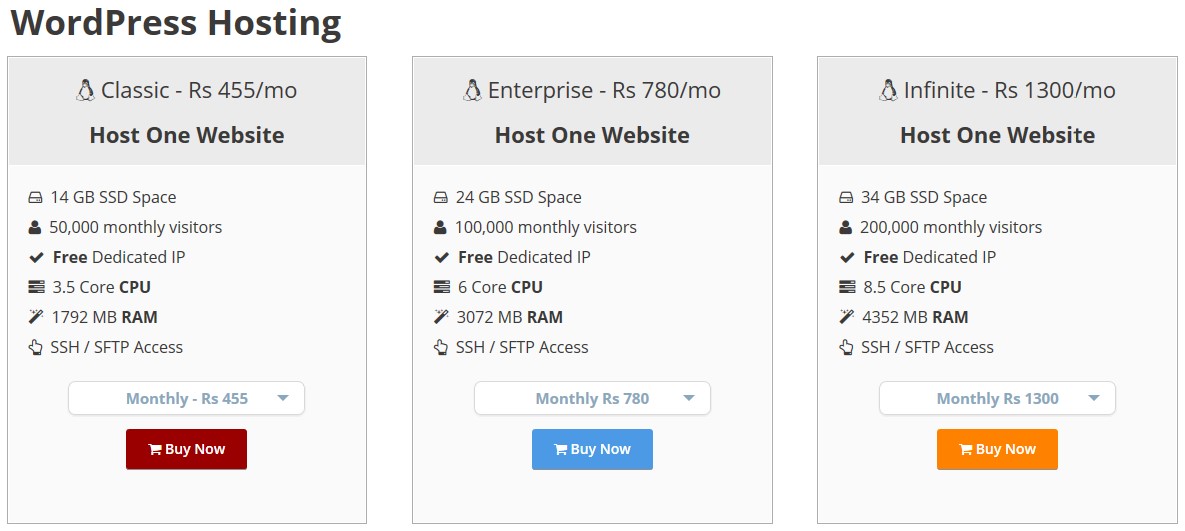 The Classic plan starts from as low as $6.80/mo.
Additional Value
There's more the MilesWeb's WP hosting that makes it stand out.
Technical Help
Most potential bloggers and business owners are worried about the technical aspects of WP hosting, which prevents them from starting their blog/site. MilesWeb's technical team will take care of everything. Setting up your site/blog is as easy as anything. However, if you face any challenges, all you have to do is to contact their technical support.
Free Migration
Many people feel tied down to their current WP hosting provider. MilesWeb provides a simple solution to this problem. They offer free WP migration so that you can easily and seamlessly migrate your hosting provider to MilesWeb. Their team takes care of everything without charging you anything extra.
State of the Art Data Centers
MilesWeb has its own state-of-the-art server infrastructure in the US, UK, India, and Europe. Branded servers using the most advanced technologies are used which help in ensuring the fastest possible load times. This includes the W3 Total Cache, which eliminates the need for additional caching plugins.
According to MilesWeb, the following features further increase reliability, speed, and security:
It ensures network available 100% of the time when planned/emergency maintenance is not required.
Manned data center systems ensure total safety and security.
Power backup and HVAC systems further enhance functioning and reliability.
MilesWeb data centers are located in the most secure and politically stable countries and areas in the world. These locations are:
Atlanta, United States
Brooklyn, United States
London, UK
Bucharest, Romania
Nasik, India
Besides, advanced electronic security systems are used for monitoring access. This also includes a motion detecting security cameras. Security officers patrol their data centers. Some of the main features of the security and safety systems of their data centers include redundant power sources, N+1 redundant HVAC, multiple network carriers, smoke detection systems, and diesel generators.
Customer Support
MilesWeb has a dedicated Technical Support department. They are available 24x7x365 without any holidays or break. If you face any technical issues, you can instantly get in contact with the technical team via multiple modes including:
Live Chat
Email
Help Desk
Toll-Free Phone
Besides, there are respective departments that handle your sales, billing, and abuse related queries and complaints. It has professional and experienced customer support teams who are not only highly dedicated; they are also courteous in their approach – something difficult to find in this highly technical industry.
Conclusion
MilesWeb's WordPress hosting solutions are affordable while also being high-quality. Reliability and speed are the most important factors in this industry, and this hosting provider stands out due to its premium-quality server infrastructure. With such an infrastructure, it sounds more than reasonable that it has a guaranteed uptime of 99.95%.
MilesWeb's WP hosting solution is also backed up by the anytime money back guarantee. So if you don't want to continue with the plans at any time, you can ask for a refund. The company offers a refund after deducting the charges for the number of days of use. It's difficult to find another WordPress hosting solutions provider that offers such a perfect match for quality and affordability.
Although, if you are a beginner and looking the plans for your startup then you should check out this.
Get the cheapest Webhosting from Godaddy.
or
Get Hosting with free domain for $11.88 USD per year.