How Much OTT App Development Cost in 2022?
OTT apps (Over-the-top) are ultra-modern video streaming platform that enables you to watch shows of your preference. You can view these on their desktops as well as handsets. In the last few years, OTT has developed at a fast pace.
In Q4 2020, 239 billion hours were spent using video streaming apps on mobile devices all around the world.
When it comes to streaming media, OTT mobile apps and TV apps are used 65% of the time rather than browsers.
Worldwide OTT traffic grew by 198% between April 2019 and April 2020.
In Q1 2021, Roku was the most preferred OTT TV device in North America, accounting for 37% of total TV viewing time.
In Q4 2020, 240 billion hours were spent using video streaming apps on mobile devices all around the world.
Between 2020 and 2021, OTT streaming to TVs surged by 115%.
The total income generated in the OTT platforms: 51.58% comes from advertising video-on-demand (AVOD), 40.16% from subscription video-on-demand (SVOD), 5.1% from transactional video-on-demand (TVOD), 3.16% from Video Downloads (EST)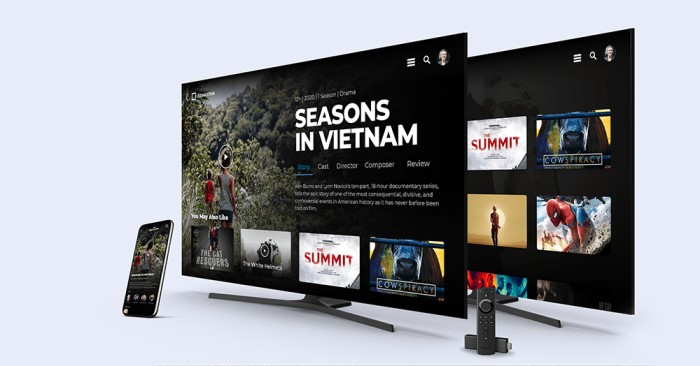 Major Factors that Make OTT Apps So Popular Among Viewers
1. Reduced Costs
Viewers frequently believe they are overpaying for cable subscriptions, which provide less access and control. OTT allows them to save money while also upgrading their viewing experience. At a fraction of the cost, OTT apps provide high-quality content. Viewers can save a lot of money by subscribing to several different services.
2. Accessibility Across Devices
The viewers have become habitual to viewing what they want, where they want. This basic functionality is offered by the OTT solution. Now, they can resume the show & continue to watch it whenever they want to.
3. Customization and Control
The viewers are willing to pay extra to have greater control over what they watch & which must reflect their distinct preferences and priorities. They are willing to pay more to have their video viewing experience customized. The majority of OTT subscribers have several subscriptions.
How Much Does an OTT Platform Cost to Launch?
A professional-grade OTT app development takes a lot of time and effort. While there are numerous advantages to developing your own app, gaining those advantages will take time and money. The entire cost to develop an OTT video application is determined by the following factors:
1. Developer Size and Location
The people you hire have a significant impact on the OTT app development cost. Labor arbitrage is used by many businesses to reduce development expenses. Others, even if it costs more, depend on dealing with local partners they can trust.
2. Compatible Platforms
One of the key benefits to create an OTT app is platform compatibility. However, not all apps work on all platforms. You may need to be careful about which platforms provide the most value to your audience and gradually add additional ones over time.
3. Required Tech Stack
A huge range of different technologies is used in the OTT app development process. This is the "stack" of technologies that the OTT app builder uses to create the final product. Moreover, each one has its own set of costs.
Compelling Reason to Launch Your Branded OTT Streaming App
Here are the much-known reasons to invest in OTT applications. These brief you on a few key benefits of OTT platforms for your business growth:
1. New entrants have great business opportunities
In 2020, the expected access revenue from a category of roughly 90 OTT apps was increased by 35%. This results in a profit of $29.6 billion. Surprisingly, the value is expected to rise to $30.9 billion in 2021 and $59.4 billion by the end of 2023, more than doubling the amount predicted in 2020.
2. Greater brand visibility of your streaming service
If your branded OTT app is available in a platform's app store, it raises your brand's visibility among potential subscribers. App store visibility puts your brand on the OTT market and makes it more viewable to end customers.
For example, if you develop an OTT app for Android, iOS, Android TV, Roku, and Apple TV, your users will be able to install it from the appropriate app stores and begin streaming immediately.
3. Apps allow for a more customized streaming experience
Personalization is offering content to your audience depending on their location, interests, behavior, & more. It is easier to provide a more tailored experience to end-users with an OTT app. When you create an OTT app, your end users can set up their choices on which personalized content is provided to them when they first open the app.
4. Increasing revenues through a profit-driven approach
It's safe to invest in OTT app development for anyone who has an OTT channel and wants to interact with their audience. Users' subscriptions provide a significant portion of the revenue for OTT apps.
Conclusion
The demand for OTT platforms is expected to increase in the coming years. Therefore, one can leverage this opportunity to build an OTT app. With a white-label OTT app solution, developing it in 2022 will be simple. As a business owner, developing your own OTT platform may be appealing. It gives you complete control over your content, video monetization strategies, and a range of other things.
Suggested:
Top 10 Best Frameworks For Android App Development In 2022.
Mobile App Development In 2022- Cost, Advantages, And Much More.
 How to Fix Hulu Network Error?
Use Roku hacks to watch free movies and TV shows.