Today, there are over 7 billion people who have mobile devices. And these people spend as much as 4.2...
Looking for the best doctor on-demand app development company and wanting to know which one is the best, the...
How Much OTT App Development Cost in 2022? OTT apps (Over-the-top) are ultra-modern video streaming platform that enables you...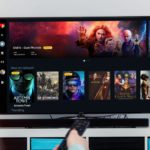 As you know the outbreak of COVID-19 has forced the bank branches to shut down along with other industries....
We all could use a little extra cash. Right? Money-making apps are an awesome idea to earn. Well, lucky...
In 2021, React Native was the second most used cross-platform mobile framework by developers worldwide, with a market share...
Mobile applications have transformed the retail industry as a whole. Out of all the mobile applications available, on-demand grocery...
The smartphone is becoming an essential tool for digital media success. It fundamentally changes company structures, operating models, and...
The rapid capture of mobile technologies in the previous decade has given users complete control over their life. Everyday...