You could be a craftsperson wanting to sell your creations to discerning clients. Or a small retailer looking at expanding the business. Maybe a housewife that wishes to popularize her amazing range of homemade cookies, pickles, sauces or other stuff. In short, we can say you are looking for something or the apps to sell stuff online as well as offline.
The question is: how would you sell your stuff in the local market and get the highest possible number of customers?
Word-of-the-mouth publicity, door-to-door visits, tie-up with a local store are all fine. Unfortunately, these time tested and proven techniques don't really guarantee you would be able to sell stuff in the local market.
So what are other available options?
Selling online, especially through apps.
Apps to Sell Stuff in Local Market?
Exactly. Maybe you're unaware, but there're several excellent apps available free or for a very small charge that can help sell stuff in the local market.
Regardless of what stuff you're selling, it's very easy to do so through some of the best and most popular apps that are common among mobile phone users in India. These best apps to sell stuff in the local market.
Several factors including a number of users and popularity as well as the type of stuff that sells in the local market decide the best 11 apps to sell stuff in the local market.
Best 11 Apps to Sell in Local Market
Whenever you're selling something, it's best to go for apps that have the highest use or are very popular among Indians. Here's our list of 11 best apps to sell in the local market.
With more than 400 million users across India, WhatsApp is the most popular instant messaging app in India. Another variant of WhatsApp, known as WhatsApp Business is also available free. You can link WhatsApp Business with WhatsApp, without changing your phone number. Or you can use an altogether different mobile number for the two.
WhatsApp Business allows you to advertise, sell products, send and receive money over the app. You can create a business profile, manage customer messages and orders, connect using a landline phone and on a computer. WhatsApp Business is the best app to sell stuff in the local market.
Second, on my list of best apps to sell stuff in the local market is Facebook Marketplace. With over 241 million users across India, Facebook is the most popular social networking platform. You can use Facebook through its website or download the Facebook app.
Regardless of how you use Facebook, it has an option known as Facebook Marketplace. You'll find the 'Sell' button on your Facebook app. Click on the button, take or upload pictures of what you're selling, write a brief description, price, and post. The feature is free to use. However, you can also upgrade to the paid version if you like. Facebook Marketplace enables you to set up a payments system as well.
Amazon Seller ranks as the third-best app to sell stuff in the local market: nearly 1.5 million Indians use this app. This is ideal for a craftsperson or small business owner. Visit the Amazon India website and register as a seller. If you don't understand then you can use some detailed guide to learn better. Amazon India doesn't charge any fees to register or display your products on its website and app: you'll pay a small commission only on successful orders.
Whatever you're selling will also appear on the Amazon India website and app. You don't have to worry about setting up a payments system with Amazon India website or app: the company collects money from customers and pays you after the 'Returns' period is over. Amazon Seller app allows you to upload or remove products, change prices when necessary. It's ideal for local businesses looking for customers across the country.

With nearly 1.3 million users, Flipkart Seller Hub ranks as the fourth-best app to sell stuff in the local market. This app is useful for every craftsperson and small business that wants to sell across India. To use Flipkart Seller Hub, you'll have to register as a seller on their eCommerce website and create an account.
Flipkart Seller Hub allows you to view orders, add or remove products, check payments and other details. There's no need to set up an independent payment system since Flipkart manages it on your behalf: they'll collect the money and credit to your account after the order is delivered and there're no returns.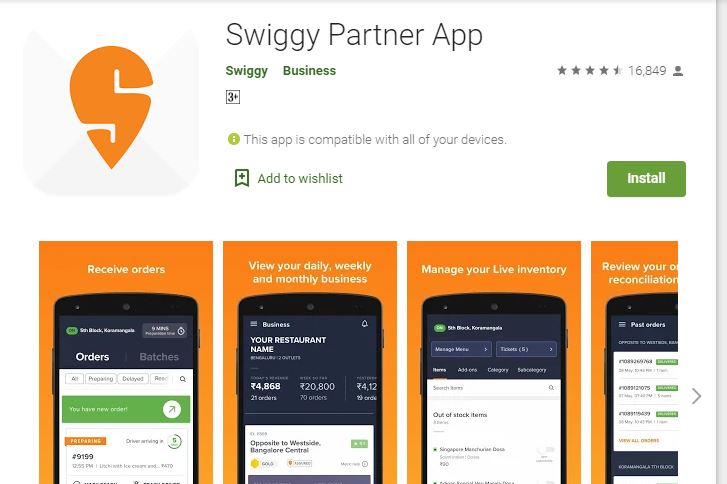 Owners of small restaurants and local eateries, as well as home-based food businesses, can use Swiggy Partner to sell their stuff in the local market. As you'll most likely know, Swiggy ranks among the topmost food delivery services in India. They operate in most Indian cities and towns. Swiggy Partner has more than 500,000 users in India.
Swiggy delivers food from large, multinational franchise chains to home-based food businesses or 'Tiffin' services. You can upload or alter the menu on offer for clients. Since this is a food delivery app, your stuff will be sold within a small area only, where Swiggy delivers. Swiggy manages your payment and credits the money to your account. Customers can also review your food.
Zomato has yet to enlist home-based food businesses. However, Zomato Business it's a perfect app for local restaurants and eateries. Owners can register their food business on Zomato Business, upload menu with rates and await orders. Zomato displays your menu and rates to local clients only since food has to be delivered rather quickly.
Over 100,000 meal providers across India use Zomato Business to promote their restaurants. You get an opportunity to compete with some of the topmost names in your neighborhood as well as foreign franchise food outlets. Customer reviews and other vital information is available for you on Zomato Business app.
OLX India app has whopping one billion users across India. Actually, OLX India app is more of a classifieds platform: you can post anything for sales such as used vehicles, mobiles, electronics, furniture, and other stuff. OLX India app also accepts classifieds for buying, selling and leasing real estate. The app comes with a feature to access your mobile phone camera and dashboard to post pictures and description of stuff you wish to sell in the local market.
Though OLX India is a fantastic app to sell stuff in the local market, you've got to take some precautions. This is a classifieds app and hence, your post can be buried under a deluge of similar ads in a specific category. Some reviewers also claim that scammers and fraudsters use this app for buying and selling. However, this is a world-famous app to sell stuff in the local market. Transactions are directly between you and the buyer.
Sell vehicles, electronics and domestic appliances, furniture, clothes, mobiles and almost anything on Quikr app. Over a billion people in India use Quikr app, making it among the topmost apps in its genre. Quikr also caters mainly to a local audience. That's because no customer from a distant location will want to buy your stuff.
Quikr app comes with a feature to post pictures from your mobile and dashboard to provide details of the stuff you're selling. Due to a high number of Quikr app users, you may find uploading free classifieds a bit difficult. Furthermore, chances are your classifieds would get hidden under fresher posts. Hence, it's best to keep posting the same ad frequently if you're serious about selling. Quikr doesn't have a payment gateway. Hence, all deals are directly between you and the buyer.
Locanto is a local marketplace with lots of amazing features. The Locanto app also comes with an in-built chat feature that allows potential buyers to ask you questions about whatever you're selling. Locanto app is specially designed to promote selling locally. Again, Locanto is a free classifieds app where you can advertise whatever you're selling. However, its marketplace feature allows people to specifically zero down on stuff they're looking for. All deals are strictly between you and the buyer and Locanto have no role in your transactions.
It's possible to post all sorts of classifieds on Locanto- from your own small business to homemade stuff, old or new products and even specific services. With over a billion downloads, you can well imagine the popularity of Locanto. You may face some delays in getting your classifieds online with Locanto due to the high volume of users that slow down the app sometimes.
Etsy is a wonderful app if you're going to sell something special or handmade or unique. However, Etsy doesn't operate a free service but you can get a short, seven to 30 days. The trial period depends on where you live. You'll have to visit Etsy.com and create a username and password. Later, you can open your own marketplace or store with a unique name and list your stuff. Etsy also allows you to post pictures of the stuff you're selling and brief descriptions.
If you've something really exclusive or exquisite and high value to offer customers, go for Etsy. Their marketplace attracts customers from around the world and top local buyers. Means, you're assured of getting the best prices from genuine customers. You'll require a PayPal account to open a marketplace on Etsy.com to get money from customers. It's an international app that operates in India as well.
And finally, another international favorite, Shopify that also has an excellent presence in India. Shopify is also a paid service in India. You can open own online store using the Shopify platform. This feature enables you to create and market own brand. Shopify caters to foreign clients as well. However, you can select the target audience for your stuff through their region wise settings.
Altogether, Shopify helps you own an online marketplace without investing on an eCommerce website. It is perfect for those selling handcrafted and upmarket stuff. You can make a lot of money using Shopify of you've got lots of assorted things to sell.
In Conclusion
Before finalizing an app to sell stuff in the local market, check their pros and cons. That's because you won't need an expensive app to reach a select clientele. Or the other way around. Also, calculate how much fees or commissions you'll have to pay and at what price you can sell your stuff to ensure you're in profits.
Ends.