Today, there are over 7 billion people who have mobile devices. And these people spend as much as 4.2...
Looking for the best doctor on-demand app development company and wanting to know which one is the best, the...
ReactJS is one of the most popular front-end JavaScript frameworks today, and it's growing in popularity every day. It's...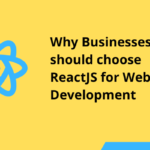 In today's digital-first economy, two vital elements drive progress: Application Programming Interfaces (APIs) and mobile applications. The two are...
2022 is already in full swing and so should Instagram style and strategy. In the last couple of years,...
As you know the outbreak of COVID-19 has forced the bank branches to shut down along with other industries....
We all could use a little extra cash. Right? Money-making apps are an awesome idea to earn. Well, lucky...
In 2021, React Native was the second most used cross-platform mobile framework by developers worldwide, with a market share...
Mobile applications have transformed the retail industry as a whole. Out of all the mobile applications available, on-demand grocery...