The email marketing campaign is all around us. Daily, we receive dozens of promos, newsletters, and cold emails. All the emails (or almost all of them) are pretty-crafted and reach the people they are supposed to.
Before I got into email marketing, I wondered how marketers manage to do so many things, how they find addresses, and how they create and send emails. Now, I know that! They do not do any manual work: they use a few automation tools that support them.
And today, I'd like to show three must-have tools you need for a successful email marketing campaign.
An email hunter
If you are doing cold emailing, that's the first instrument you need to get.
An email hunter, or an email finder, is an automation tool that helps professionals generate leads and their email addresses. With the help of an email finder, you can create lists of leads with their professional information for further outreach and conversion.
Every email hunter is unique and performs a search according to their own algorithms and implemented search options. Depending on the tool, you can find either an email address only, an address with basic info about a lead, or the full professional profile.
In general, there are two large groups of finders, offline and online. The first group is rather demanding and limited (PC requirements, no cloud storage, one-PC access, regular updates). This is why professionals prefer online tools, aka SaaS, as they are a far better and more flexible option:
You can access them from anywhere.
You can pay monthly or for a certain amount of found emails.
Integrations with other platforms or a part of an all-in-one instrument.
An extension that works on different pages (search engine results pages, LinkedIn, companies' websites).
You know, the web bursts with such instruments and it can be difficult to choose the best one. Let me help you make the choice. I've compiled a shortlist of the best email finder tools for you.
Snov.io Email Finder
This email finder goes as a part of an all-in-one platform. It performs single and bulk email or domain search, boolean search, social URL search, and a few more. With the Snov.io Email Finder extension onboard, you can analyze LinkedIn pages, get email addresses from the search engine results page, and much more.

Price per 1,000 found addresses: $39/mo. Trial with up to 100 found emails per month.
Prospect.io
This email finder is more expensive than the previous ones and doesn't have a free trial. It also provides domain and bulk search together with full prospects' profiles. Yet, it doesn't perform a search from links to social URLs, company profiles, or bulk domain searches.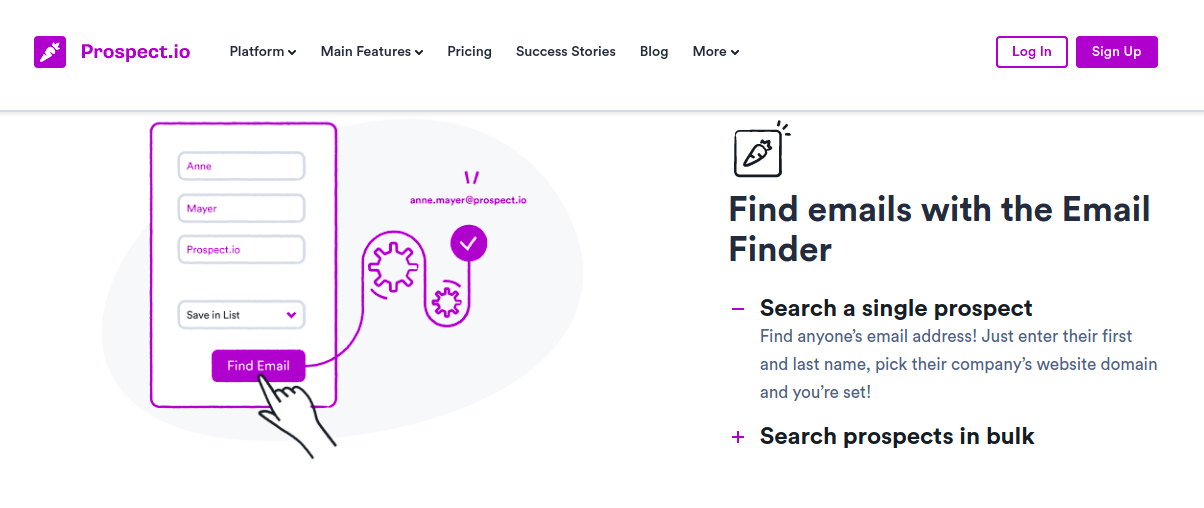 Price per 1,000 found addresses: $129/mo.
An email checker
Whether you are dealing with cold leads or clients, you need to have an email checker at hand. This is a real must-have tool for every email marketer and the sales rep who cares about the email deliverability and their sender's reputation.
An email verifier is an email marketing instrument that checks the email addresses on your list for validity and deletes the invalid ones. This way, you will send your emails to valid accounts only: the bounce rate will stay low while your sender's reputation will grow. As a result. you won't spend time and money in vain on abandoned and inactive email addresses. How awesome is that?
To choose the best email verification service, select the one that:
Has both single and bulk email verification options
Offers a browser extension for fast access
Performs at least 7 steps of the email check: syntax, gibberish, domain existence, MX-record, domain catch-all status, SMTP, and freemail
Suits your business budget
Provides a free trial to see if the service suits your needs
These 5 points are the key ones for professionals. Also, you can analyze if the tool integrates with other platforms and tools. Do not forget to look through reviews and comments to see what other people say about this or that tool. That's always useful.
Snov.io Email Verifier
Snov.io Email Verifier is a tool provided by Snov.io apart from other instruments. It performs a 7-step verification to guarantee the highest quality of your email list. It detects catch-all domains and lets you decide on what to do with them, send emails or delete them. With 98% deliverability, it helps decrease the bounce rate to a minimum and improve your sender's reputation. Besides, Snov.io Email Verifier provides the highest level of check: the anti-greylisting technology that provides high-level verification quality.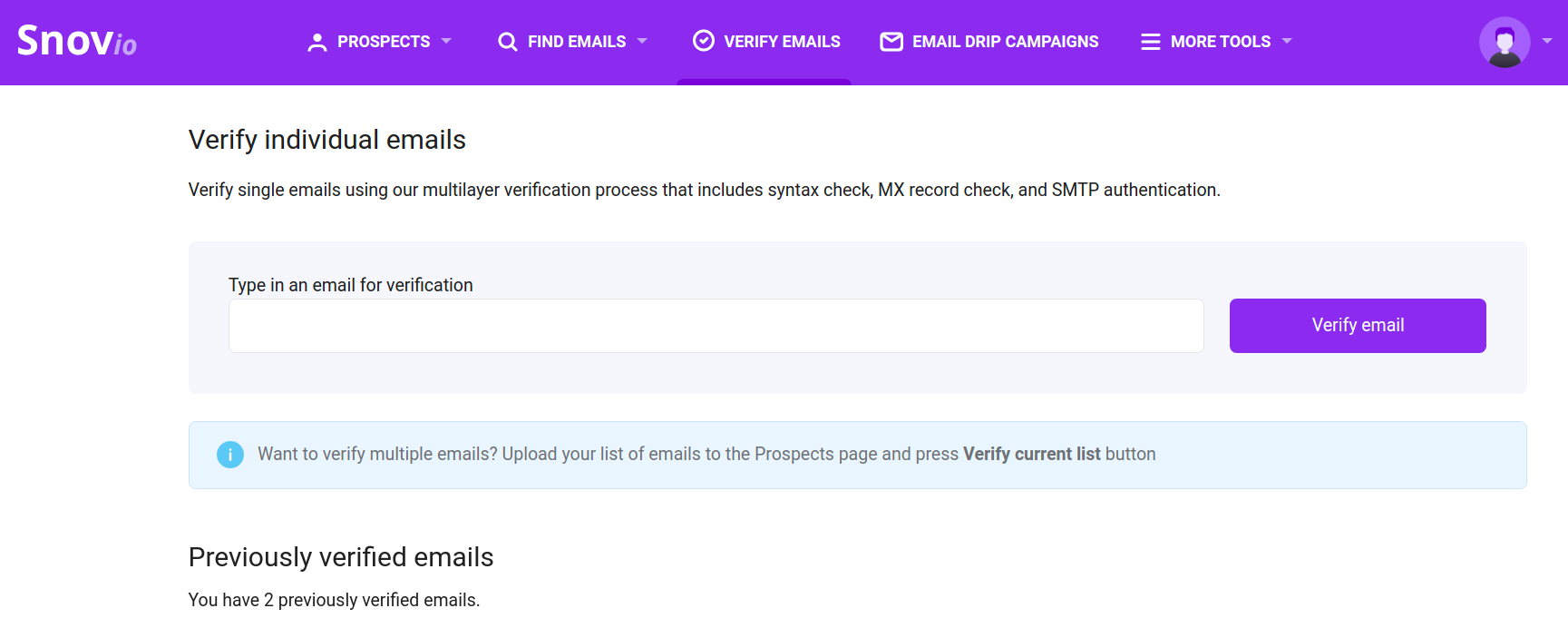 Price for 10,000 checks: $69/mo. Trial with up to 100 free email checks per month.
ZeroBounce
ZeroBounce goes as a single tool for email verification only. You can check single emails or upload a list of addresses; if necessary, you can download your list of verified emails. Besides, you can choose a pay-as-you-go plan.

Price for 10,000 checks: $68/mo. Trial with 100 free email checks per month.
Hunter
The Hunter's single email verification is performed in 7 steps and the results include format, type, server, and domain statuses. Also, it provides the sources of the email address was found at. You can also upload files with addresses for verification. Note that Hunter doesn't validate webmail addresses.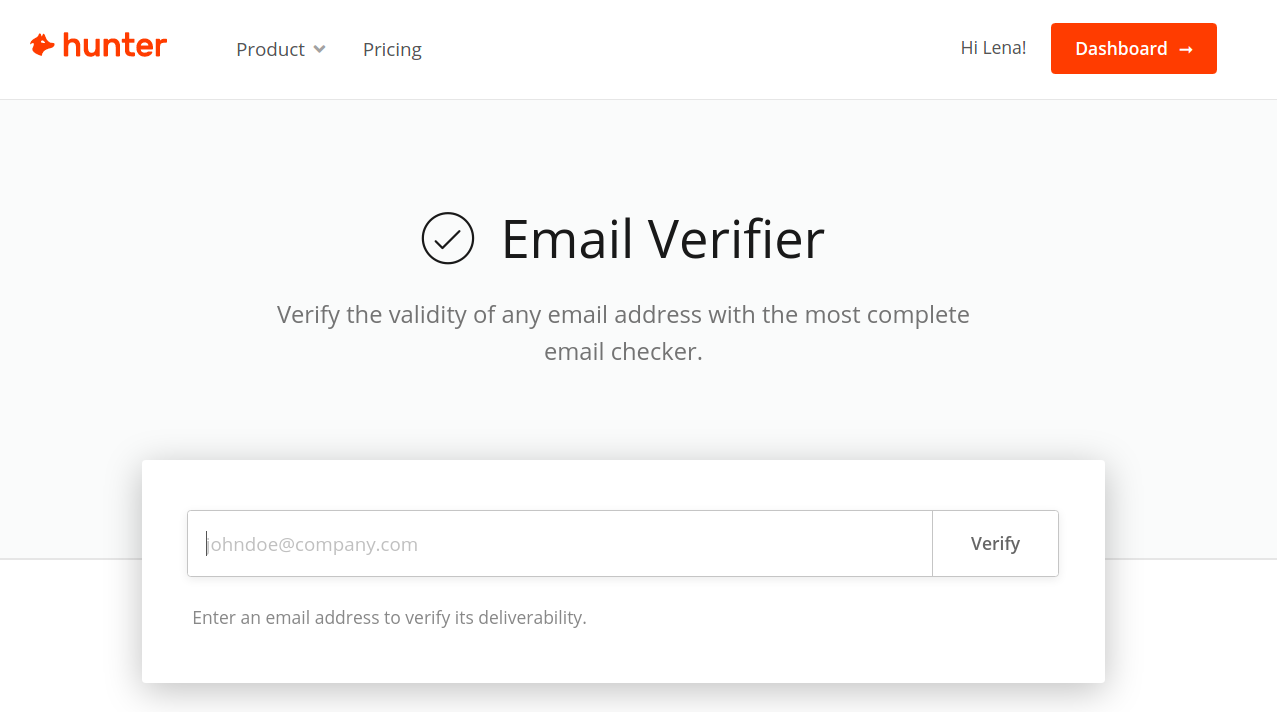 Price for 10,000 checks: $199/mo. Trial with up to 50 free email checks per month.
Email templates creation
An email is a masterpiece. Especially, when it comes to B2C, the emails burst with creativity! Of course, plain-text emails are also a great option but still, to attract leads and catch their eyes, it's better to use a special tool and create an HTML one. The tools below will help you. Choose the one that fits you best.
Stripo
To craft an email with this tool, you do not need any HTML skills. Their easy-to-use drag-n-drop editor will help you design attractive templates for your email marketing strategy. The system provides 350+ free-to-use templates, works with over 40 ESPs, and allows you to filter templates by industry, type, seasons, or features.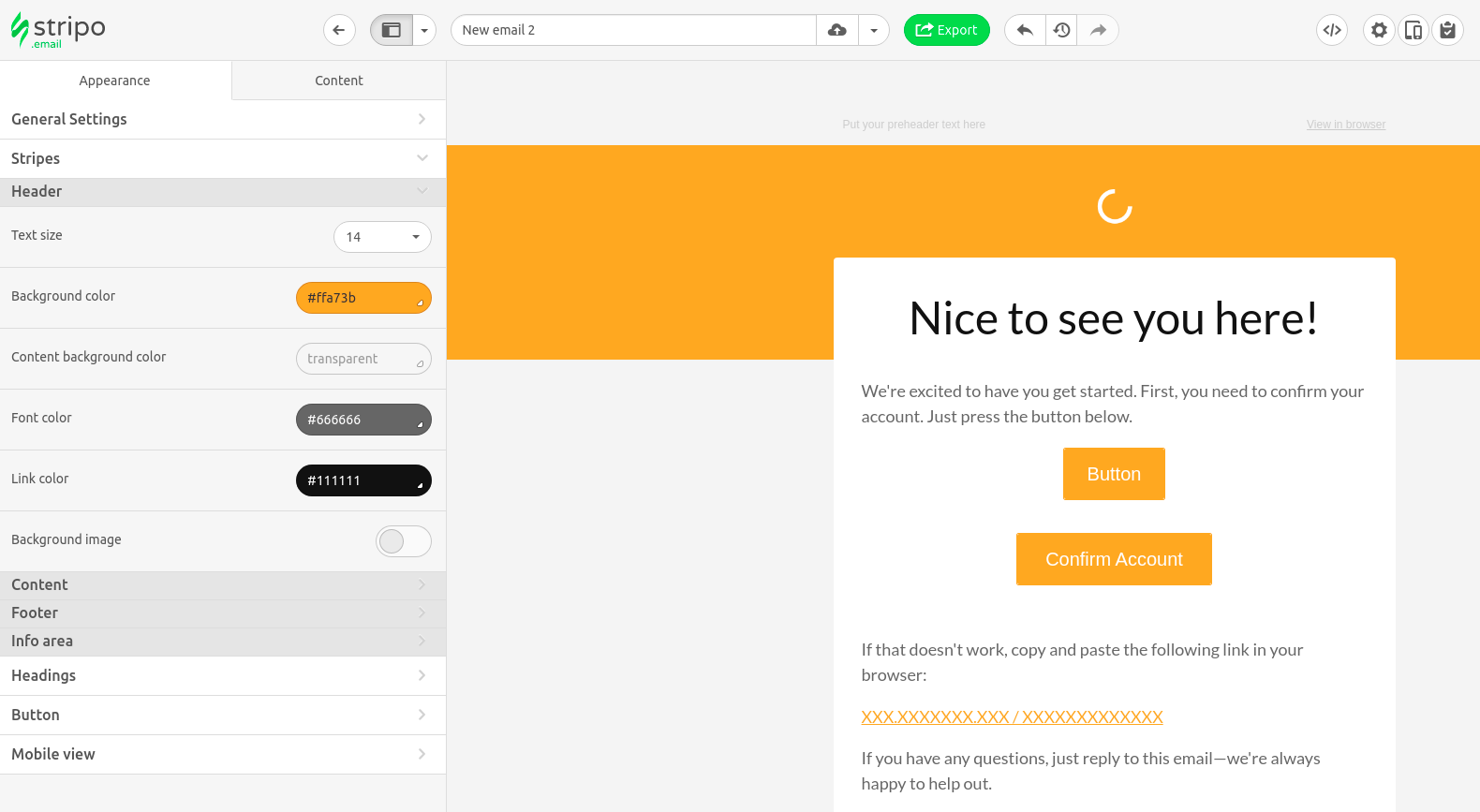 Price: $125/year, unlimited free trial.
BEEFree
The platform provides 460+ email templates. You can create templates according to a few filters: industry, type, and author. Just drag and drop the elements, change the text, add the alt text, update images, and download the template. Then, just copy and paste the code into your email, and voila!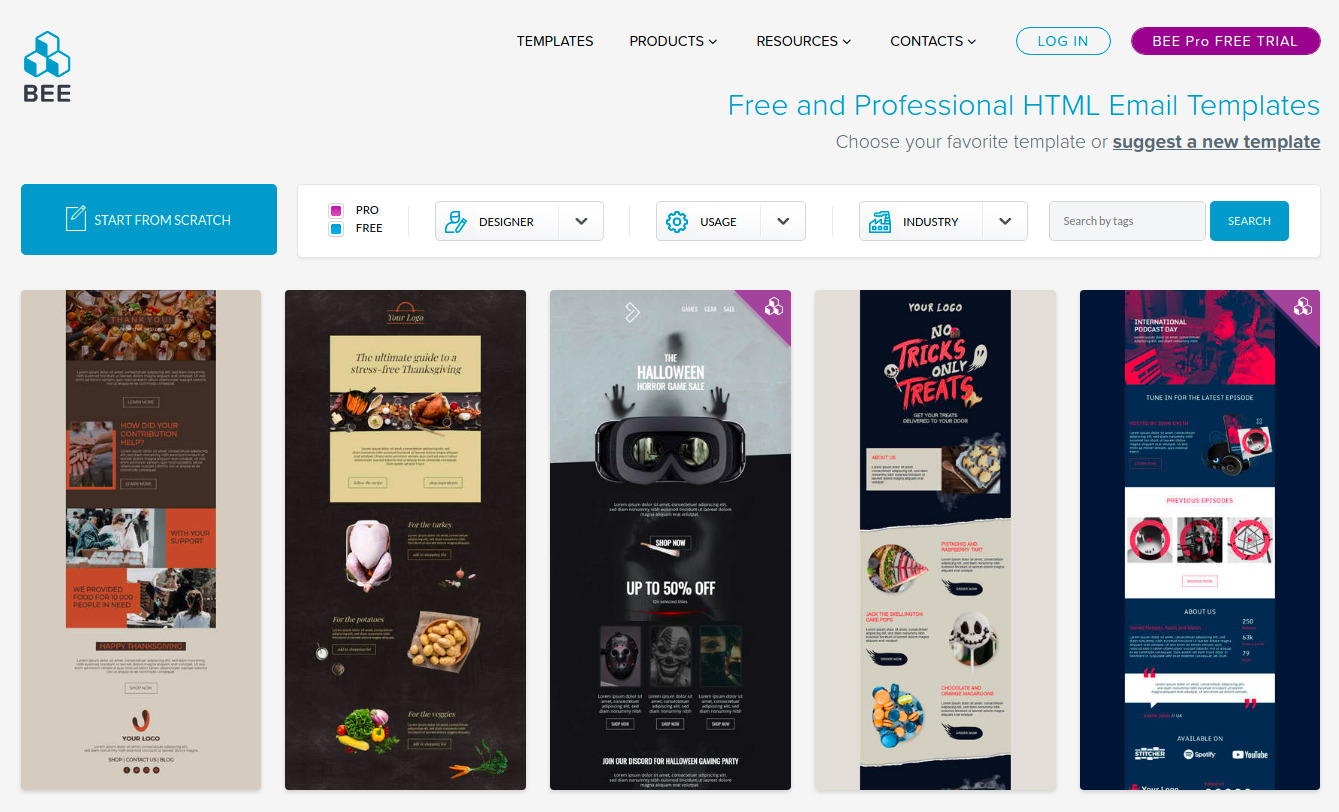 Price: $150/year, 15-day free trial. 
Unlayer
The drag-n-drop editor makes it super easy to design a converting email template. You can add images, social links, columns, menus, dividers, and more. Additionally to that, you can edit the mobile version of an email and insert your own tags (variables). Though, there are no ready-to-use email templates.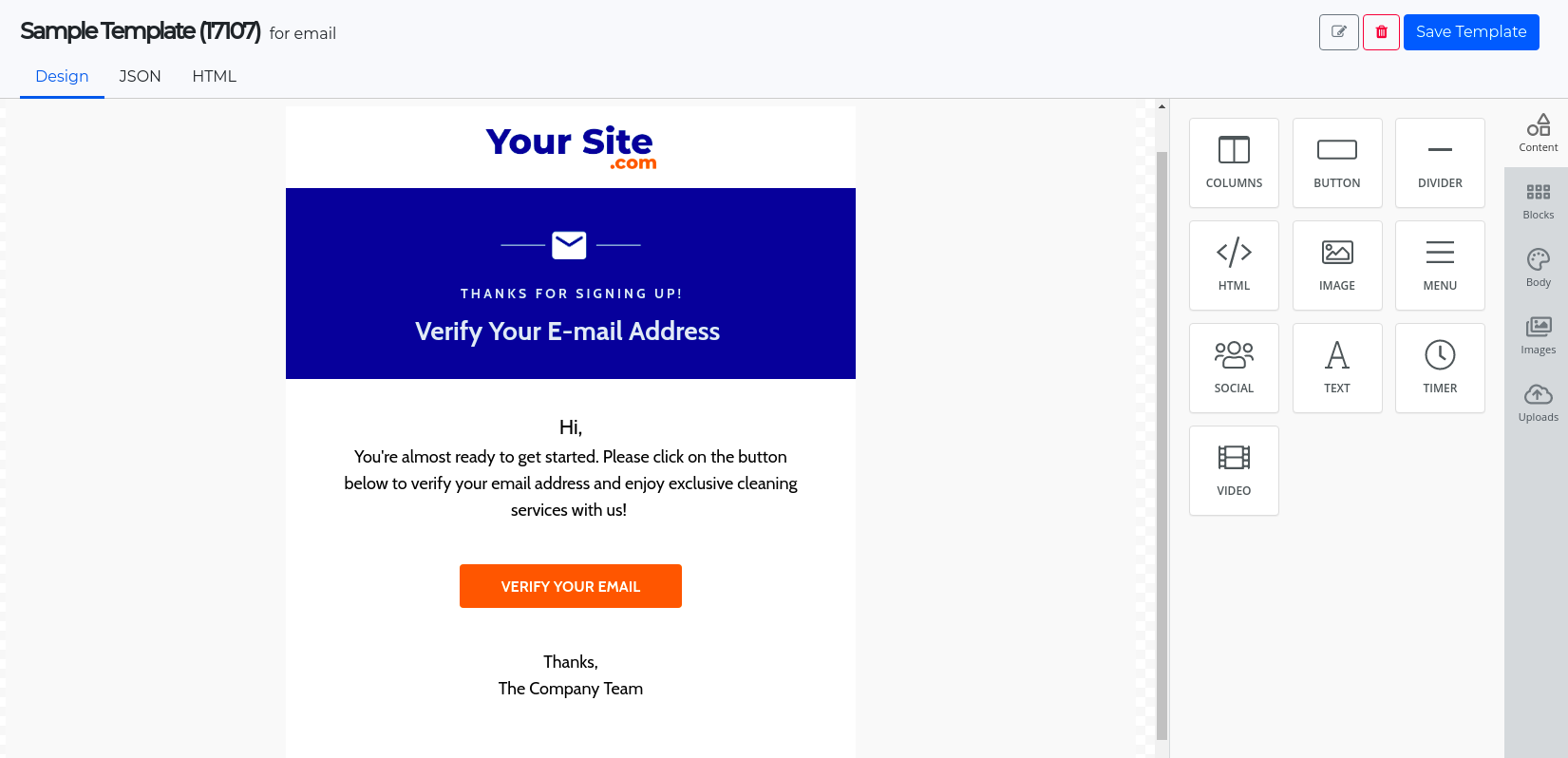 Price: $99/mo, unlimited free trial.
Email signature builders
An email signature is a must-have of a professional email. It leaves a good impression, helps you convert better, and demonstrates your professional approach to business.
The best email signature contains no more than 7 lines and includes:
Your full name, company, and position
Your contact details (email, phone)
The link to your website
Links to your or company's social profiles
If you like, you can add the company's physical address or a CTA to your email signature. Your imagination is the only limit.
Even if you still prefer plain-text emails, an HTML email signature looks perfect and attractive. So let me show you a few email signature design tools.
MySignature
For free, you can use one of 4 email signature templates. Yet, if that's not enough for you, you can go premium and choose one of 7 signatures. Within a free template, you can add your personal and company's name, position and department, phone and mobile, email and website and address, Skype and photo, social links, and sign-off. Though with a premium account, you can insert custom fields and add a banner.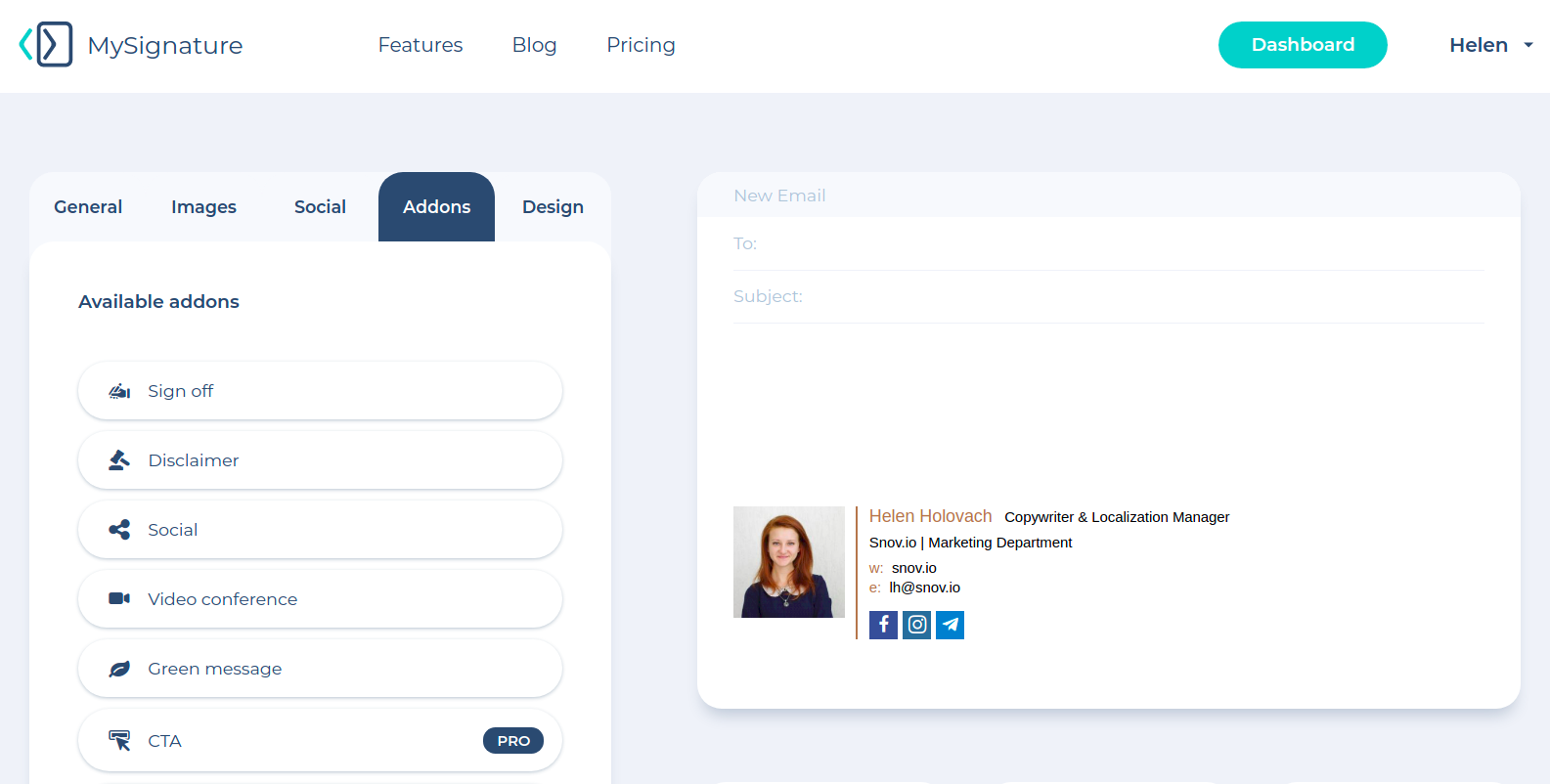 Price: $4/mo
The service provides 2 free and 14 pro signature templates. A free template includes your photo, personal and business basic info, and unlimited social links. You can even add an animated sign-off, quote, online scheduler, disclaimer, or even a video. How awesome is that? If you want to remove branding, go premium!

WiseStamp
Price: $6/mo (billed annually)
Si.Gnatu.Re
If you want to create a free email signature, just do it, no sign-up is required. Though, a few extra features and a bunch of email signatures for your team need a one-time payment. For free, you can add your details, photo, and social links, and design your signature.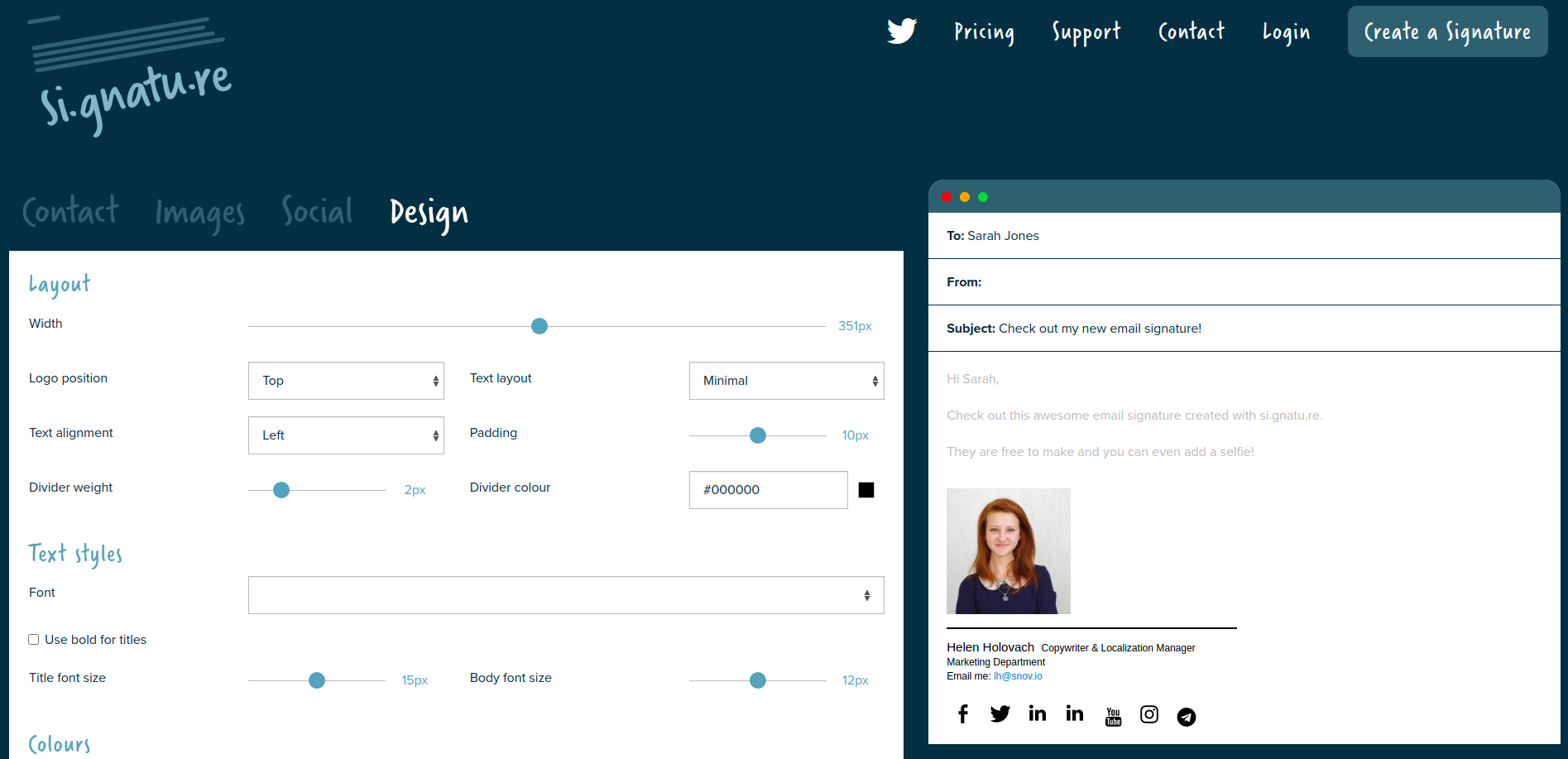 Price: $5 (one-time payment)
Email campaign sending tool
You do not send emails to your leads and clients one by one, do you? Professionals use email automation tools to set email sending on autopilot and save time and effort. You don't have to spend long working hours searching for such a tool, I've found the three best drip email tools. 
They are easy to use, do not demand any tech skills, and are fast to implement. The greatest advantages of email drip campaigns are:
Time-saving: All the sending processes are automated, you don't have to spend time clicking the Send button one after another
Multi-task: with the help of one tool only, you can onboard new users, reach out to, warm-up, and nurture cold leads, remind them of discounts or shopping carts, encourage and re-engage clients, and build relationships with them
Personalization: besides email personalization, you can add a personal approach to the drip email campaign in general. You can reach this by means of triggers and delays
Insights: the detailed information on the campaign performance will help you analyze the results of your work and improve it if necessary
Snov.io Email Drip Campaigns
Snov.io Email Drip Campaigns tool is perfect for startups and solopreneurs. It allows users to create highly-personalized multi-step email sequences with triggers, delays, and schedules. You can integrate Snov.io with other platforms like Pipedrive or Calendly or any of 2,000+ other instruments through Zapier. The instrument is very easy to use: the drag-n-drop campaign builder makes it super-fast to launch an email campaign. You can add as many emails as you need within one email sequence. There are no limits!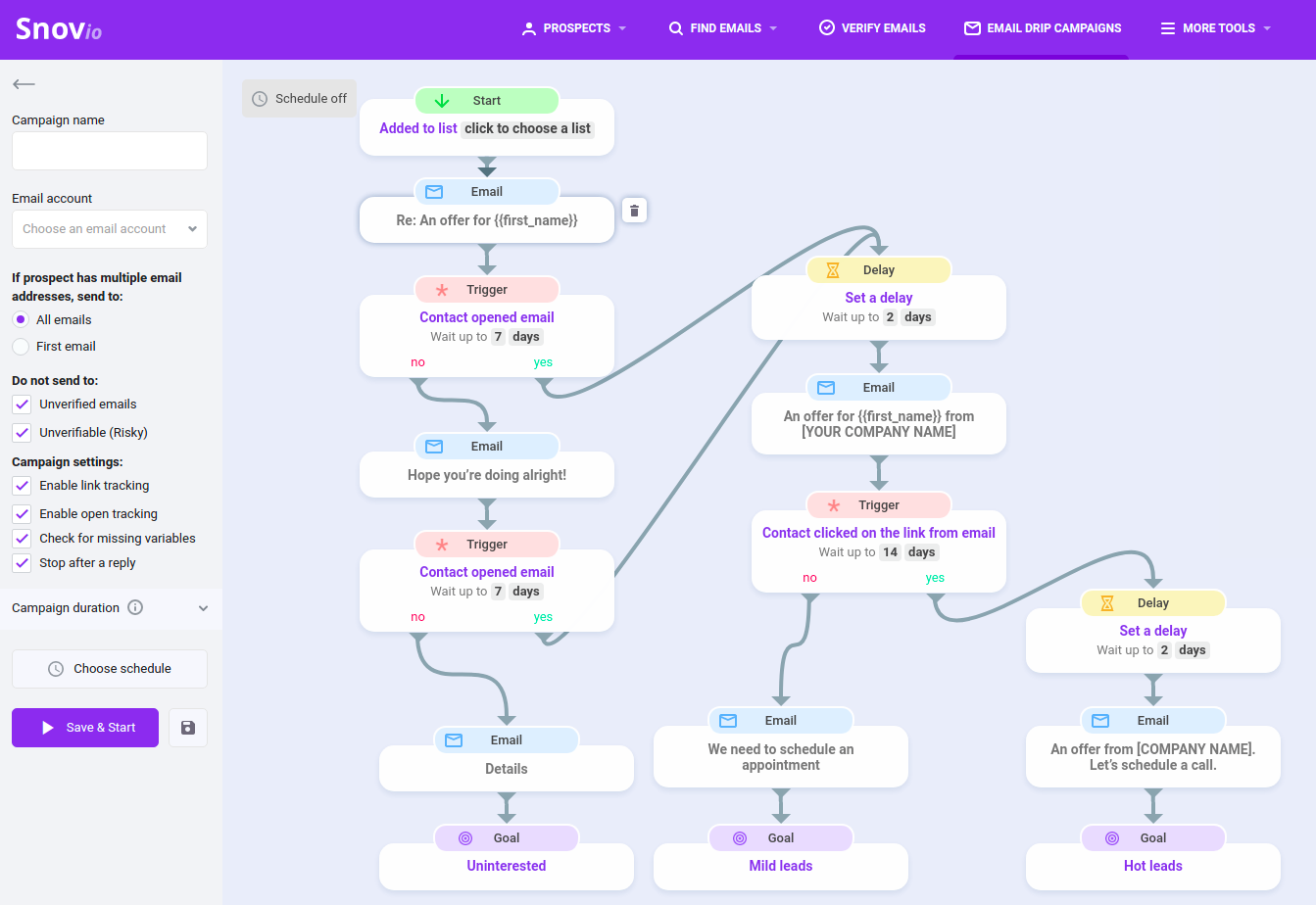 Price: $39/mo + free teamwork feature. Free trial available.
With Woodpecker, you can create an email sequence of up to 8 messages. You can add variables, schedules, triggers, and delays to your campaign. If you have a team of marketers and would like to have their work in one platform, you'll have to pay additionally for the teamwork feature. Unfortunately, there are no email or campaign templates.
Woodpecker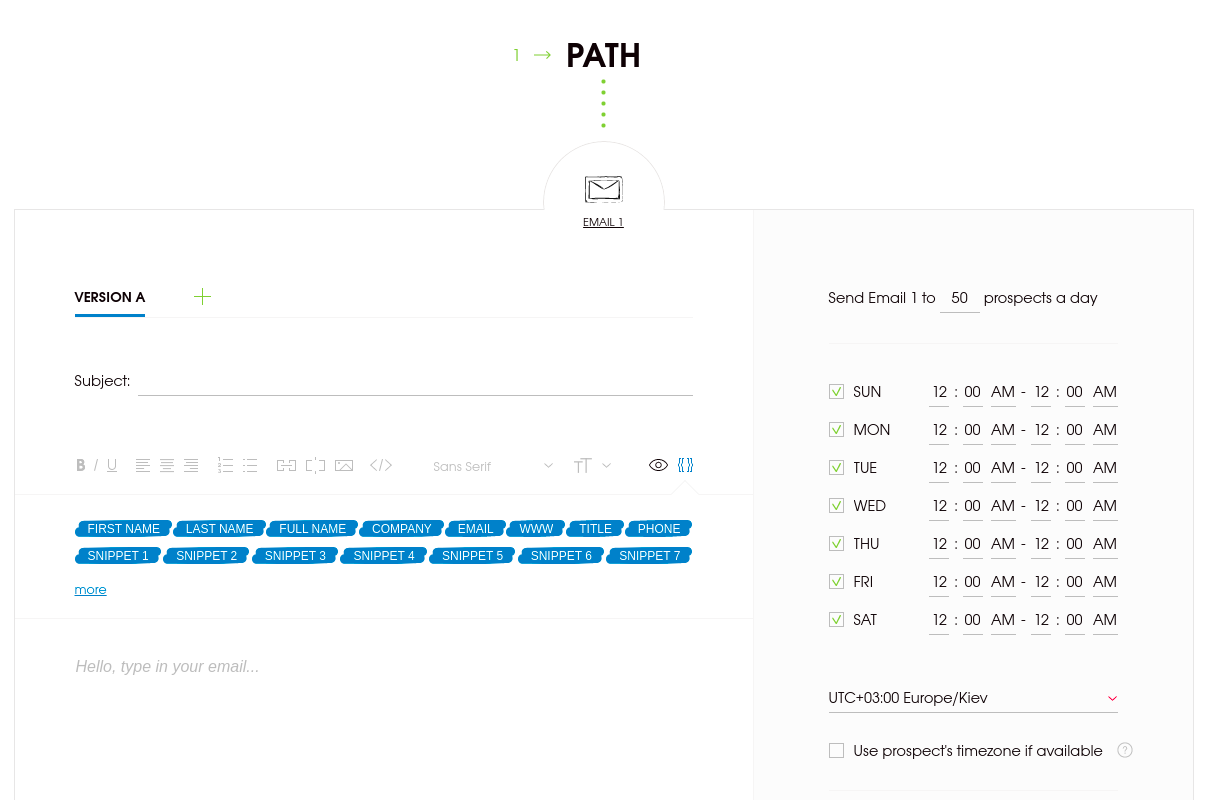 Price: $40/mo per user. 14-day free trial.
Reply
Reply provides an email campaign builder that allows its users to create email sequences with delays. Also, there are email templates for sales, recruiting, outbound and inbound sales, etc. There's only one trigger if the sender receives no reply. A bit limited but deserves mentioning.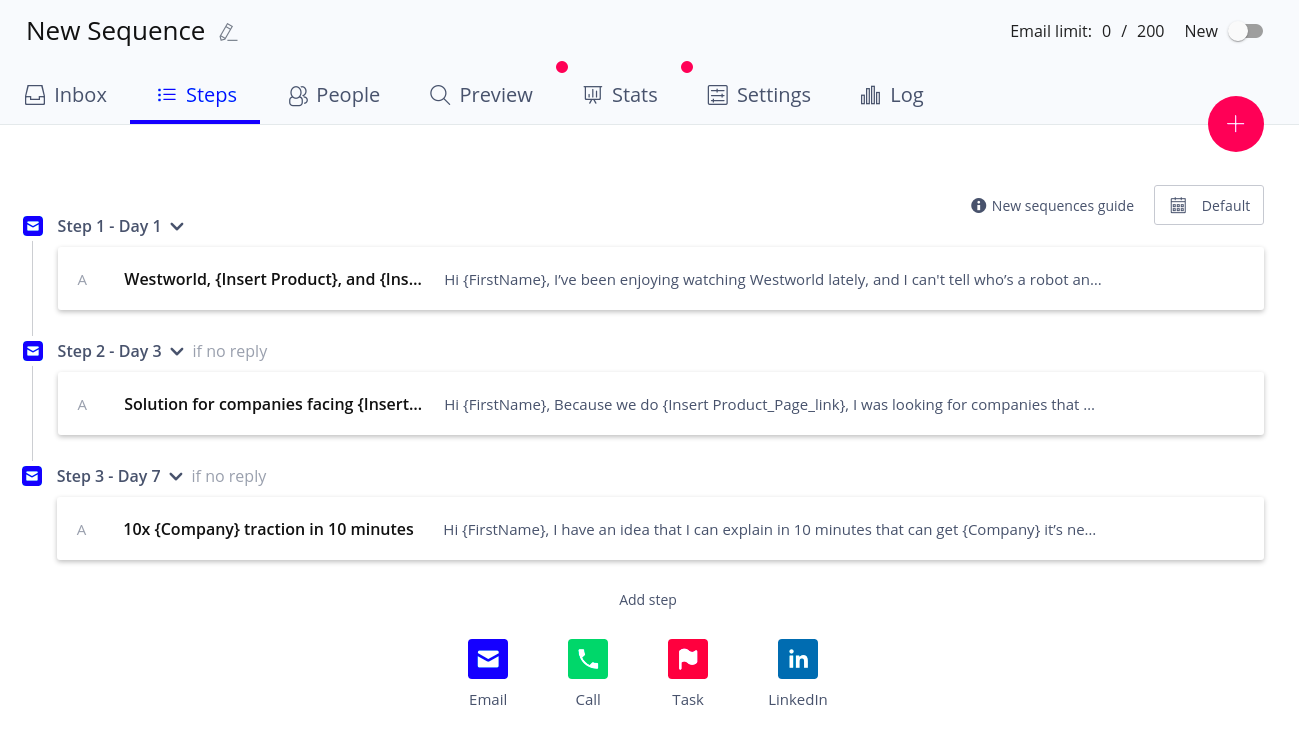 Price: $70/mo per user. 14-day free trial. 
Final chord
If you are new to email marketing and don't know where to start your way, think first of an email finder. Then, step-by-step, choose instruments that will help you bring your ideas to life. Remember: it's always better to choose an all-in-one tool. This will help you save money and have all the data you need to be kept in one place. Choose the email marketing software right and let success follow you!