Do you know about Facebook Instant Articles?
Want to see Facebook Instant Articles live on your WordPress blog?
I'm going to tell you how to install Facebook Instant Articles.
What is Facebook Instant Articles?
Instant Articles is a Facebook feature that is opened to all users since April 12, 2016. Technically, it is similar to Google's AMP, which will increase the speed of your website via customized mobile format based on HTML5 with a couple of specific tags. It is made with same technology that you saw in Facebook apps for mobiles. Facebook's Instant Article pages load faster the than regular web pages and provide better performance for mobile users. It does not require you to publish anything additional on your Facebook page. Facebook has built a system that will sync up their tool with your WordPress (or any other content management systems). Once your RSS feed is set up, get approved, then you are ready to go. By that, the articles that published on your WordPress blog will automatically be pushed to Instant Article system, as any updates you make to existing articles.
Recommended:
Why Use WordPress for your Blog?
How to get more like on your Facebook pages?
2017 Most Popular Facebook Trends to Grow Your Business.
Several popular sites such as Buzzfeed, TechCrunch, Mashable and others are using it on their websites. You can quickly view instant articles in your Facebook News Feed by the lightning bolt icon.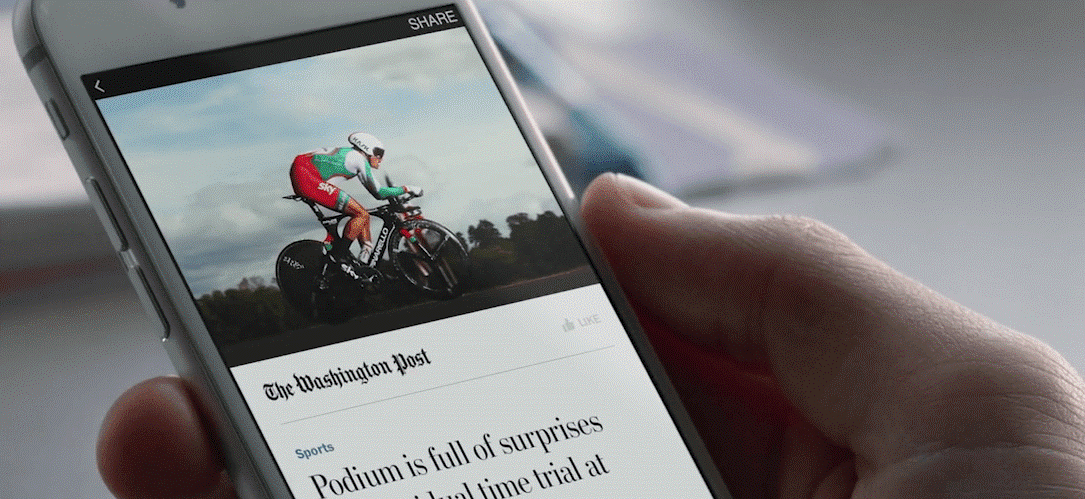 Pros and Cons of Facebook Instant Articles
Just like everything, you'll find some advantages and disadvantages about Facebook Instant Articles.
Let's find out.
Shall we?
Okay. Here we begin.
Pros of Using Facebook Instant Articles
Faster-loading provides great user experience and results.
Your content gets more "Likes" and "Share" by users, due to speed.
Access monetization option from Facebook Audience Network.
Boost your Facebook page and reach new visitors.
Cons of Using Facebook Instant Articles
Users won't be able to view sidebars. It will hide your useful widgets, subscriber form and others that aren't related to your content.
You may notice a revenue drop after installing Instant articles. It restricts the advertisers and numbers of ads on your article.
You can put pictures and videos in your articles. But you'll get limited option again for using it.
You can't access some features like shortcodes, custom fields properly within your content.
Judging both pros and cons, you must have a mixed response to it. But its banks on your target and plans. It is suitable for news sites but not so good for a business blog.
What Do You Require to Enable Facebook Instant Articles in WordPress?
Are you going to enable Facebook Instant Articles?
Let me show you how to do. Here are what you must have before getting started:
Then let me show you how to do. Here are what you must have before getting started:
Here are what you must have before getting started:
A Facebook page for your website
Facebook page app (you'll know more about it later in this post)
You should have a minimum of 10 or more articles on your blog.
Instant Articles for WP plugin (I'll also tell you about it later in this article)
Signing up for Facebook Instant Articles
At first, go to FB Articles website and register your account.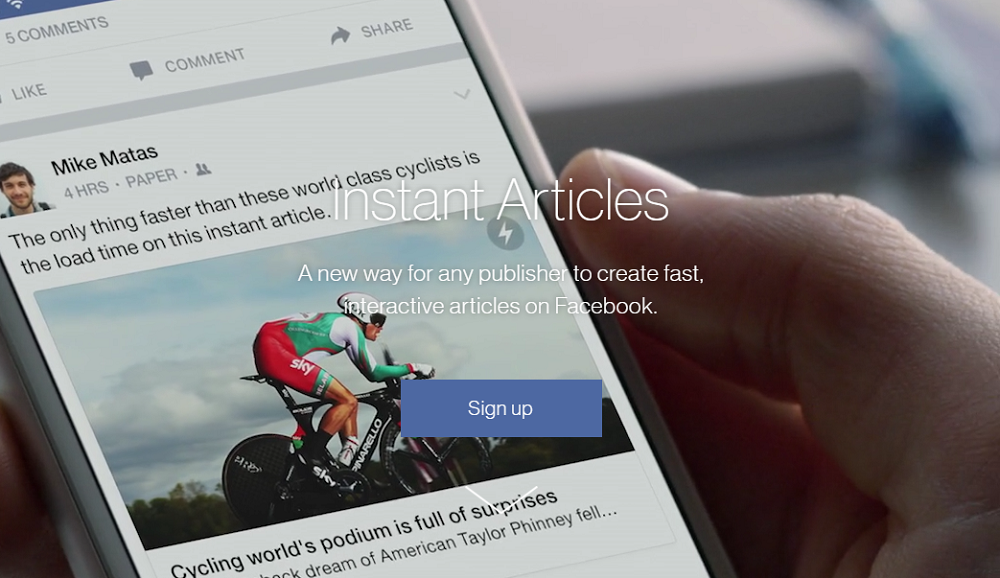 Select a page that you want to link to your blog. Now, just accept the terms and hit "Access Instant Articles Tools" button.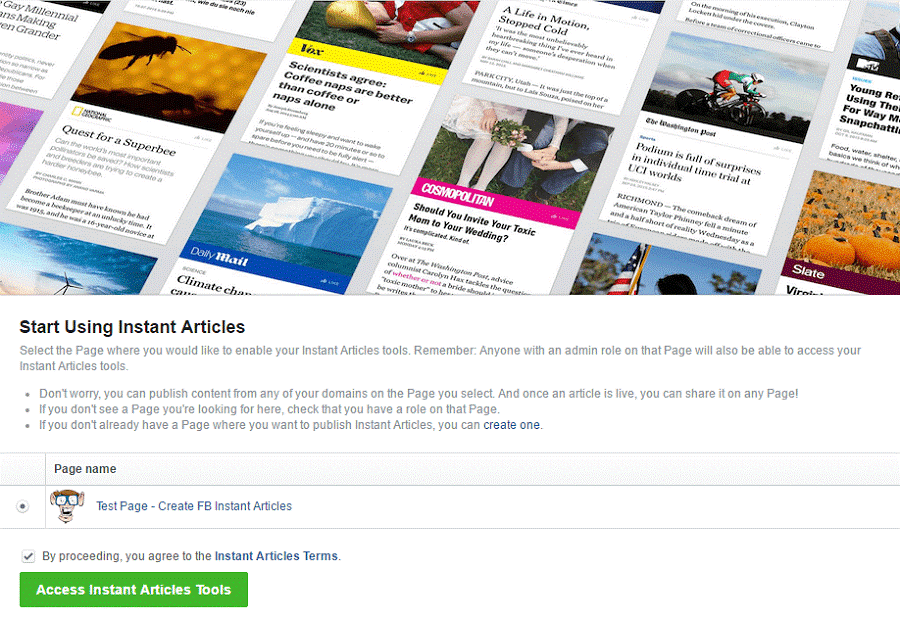 You will be redirected to the "Publishing Tools" page where you can easily configure Facebook Instant Articles options. To get started, you need to verify your ownership by claiming your URL. Scroll the page down and look at the "Tools" section. And you will find a code snippet there.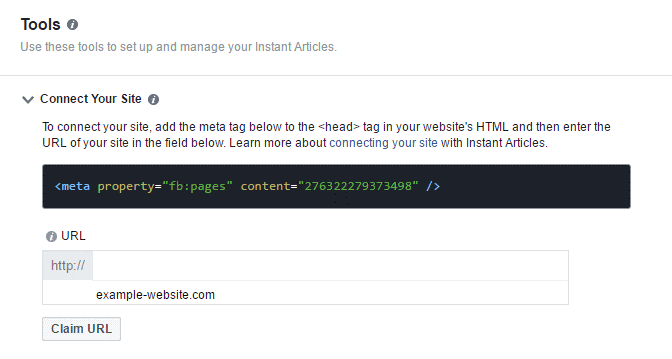 Rest is simple. Copy the code and paste it before the </head> tag with your WordPress theme editor. You can insert the same code in two ways. One, tweak your header.php file and paste the code before the </head> tag. To do that, click on the "Appearance" from the left menu in your WordPress dashboard and then choose "Editor". By default, it will recognize the currently active theme and display there. Look at the right side and click on the "Theme Header (header.php)".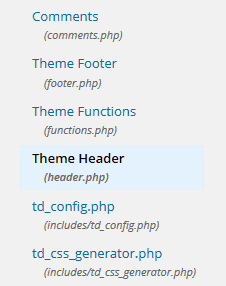 Paste the code you have copied above inside the HEAD tag (below <head> tag and before </head> tag). If you don't know where to insert it, look at the image below.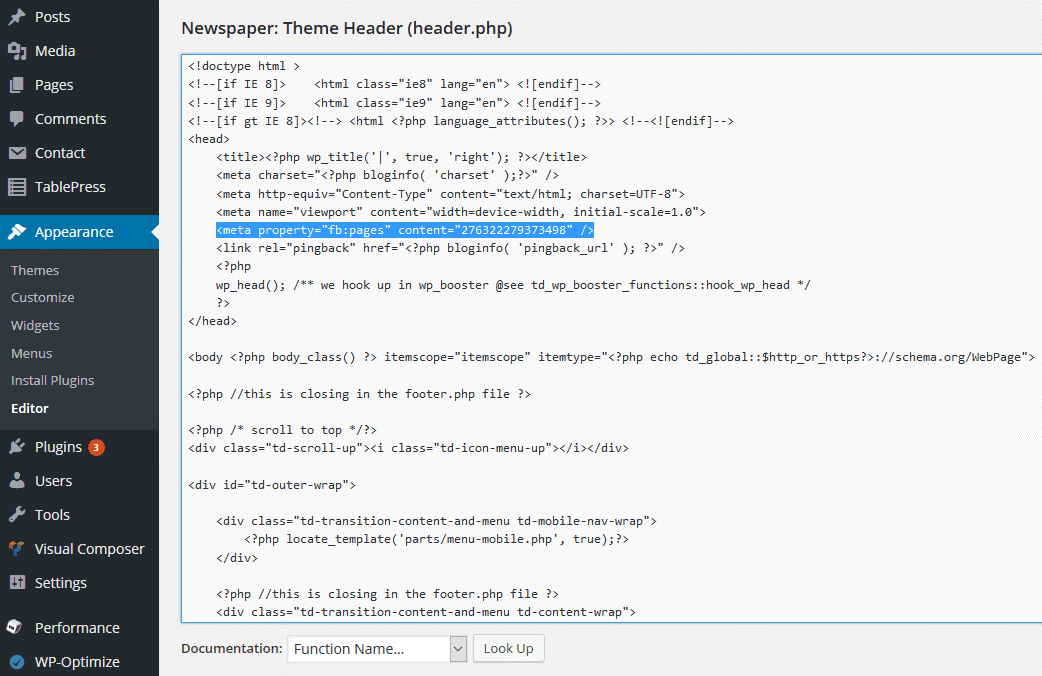 Also, you can use Insert Headers and Footers to insert this code snippet into your WordPress theme. After activating this plugin, go to the"Settings" > "Insert the Headers and the Footers" and then just paste the code into the "Scripts in Header" box.
Click "Save" button to finish the process. It's time to go back to your Facebook page's Publisher Tools. Next, insert your website link into the URL field and then click on the "Claim URL" button. If nothing goes wrong, it will show you the message that: "Your URL has been claimed." You can now begin to set up your Instant Article RSS Feed or add more sites if you would like to use for multiple websites.
Now how would you add an Instant Articles RSS feed on your blog?
It's easy – just install and activate a plugin named: "Instant Articles for WP" and the RSS Feed will be generated in a few seconds.  You can view your Facebook Instant Articles RSS Feed by entering /feed/instant-articles after your website's URL like "www.example-website.com/feed/instant-articles".
Grab your RSS Feed link and switch back to your Facebook page's Publishing Tool window. Navigate to 'Tools" and expand 'Production RSS Feed'. Just paste the URL of your RSS Feed there and hit the "Save" button. You'll see a success message on Facebook if you have done it correctly.

Suggested post:
Does Google count Keywords in the Url?
Install and Configure Your "Facebook Instant Articles for WP" plugin for WordPress
To install the plugin "Instant Articles for WordPress",  you can find and install it on your WordPress dashboard by clicking on "Plugin" > "Add New". Then search for the "Instant Articles for WP",  after that click on the "Install Now" button to install and then activate it.

Or you can visit here to download the plugin directly and then upload to your web hosting account through FTP method or File Manager.
Also, check:
The essential WordPress Plugins for your WordPress blog?
Note: This plugin requires that your web hosting must run PHP 5.4 or higher. But don't worry, I think most of the web hosting services are now using PHP 5.4+
Now, it's time to enable other settings in the Instant Articles for WP plugin. There is a section called "Instant Articles" in your WordPress main menu at the left side. Click on it and you will be redirected to "Facebook Instant Articles Settings" page.

Apparently, it requires an App ID and App Secret keys for activating. You have to create a Facebook app to obtain those keys.
Creating a Facebook App for Your Page
Go to Facebook for Developers page and then click on the "Add a New App" button, under your profile picture on the right side.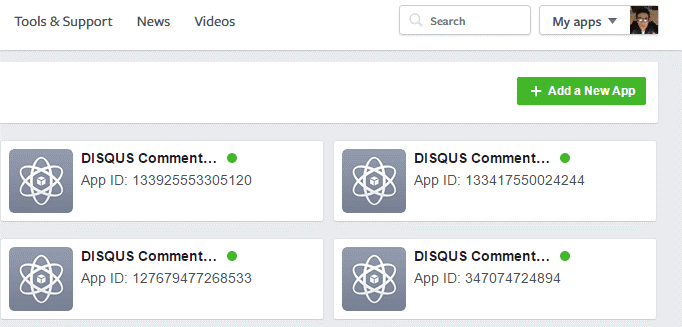 You will see a popup on your screen with four choices. Just select the "Website" option.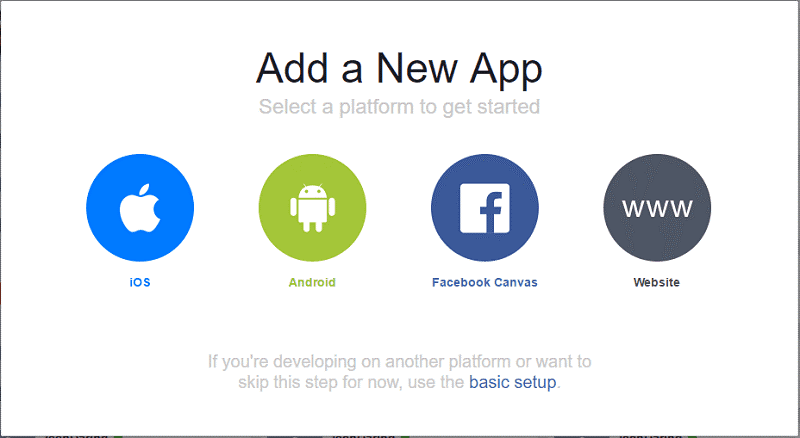 Select a name for your new Facebook app. You can choose any name, but I would recommend you to use your website name as it's easy to remember and recognize later. Once you have decided the name, enter it into the box and then click on the button (that you can see in the image) called: "Create New Facebook App ID" to proceed to the next step.

You will get a popup where you need to declare your contact email and pick an appropriate category for your Facebook app. In this case, just enter your email there and choose "Apps for Pages" from the "Category" list.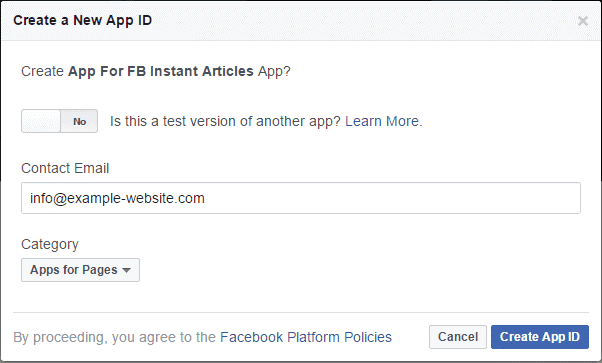 Hit the "Create App ID" button to complete. The popup will disappear and Facebook will make the app for your website immediately.
Read the documentation about this app from the Quick Start guide?
Scroll down a little further where it says "Tell us about your website." 
But Also, you can click on the "Skip Quick Start" button which at the right corner to go to the Dashboard of your new app. You can now view the information about your new Facebook app on your dashboard. Copy your App ID and App Secret keys and keep in somewhere else, like a Notepad file.

One final step left – you must turn your app on and make it be publicly live before using those keys. To do so, click on the "App Review" on the left menu and then switch the option to "Yes"

Next, copy your App ID and App Secret keys and then paste them into "Facebook Instant Articles Settings" page. Then hit the "Next" button and the plugin will recognize your App ID. You will have to log in to your Facebook account by clicking the "Login with Facebook" button.

It will redirect you to the Facebook login page where you need to log in again by providing your email and password. After that, you will be redirected back to your WordPress dashboard again. It will ask you to select a Facebook page to continue. Just choose the page that you have used in the first step from the drop-down menu and then click the "Next" button. All is done!
Configure Style and Branding for Your Facebook Instant Articles
Go to your Facebook page and access the "Publishing Tools". Then just click on the "Configuration" under the "Instant Articles" from the left menu.
Scroll down a little bit and click on the "Style" under "Tools" section to open further options.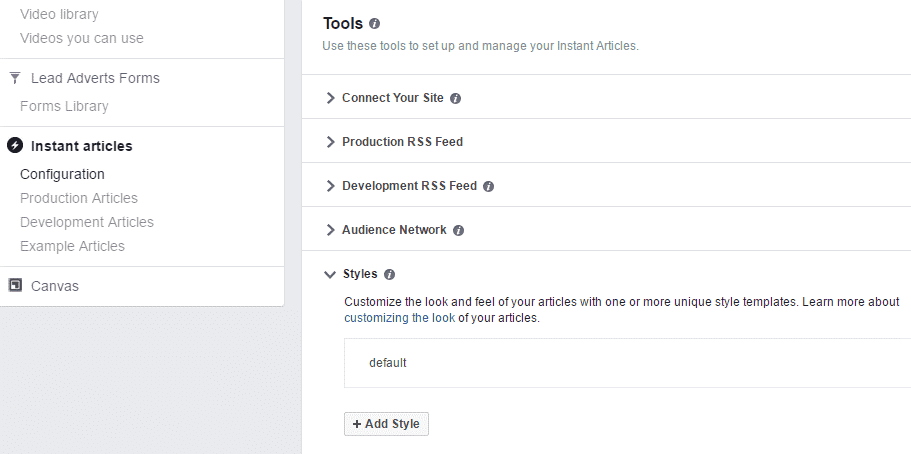 You can tweak Facebook's default style as per your choice. Click on the "default" style to customize. A new popup window will appear for uploading your own site's logo. But you should be familiar with the correct size to upload your logo correctly. Facebook supports 690 x 132 minimum pixels. You have an HD or high-quality or stock photo (more than 10 MB) that you want to use as a featured image for your content.
However, there's a problem. Pictures are necessary to boost user engagement. But if images are too large or heavy, it will decrease your website loading speed.
So, what's the solution? Is there any way out?
Yes. You can resize all of your images without losing quality.
Discover how to reduce image size without losing quality on WordPress?
You will have no problem after reading the above article. I'm fully confident about that. Also, you can apply methods in the article to resize other images on your WordPress site to make it loads faster.
Submit Your Instant Articles Feed for Review
You must have minimum 10 articles to submit your Instant Articles Feed for review. But if you have 10 or more than 10 articles and the feed still, not shows, then update your recent 10 articles and see the result.
As soon as you reach 10 articles that indicate you are ready to use Instant Articles Feed. Head over to your Facebook page and just click on "Publishing Tools". Next, click on the "Configuration" link below the"Instant Articles" at the left side.
Expand the "Step 2: Submit for Review" on the Configuration Settings page and then click on the "Submit for Review" button. If there is no problem, your submission will get approved within a day or less. Now, you have to wait to get your feed approval from the Facebook team. You can start to use Facebook Instant Articles on your WordPress site then.
Suggested:
Learn the best ways to make money on Facebook.
Final Thoughts
I have shown you how to setup Facebook Instant Articles for WordPress. It could be an efficient plugin if you have got a proper plan behind it. But don't act without thinking. It may sink your website performance drastically like ad revenue, users' engagement, bounce rate, etc.
What is your expectation for this plugin?
Let us know your opinions in the comment box below.