The Google Home needs high-speed internet connectivity to function. So you will need a Wi-Fi connection for Google home before you use it for streaming online music, link wireless devices, check daily events on the calendar, make a call and check on what's up with the weather, etc and so on. In this article, we will let you know what to do when Google home won't connect to wi-fi.
The playback of music isn't smooth at all, it will start playing and then freeze all of a sudden.
You will be unable to broadcast messages to other connected devices at home.
Whether YouTube or Netflix would not open even if you command it to.
Online searches are not accurate and don't work well most of the time.
The Google Home device will keep on repeating itself "something went wrong, please try again".
Google Home device continues producing static despite there is nothing being played over it.
Luckily as Google Home is a device that works on wireless connectivity there are a number of considerable options to look upon for a viable solution so as to come across whats the problem while it connects to wi-fi.
Things to do Google Home Won't Connect to Wi-Fi
Cross-check if Google Home is connected properly
Here is how you will do it:
Open the Google Home App and tap on the device you wish to configure.
Open the settings or Gear button on the app that asks for an updated wi-fi password.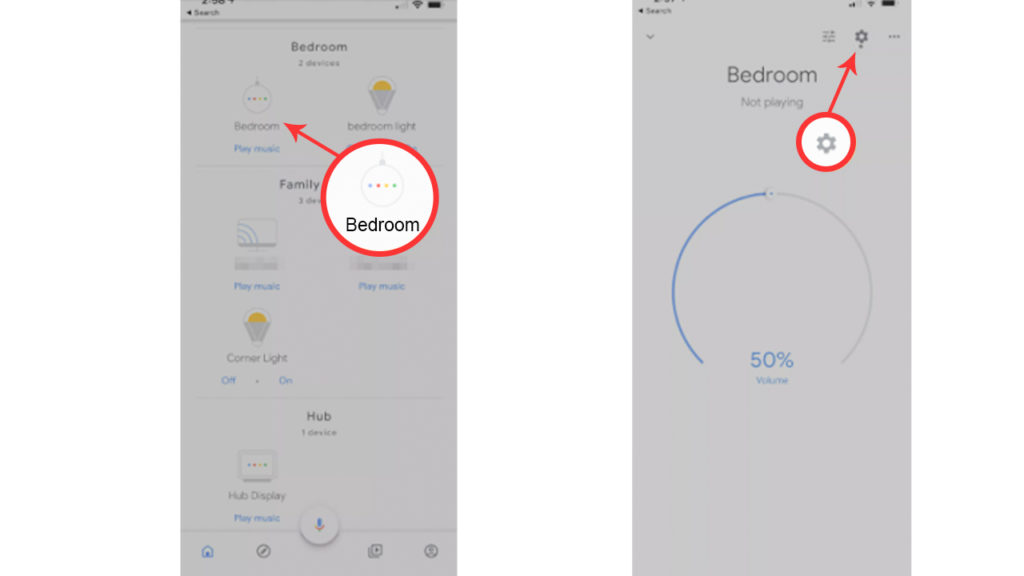 Pick a wifi connection and then from the options choose to tap on forgetting the network.
Select on add option which is visible on the home screen of the application.
Tap on Set up device and later choose New devices.
Select Home to add Google home which is to followed by tapping on Next option.
Go ahead with the other instructions that pop on the screen for further help.
Change the Google Home or Routers position
The router is the one and only way (bridge) with which Google Home can get access to an internet connection. Hence now you know the connection terminal you should be looking at first. That's going to be easy, just change the place of your Google home device which is closer to the router. Now see if there is any positive outcome for it.
And if the Google home device now works better after you placed it near to the router it is clear that there is some problem with either the router or there is any kind of hindrance among the device or the router.
A one-time solution is to place the Google Home device closer to the router or change the position of the router to a convenient position where it covers a larger area. Possibly try keeping it away from walls or other devices.
Just in case moving the router is not possible, or keeping the Google Home device closer to the router or rebooting does not help then you should consider changing your router with a new one. A new one would have a much better antenna hence giving better connectivity to all the devices connected to it.
Turn of all of the other devices that are connected to your Network
This may obviously sound a bit of extreme measure or even a real method to just get that one device functioning well. However, the bandwidth the Google Home device or any wireless devices receiving to keep running can be a real pain. And that is under the situation when there are a number of devices connected to the internet via the same network. Hence if there are a number of devices connected to the network you will experience connectivity problems. Such as lagged surfing or buffering while you play a video on YouTube or Netflix, songs freezing, or maybe not even playing.
When it comes to Google Home devices it usually responds with a tad delay and late responses. In technical terms this isn't an issue with the kind of services or products you are trying to use through a router, it is just that more bandwidth/high-speed connectivity is required. This usually happens when all of the bandwidth is exhausted by the existing connected devices. The best probable solution is either disconnect the devices that you aren't using at all. Or you can upgrade your bandwidth.
Rebooting Google Home and Router
And if the disconnecting all the devices that usually according to use use the maximum bandwidth does not help at all. Then you should probably try rebooting the main Google Home device, and while you do it just make sure you restart your router as well just to be double sure you rebooted everything.
Rebooting Google home and router by plugging off the device from its power cord, after you have done that wait for at least a minute. Now try reconnecting.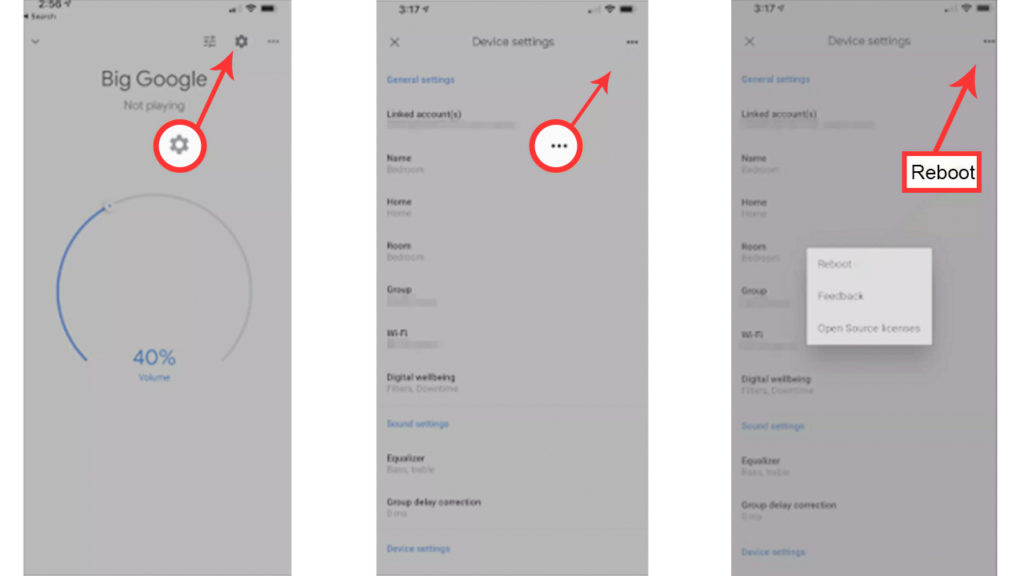 Just another way to do it:
Select the device you wish to reboot on the app.
Tap on the setting icon located at the top screen which can be identified by 3 dots in horizontal position.
Now tap on the reboot option.
Still no luck?
As far as now till here you must have a rough idea of how Google Home uses an internet connection, placed it near to the router at a point where the connection established is strong enough. Get rid of any hindrance from all other devices, as both devices rebooted and reset for not just Google Home Device but for your router as well.
Now rather than contacting Google Home Device support there isn't much you can do. There is probably a bug that could be rectified with a simple update but more than that there is a problem with the Google Home Device.
And if it isn't the case then your router is to be blamed as if it would have been working fine then it's a network issue. And if not there are good chances that the device is facing some kind of problem whether software or either hardware.
Google usually offers a replacement for such new faulty devices, but first, you need to contact them and share the problem which you have been facing entirely.
Suggested:
Free Internet Phone Service using the Mobile Apps.
Google Assistant vs Alexa which is the best digital assistant.
Simple Methods to Fix McAfee Safe Search Not Working Issue.