One might think that WordPress is just a blogging platform, but that couldn't be further from true. It's actually used by 1.3 billion people worldwide to create everything from blogs to their own personal websites. Because it offers so much to its users, it takes a lot of work behind the scenes to keep everything secure. So, it's true to say WordPress for web development has undoubtedly become the most popular CMS over the past years, without any doubt.
How?
WordPress was born in 2003 as an open-source platform for blogging. Still, in a very small amount of time, it has evolved into a CMS for developing fully-fledged websites with all the possible add-ons used to create beautiful, functional, and user-friendly products with great SEO.
As of 2021, WordPress.com stats show that there are 409 million unique visitors each month!

That's an enormous number of visitors, but it's not the only point to prove that WordPress is the most popular CMS. There is more to know about it.
In this post, we will try to dig deep into the facts that say WordPress is the most popular CMS in Web Development and will stay longer.
So let's get started!
10 Reasons Why WordPress is the King of CMS & Will Remain So In Future
1) WordPress 5.8 has been downloaded 50 million times
The Release of the WordPress 5.8 has been downloaded more than 50 million times since its release almost two months ago.
Every update of this CMS has been downloaded by more than 7 million people.
However, the most popular version is WordPress 5.0, downloaded around 25 million times and released in December 2018.
While talking about WordPress dying or the future of WordPress, we can simply say there is more to come in the form of updates and additional features. WordPress is known for regular updates of its software, which means that you can get the best performance with no risk of security loopholes or errors.
2) WordPress is the world's most popular CMS platform
WordPress is the most reliable & popular content management system, with 65% of all websites using it. This means that over 42 percent of web pages are powered by WordPress!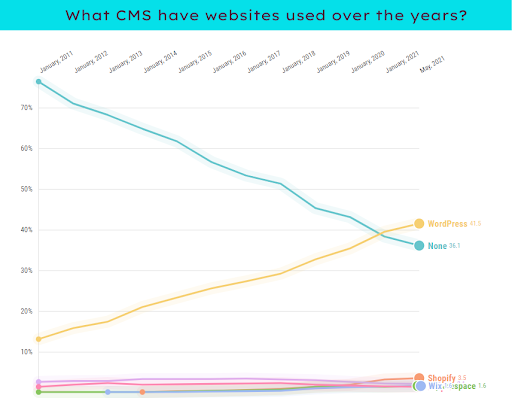 Apart from this recent increase of one percent – over seven months- WordPress continues to be favored by more web users every day (65%). It is the number one choice for website builders, thanks in part to its accessibility and user-friendliness.
3) Over 100 languages are supported by WordPress
In addition to English, WordPress is available in over 100 languages. That means that if you run a website with visitors from around the world, there's a good chance they will be able to read your content in their native language.
This can lead to better engagement and more site traffic as well as lower bounce rates and higher rankings with search engines like Google and Bing (with Google Language Translator).

4) WordPress sites don't frustrate users with slow load time
Search engine optimization (SEO) is essential for all websites, but it's especially crucial to fast-loading blogs. WordPress sites are designed with SEO in mind, ensuring that they never frustrate users with slow load times.
If you want to create a highly engaging website, look no further than WordPress. It does make creating a site an incredibly user-friendly process. In fact, WordPress sites make it possible for even people who have absolutely no experience designing or coding their own website to produce beautiful results from scratch.
It only takes minutes from your first click until you have a perfectly usable WordPress theme up and running on your new site. And once you do, anyone can navigate your site seamlessly and comfortably because WordPress sites are explicitly engineered to be super intuitive and easy to use at every step of the process.
More than 40% of WordPress sites are dominating Google's SERPs.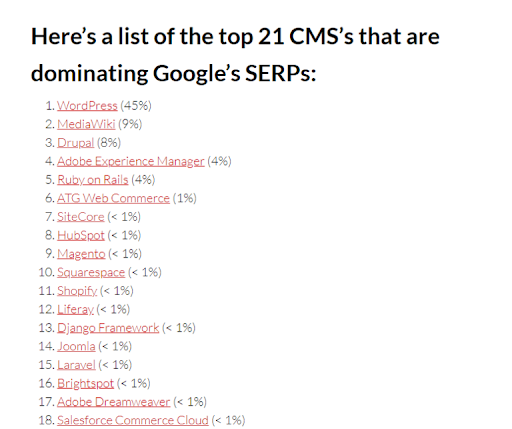 5) WordPress has over 400 million viewers monthly
WordPress is an excellent option for any size business. It's easy to get started, and it has over 20 billion page views and 400 million viewers each month. No matter what kind of company you own, WordPress can help you design a functional website without having to pay thousands.
A dynamic, modern site built on WordPress makes it easier than ever to impress customers while also establishing your brand online. If you're considering updating your current website or launching a new one, WordPress is likely right for you. Besides, hiring a WordPress development company in India can be a great option to meet your business goals.
6) There Are 77 million new comments & 70 million new posts each month
WordPress is at the forefront of today's most popular publishing platforms. With over 77 million new comments and 70 million new posts coming in each month, you can expect WordPress to stay on top for some time to come.
It is the fastest-growing publishing platform available, having acquired over 1 million new users every month. Besides, it has become so popular because it is effortless to use, allowing you to publish posts quickly and efficiently!
With WordPress being so easily accessible, it makes it possible for anyone to create a blog even if they've never done anything like this before.

7) WordPress works hard in securing users
Sucuri, the WordPress security plugin company, has reported that in 2020 90% of their cleanup requests came from this one specific platform.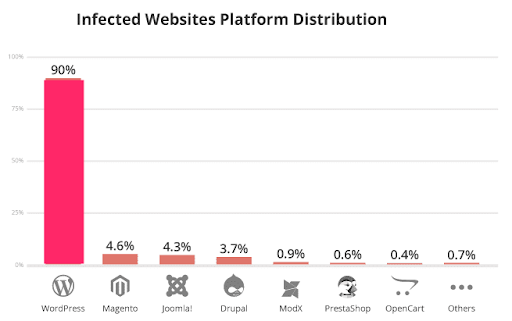 Besides, other research projects show 90 thousand attacks per minute targeting WordPress hosts right now– about 50% come through plugin vulnerabilities while another 40%. But still, WordPress is secure!
As a user of WordPress, you don't have to worry about malware infections or hacker attacks– not as long as you're using the latest version of WordPress and stay on top of updating your plugins and themes.
8) WordPress plugins are dominating
WordPress plugins are what makes WordPress so powerful, flexible, and easy to use. Over 59 thousand are currently available, dominating the market by a considerable margin compared to competing platforms like Drupal or Joomla!.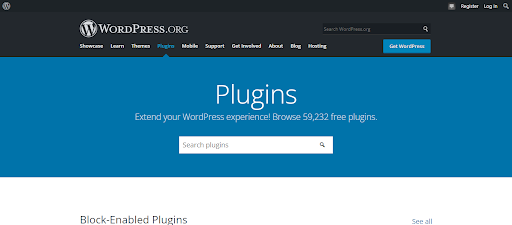 Plugins can be used to create dynamic pages (through SEO-friendly URLs), allow users to submit posts, add a contact form to your site, and more. There are WordPress plugins for just about any purpose you can think of out there– so browse through the plugin directory here and find some that suit your needs!
9) WordPress themes are easy to edit & customize
Designing a stunning website doesn't have to be difficult! WordPress has taken off so much because it makes creating beautiful, functional websites easy and affordable for everyone– from beginners who don't know anything about coding or designing but want a site up and running as quickly. However, you can hire a WordPress coder to customize your site for you if you'd like.
Because there are so many available plugins, it's essential to prioritize the ones you want to install on your site. WordPress themes make it easy for anyone to edit and customize their website with just a few clicks of the mouse– without having to touch any code whatsoever!
Moreover, you can browse 8,885 free themes.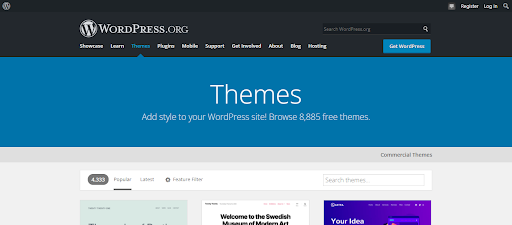 10) WordPress Is optimized for mobile users
It's estimated that there are over 6 billion smartphone users worldwide right now – and the number is only growing by the day! Moreover, this shows just how important it is to have a website that looks good on mobile devices and desktop PCs.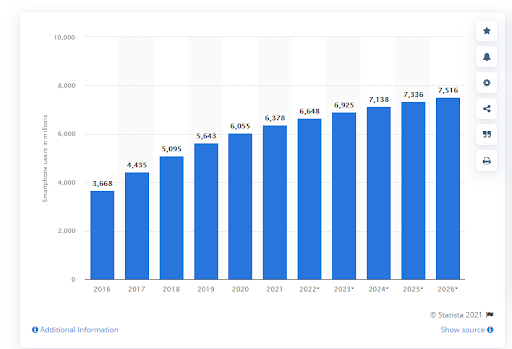 With over half of users exclusively visiting smartphones, you need to have an optimized website for mobile users. WordPress makes this possible with its free responsive themes, which allow you to create stunning websites that display seamlessly across all devices – perfect for these smartphones, tablets, and other handheld devices!
The Future for WordPress and Web Development
WordPress use among web users is only expected to rise more and more as we continue. It's already one of the most popular publishing platforms on the internet and it seems like there's no stopping its momentum anytime soon!
With over 450 million websites using WordPress (and counting), you can be sure that it's here to stay. It's the most reliable, versatile, and easy-to-use platform out there– making it the perfect choice for beginners and professionals alike.
As web development evolves in new and exciting ways, expect WordPress to be in the middle of it all! The future is full of potential when you use this fantastic publishing platform – so why not start today?
Wrapping Up!
There's a lot to consider when choosing a content management system; WordPress is one of them. It's essential to take a look at all the possible options and see which fits your needs best– but in the end, it comes down to what you prefer using.
WordPress is an excellent choice for anyone looking for a dynamic website that's easy to operate and has lots of useful features built-in. It's free to download and use, making it a no-brainer for anyone looking to save money on their website hosting costs.
It's also effortless to upgrade your account from the free option to one of the premium plans if you need more features or storage space. With so much to offer, WordPress is here to stay!
If there are any vital points I missed regarding WordPress, be sure to let me know in the comments section below. I love hearing from my readers and always looking for new tips or advice to help you out!
Q1: Is WordPress good for web development?
A1: Yes, WordPress is a good platform for web development. It is easy to use and develop, with many third-party plugins available to satisfy all the website's needs.
Q2: What are the different types of WordPress websites?
A2: There are multiple types of WordPress websites. There are eCommerce, Blogging, Corporate, Business Portals, Community Websites, and many more.
Q3: What is the importance of using WordPress?
A3: As of today, more than 75 million active users have made their website on this platform, making it the second-largest CMS in the world. WordPress helps to extend websites functionalities, features, and user interfaces with the help of third-party plugins, which makes it a perfect platform for every type of website.
Q4: Does WordPress have a future?
A4: Yes, WordPress has a great future. It is continuously growing, and every year we see new updates and functionalities added to it, making it an even better platform than before.
Q5: Is WordPress good for large websites?
A5: Yes, WordPress is suitable for large websites with various functionalities and features. It provides excellent security through the built-in capabilities of two-factor authentication, anti-spam plugin, firewall protection, SSL ready, making it an attractive platform for large-scale businesses.
Suggested:
Why Use WordPress For Your Website Or Blog?
Can WordPress Be Used for Membership?