Traditional advertising can no longer deliver the same results it once did.
The phases of the consumer buying journey has changed. And the channels where people spend most of their time are rapidly evolving.
On-demand videos and social media have taken the place of television. This change in consumer behavior is forcing marketers to think of new and improved ways to market their products.
Branded content coupled with the power of influencer marketing is one such marketing strategy that can drive faster and better results.
Branded Content + Influencer Marketing = The Holy Grail of Marketing
Branded content is a form of modern advertising where advertisers share articles, videos, webinars, or podcasts that add value to the lives of consumers.
Influencer marketing is a form of social media marketing where you pay influencers to endorse your products. These influencers are real people with a host of loyal followers on social media and the ability to influence people's opinions.
Both branded content marketing and influencer marketing are different from traditional advertising. In traditional advertising, brands are focused on creating ads and running them on a variety of channels like newspapers, TV, radio, or websites.
Traditional ads are a type of push advertising, where you directly promote your products to a selected group of audience. In other words, you push the product in front of the audience. This no longer has the kind of impact that it did before.
Branded content marketing and influencer marketing are forms of pull advertising. This is where you implement a strategy that pulls your audience toward your products.
Combining the power of these two forms of marketing can help you drive audience engagement and increase your overall sales.
Here are five smart tactics to combine branded content and influencer marketing to generate the best results:
1. Find Influencers Who Match Your Target Buyer Personas
Instead of sharing your branded content on irrelevant profiles that receive no engagement, it is better to find influencers who match your target buyer personas.
Do not select influencers based solely on their follower count because that is a vanity metric.
Always make sure to check the engagement rate of every influencer before you partner with them.
Engagement is what that matters for your brand. At the same time, you should also have a realistic idea of industry averages so you have a proper benchmark to work with. Average engagement rates for influencers may differ by following size and niche.
According to influence.co, photography and design are the two niches that receive the highest engagement per post on Instagram.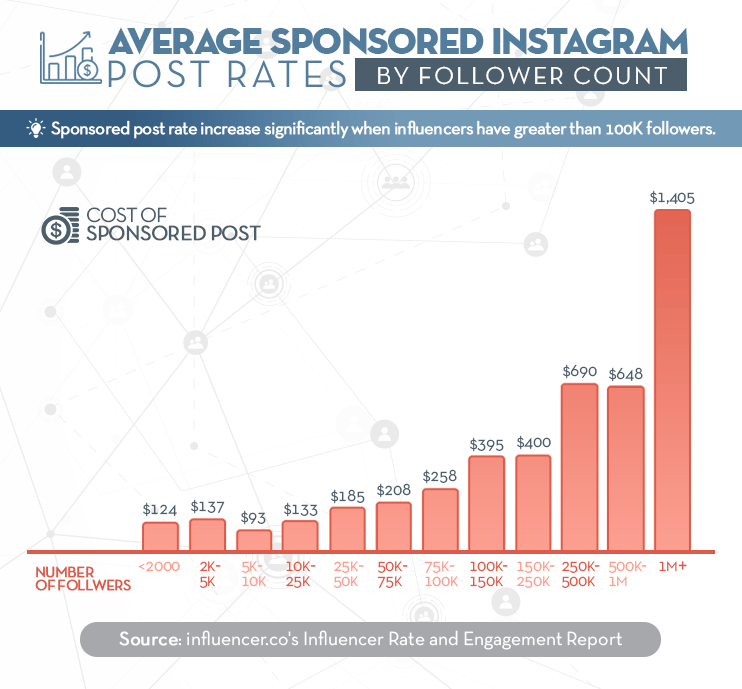 You can use these industry benchmarks when vetting influencers based on their engagement rate. To calculate the average engagement rate for any particular influencer, use the below formula:
Engagement rate by reach (ERR) = Total engagements generated per post / Total reach per post x 100
To calculate the average ERR, simply divide the total ERR with the total number of posts. Hence:
Average ERR = Total ERR / Total Posts
Choosing the right influencer is key because this will directly impact the success rate of your marketing campaign.
Make sure to follow the below tips:
Choose influencers who have an engaged follower base. Both follower count and engagement rates are important.
Check the average number of shares or retweets they receive per post.
The influencers should be familiar with your content and/or products.
Look for influencers who regularly share content not just on social media sites but on other niche websites via guest posts. Check the Domain Authority and Trust Score of the sites to see how reputable they are. A mention on a reputable site will give additional exposure to your products or services.
Find influencers who have a good distribution network. If the article is picked up by other sites/profiles as soon as it is published or shared, your content reach will be amplified quickly.
Base your choice of platform and influencers on your buyer personas. This will help your business differentiate itself from competitors and get maximum reach.
2. Have Influencers Create Branded Content for Your Business
Some brands are even using influencers to create branded content for their businesses.
Earlier, some brands would create the content themselves. And influencer only had the job of sharing the content.
But with more brands realizing the importance of influencers in content creation, they are tasking them with content production tasks as well.
The whole idea behind content creation is to showcase the influencer using your product within the content. This makes it easier to fit the product into the story naturally.
Some brands go so far as to involve influencers in the product development process. This further opens up opportunities for the influencer to naturally create branded content.
The cosmetics brand, Too Faced, worked with an influencer, Jackie Aina (having around 1.4M followers), to create a new shade for their Born This Way foundation line. The influencer ended up creating content promoting the new line very naturally as you can see in the screenshot below.
Source
Also, it is equally important to define your marketing goals and performance metrics before you start working with an influencer. Do not set extremely high expectations at the start. You will start to feel the difference that influencers add to your marketing strategy slowly and gradually.
3. Have Multiple Influencers Share The Same Branded Content
Another great tactic is to use several influencers to share the same branded content because this instantly helps to maximize the reach of the content.
A great example of this is the Share a Coke campaign, which was a huge success.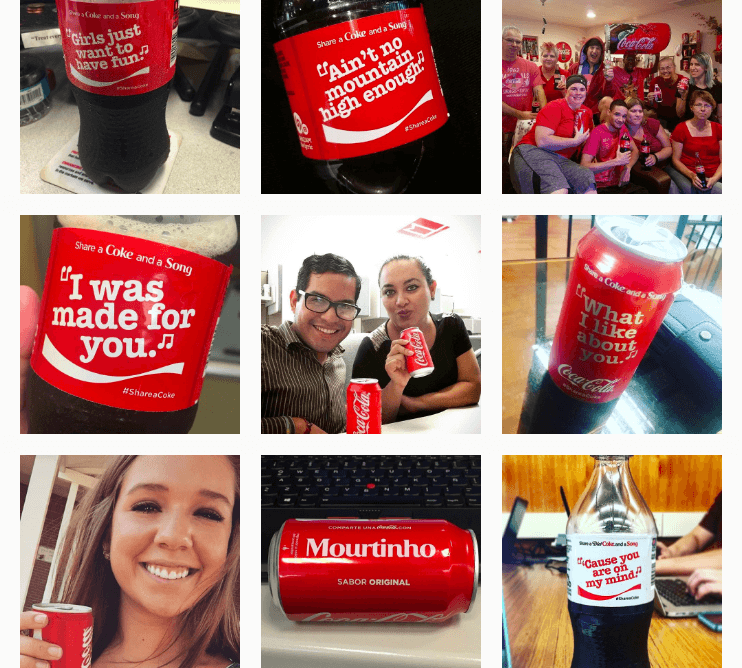 During this campaign, Coca Cola collaborated wit h several influencers who created around 22 sponsored posts using the hashtag #thisoneisfor on Instagram. The campaign generated over 1,73,000 likes with an average engagement rate of above 7%.
When you are working with several influencers, then it becomes important to put influencers through a screening process.
Also, you must develop a campaign brief to educate them about your expectations from the campaign. You should give them clear instructions about the entire process – right from content creation to content sharing.
4. Run a Contest on Social Media
If you are looking to get more content on a fixed budget, then you can leverage the power of user-generated content.
Hire influencers to invite their followers to participate in a contest that features them posting content with your products (same as Coca Cola did in the above example).
The only thing you need to keep in mind is that you need to choose influencers who have the ability to convince their followers to participate in the challenge.
Once you have hired several influencers to promote the contest for you, people will start creating and posting content on behalf of your brand. This strategy uses the power of networking to grow your brand.
5. Partner with Reputable Publishers and Authors to Develop Long-Form Content
Influencers are not just present on social media. You can also find them in the form of authors on popular publications both online and offline.
You can partner with such reputable publications and authors by having them produce long-form research content on behalf of your brand. The content should have tons of research-backed information that people will want to link to. And content that comes from a reputable publisher or author adds credibility to it.
This way, your content quality will be superb and your content engagement will soar. You will also increase the probability of content sharing by other publications and editors who are themselves some of the strongest influencers on the web.
Final Thoughts
Branded content and influencer marketing are similar in nature because they aren't just advertisements. Following a hybrid approach involving both methods helps businesses launch effective marketing campaigns.
This integrated form of marketing will offer great reach and impressive engagement among relevant audiences.
Got any tips to add about combining branded content and influencer marketing? Let us know in the comments.