Everyone talks about "influencer marketing" but rarely about "influencer advertising." As similar as they may sound, influencer advertising is not the same as influencer marketing. They have subtle differences, so it's easy to confuse the two.
Brands can use both of them to promote their products and services and generate more sales. However, it's important to know and acknowledge the differences between them. This will help you select the best form of marketing for your products and services.
This post will teach you everything you need to know about influencer marketing and influencer advertising. Keep reading.
What is Influencer Marketing?
Recently, influencer marketing has taken the digital world by storm. Brands favor it, owing to its ability to generate great returns on investment. It's also immensely effective at boosting sales and generating high-quality leads. No wonder why it's so popular across various industries.
Come to think of it, influencer marketing is not really a new concept. It has been around for ages, and brands have used it for quite a long time but in a different manner. Earlier, celebrities or athletes used to be the ones endorsing brands with the intention of "influencing" people to buy their products.
However, influencer marketing has now evolved into a new form that comes with endless possibilities. Simply put, influencer marketing focuses on influencing the buying behavior of people with the help of influential people. With the popularity of social media, these influential people can also be regular individuals with significant social media influence.
Brands need to identify influencers who can create a lasting impact on a potential buyer's mind. Once they're able to do that, they can develop strategies to engage and acquire new customers with the help of influencers.
In addition to this, influencer marketing also involves nurturing the relationships between influencers and brands. It's important that brands and influencers work in harmony to achieve the same goals. This will help you create an authentic voice for your brand and gain your audience's trust.
However, finding relevant influencers is one of the major problems that brands face. Did you know that 67.6% of companies find it difficult to identify and connect with relevant influencers? The easy solution to this problem is using the right influencer marketing platform to simplify the influencer identification and outreach process.
Platforms like Grin can be a perfect choice. Grin is an influencer marketing platform that can help you find relevant influencers based on your specific requirements.
You can filter by category, reach, engagement, and much more to find the best influencers for your campaign. It also comes with a lot of outreach templates that you can customize and personalize to connect with influencers.
Benefits of Influencer Marketing
Influencer marketing helps you connect and build relationships with relevant influencers. Relevant influencers help represent brands with honesty, which improves trust and helps generate higher ROI.
When brands and influencers develop strong relationships ensures the creation of authentic content for your brand. In a competitive market, authentic and genuine content will help brands beat their competitors.
A strong influencer-brand relationship helps them understand each other, thus leaving very little scope for problems or disagreements.
Influencer Marketing Strategies
Let's take a look at some of the most effective and widely used influencer marketing strategies:
Giveaways Campaigns
Giveaway campaigns are quite popular on all social media platforms. They give your audience an opportunity to win something. This helps you generate a high engagement rate. This strategy also allows you to give something back to your loyal followers.
You can partner with influencers to promote your giveaway campaign to their followers. This can help you reach more people with your giveaway, and drive additional engagement on your social media posts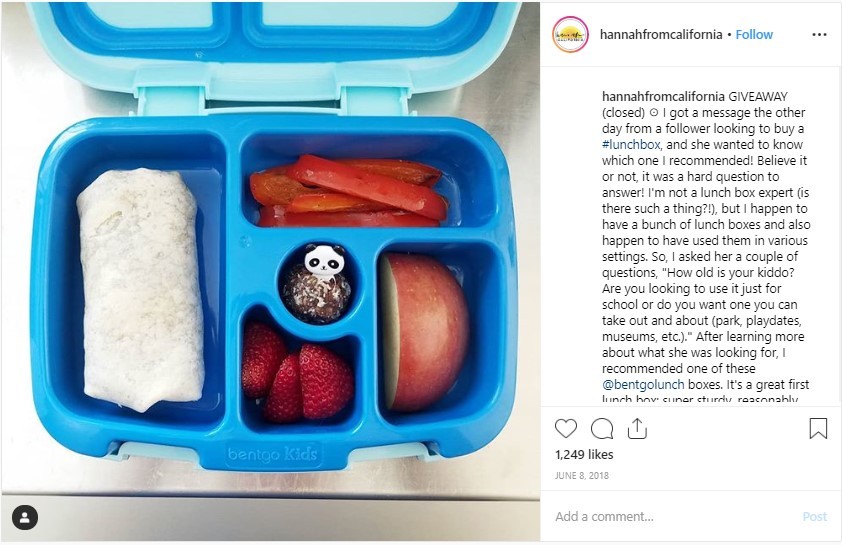 Image Source – Instagram 
Takeovers
Influencer takeovers require influencers to temporarily take over a brand's social media account and post content on their behalf. This exposes a brand to new audiences as the influencer will most certainly tell their followers about such takeovers. It is also a great way to boost your content strategy and engage your followers better.
Some brands share access to their social media accounts with an influencer for a certain period of time. Others prefer to have the influencers create the content and post it on the influencer's behalf – making sure that it seems as though the influencer is posting it.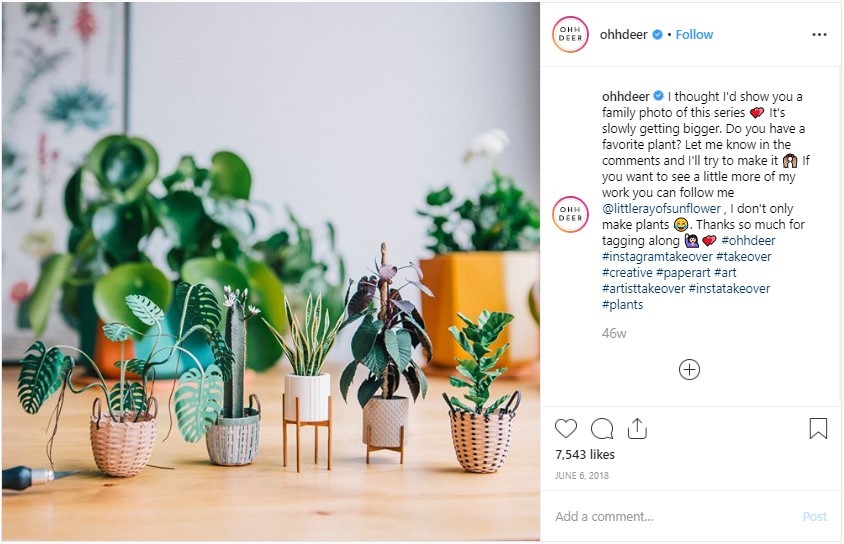 Image Source – Instagram
Events
This influencer marketing strategy provides you and your influencers with an exciting opportunity to get to know each other better. As a result, this helps you strengthen your relationships with influencers.
This strategy can also help you increase brand awareness since there will be media coverage of the event. Thus motivating your influencers to promote your event on social media platforms.
Image Source – Instagram
Reviews
If you're working on a shoestring budget, this is a great strategy you can use. All you need to do is offer free samples of your products to influencers. And in return, ask them to write an honest review of your product on their blog or social media profile.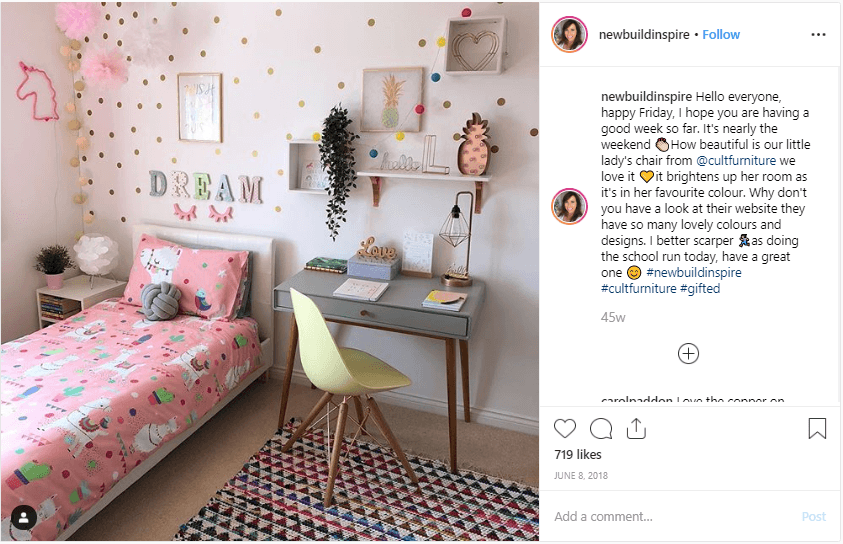 Image Source – Instagram 
Guest Post
Guest posting can be implemented in two ways. The first way involves publishing a guest post on the influencers' blog, provided they have high domain authority. This will help you drive high-quality traffic to your post.
Another way is to invite influencers to write useful product reviews or opinion pieces on your website.
Bryan Harris is the founder of Videofruit. He observed a tremendous increase in traffic on his website once he published a guest post on OkDork. There was a 500% increase in page views.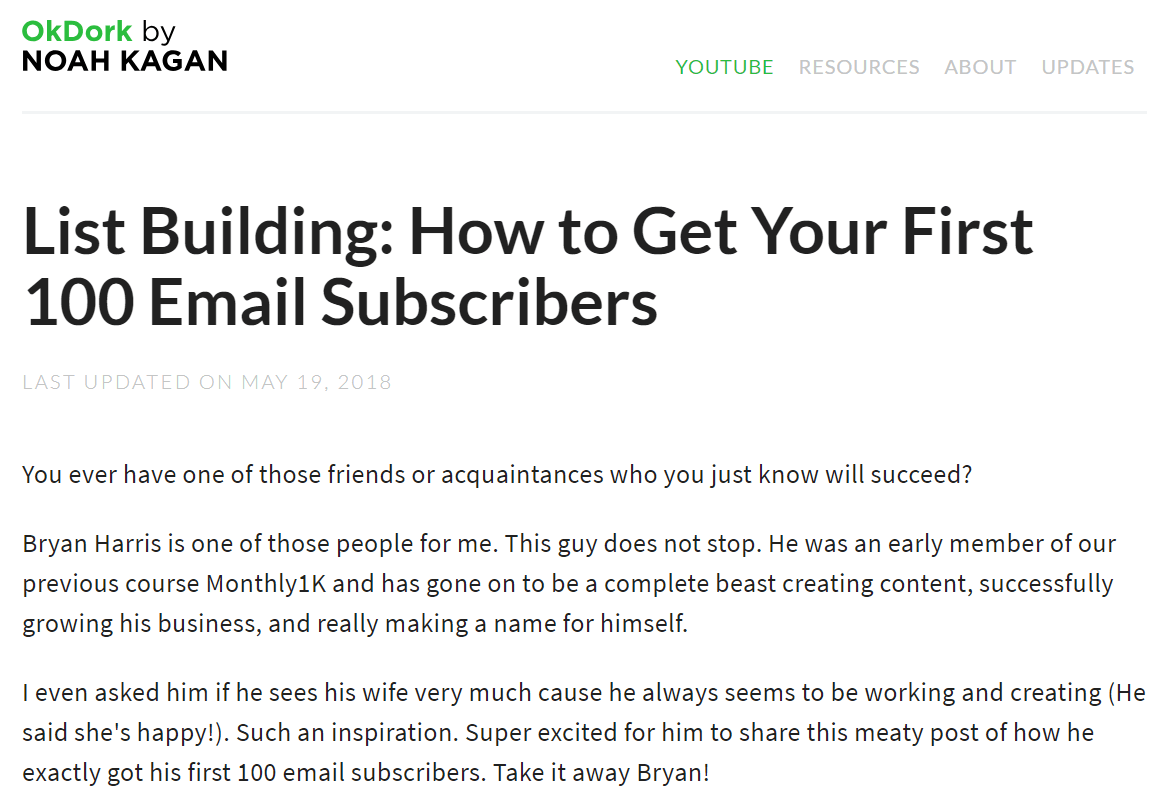 Image Source – OkDork
When you implement these strategies correctly, they will help you achieve your marketing campaign goals effectively.
What is Influencer Advertising?
Influencer marketing focuses on the relationships between brands and influencers as they work towards common goals. Influencer advertising, on the other hand, is so much more than that. With influencer advertising, brands pay influencers to endorse and mention their products and/or services.
Influencer advertising doesn't necessarily involve building relationships with influencers. It's more of a monetary relationship. For that reason, it can often be more expensive than influencer marketing.
For example, Selena Gomez promoted Puma on her Instagram channel as part of a paid partnership campaign.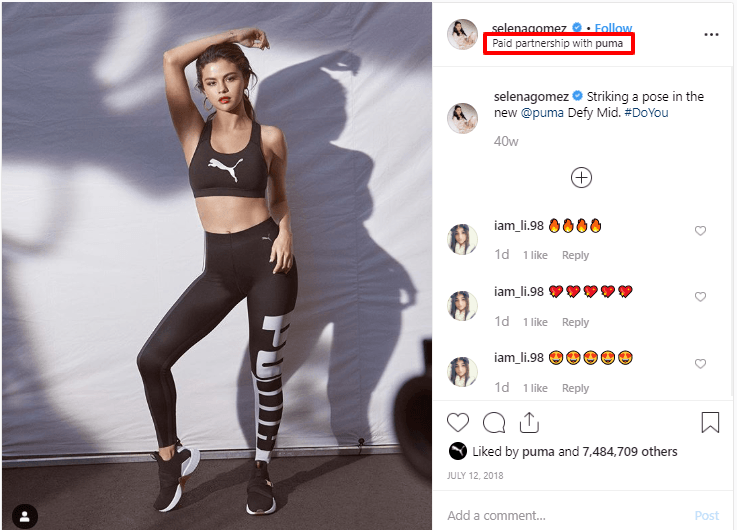 Image Source – Instagram
Benefits
As opposed to influencer marketing, influencer advertising is less labor-intensive. This means that brands have to invest less time and energy to find relevant influencers. But they often pay a huge amount to big influencers to promote their products and services.
Influencer advertising helps brands attract macro-influencers and celebrities. They are busy people, so less work and more money attract them rather than the need to create original content.
What Counts as an Ad?
Let's take a look at a few ways in which your post will count as an "advertisement" under the rules in the CAP (The Committee of Advertising Practice) Code.
Paid-for Space
If a post is placed in the "paid-for" ad space, it's an obvious way to understand that the post is an advertisement. The paid-for ad space is usually used for ads such as paid-for search results, sponsored/promoted posts, and banner ads on social media platforms.
Own-Advertising
When you post content about your events and your own products or services on social media platforms, it counts as advertising. That's even when you post the content on your own social media channels.
In addition to this, when you post any sort of giveaway or prize draw, your content becomes an advertisement as it's a form of promotional marketing.
Affiliate Marketing
When an influencer promotes products or services and the content contains a discount coupon or hyperlink, then it's advertising. That's because the brand is paying the influencer a commission for every single sale or click-through which can be traced back to the content.
However, you need to have a disclaimer clearly categorizing your content as advertising, even if it's mostly non-promotional. Let's say an influencer added discount coupons or affiliate links to only some part of their content. In that case, they need to mention that those bits of their content are advertising.
If the whole content is about affiliate-linked products, then the whole content is advertising. And the influencer needs to clearly mention it at the beginning of the post.
Final Thoughts
For any brand, it's important to know the difference between influencer marketing and influencer advertising. This will help you to stick to the rules of the Committee of Advertising Practice. In addition to this, it will also help you decide which form is best suited for your brand and your marketing campaign goals.
What are your thoughts on influencer marketing and influencer advertising? Please feel free to share your thoughts in the comments.