Are you planning to start an online food ordering and delivery business like Grubhub or UberEats? But, you have no idea how to start. Don't worry you're not alone, most budding entrepreneurs are in the same situation. here we will tell you about the Food Delivery Website and app.
Starting a food delivery business is still a good decision and a hot topic for budding entrepreneurs. In the past days, customers preferred to visit the restaurant to eat delicious food from their favorite restaurants. But nowadays, customers' behaviors have changed. Now, they are using multi-restaurant food delivery apps like UberEats, Grubhub, Postmates, etc. for buying food online.
According to a Statista report:
The revenue in the online food delivery segment is expected to reach 96,864.4 million US dollars in 2024.
UberEats has witnessed to see an increase of 30% in signups for food delivery services in the past few months.
These apps delivered food from local restaurants to customers' doorsteps at customers' convenience.
Multiple factors influence customers for buying food online like multiple discounts, fast food delivery services, a wide range of restaurant options, etc.
The online food ordering business is doing well in big cities as compared to small towns. So if you want to start a food delivery business then big cities are the best option for you.
There are various factors that make your business successful such as the right place, right time, right technology, etc.
Here I would suggest you choose a readymade marketplace platform to build your website or app. The readymade solution does not only saves your time but also saves your money and effort.
Here I've mentioned the name of a few readymade solutions (both single restaurant & multi-vendor restaurants) which help you to build your online food delivery business website or apps. So this article will save your research time and help to select the best software for your online food business as per your business requirements.
Top 7 Online Food Ordering and Delivery Solutions to Launch a Food Delivery App: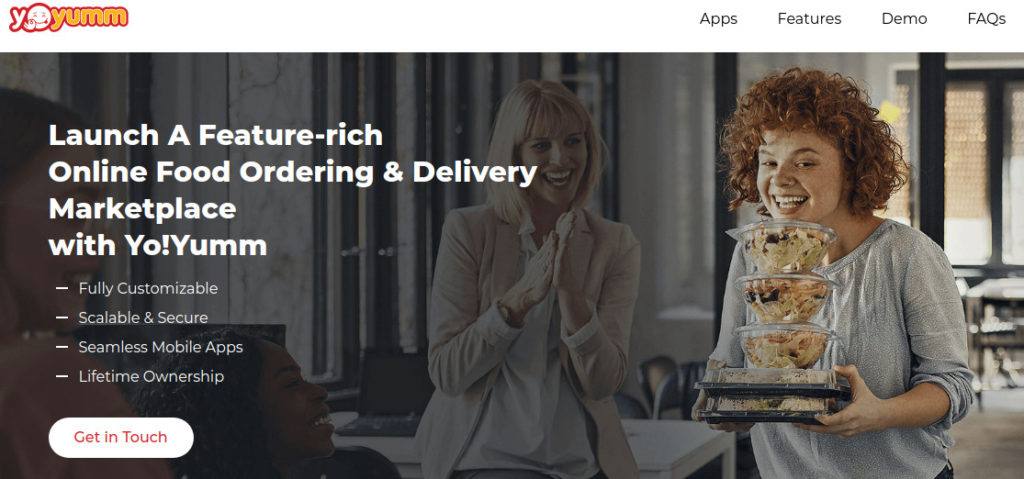 YoYumm is a fully customized, scalable, and secure multi-vendor food ordering and delivery software. You will get lifetime ownership of this seamless mobile app software.
It is a white label solution that is fully loaded with powerful robust features that make your website or app impressive to satisfy users' needs. It gives easy access to the platform and menu. The vendor will get daily sales updates, instant replies to every review, and a menu management system
with payment tracking. The buyer will get multiple payment options. User registration and tracking of a placed order are very feasible and easy for buyers.
It comes with 1-year full technical support to troubleshoot any bugs or errors in the system. It offers an app for the merchant, buyer, and delivery partners for easy and quick communication. Yo!Yumm software is a product of FATbit Technologies that comes with a lifetime
license at a one-time purchase.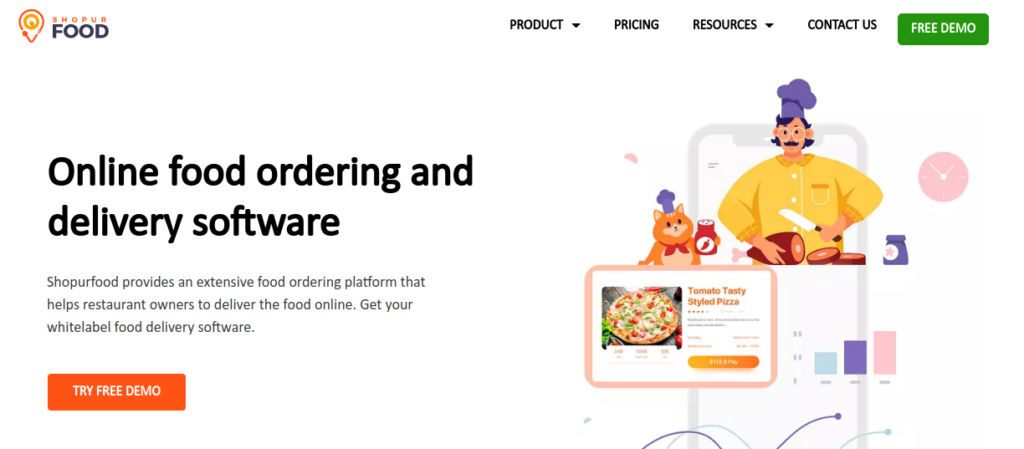 It is an open-source white label food delivery software that helps restaurant owners sell food through an online platform. Customers can track their orders from anywhere and suggest modifications required while cooking. A
dedicated supporting team is available to help the customers 24*7. It has tailor-made features that are easy to install and easily customizable. You will be getting a branded food ordering platform to add your restaurant and connect with delivery partners. After that, creating menus and accepting and delivering orders is very easy.

It is a clone of UberEats with full customization options. It is a multi-vendor, multi-lingual, and multi-currency software with premium features for buyers and vendors. Unlimited orders could be placed, and unlimited menu options are given for vendors to start their restaurant at a good pace.

It is an ordering and food delivery software that helps restaurant-owners to increase sales and profit. You can sell food through your apps available on both Android and iOS devices. The owner will get a dashboard to track the delivery status, with secure cloud data and 99.999% uptime, One will also get in hand GDPR complaint details and project advice. Make your own customized development teamwork feasibly. You can discuss your ideas with the team and get the best variations done for your application. 24*7 customer care help is also available to provide proper support to the seller.
Every business type is supported by this platform and helps in showing up the websites or applications in the best marketplace with potential buyers. With this ordering, CMS business management becomes very easy and reliable.

Another turnkey restaurant delivery software. It is serving services to both local and national restaurant chains in the USA. The key features of this software are optimal ordering, marketing, delivery, and customer support. It offers Zero set-up fees to restaurants and provides a secure delivery process of the order.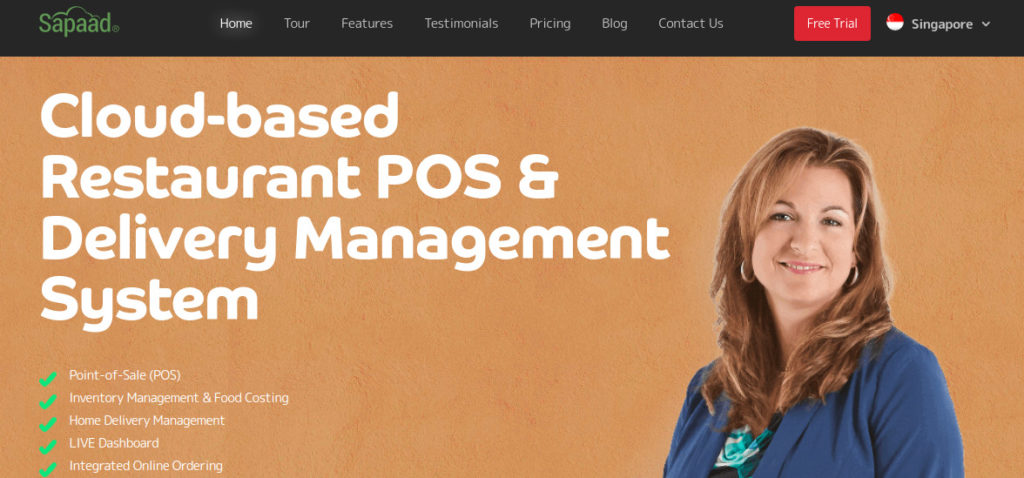 Sapaad is an instant and cost-efficient solution for POS of the restaurant as it provides multiple services. It offers services from a single restaurant to large international chain restaurants. The owner will get inventory, food-costing, and home delivery management features with a personalized LIVE dashboard of the restaurant. You can get a one-day free trial of the software before opting for it for your restaurant.
Foodday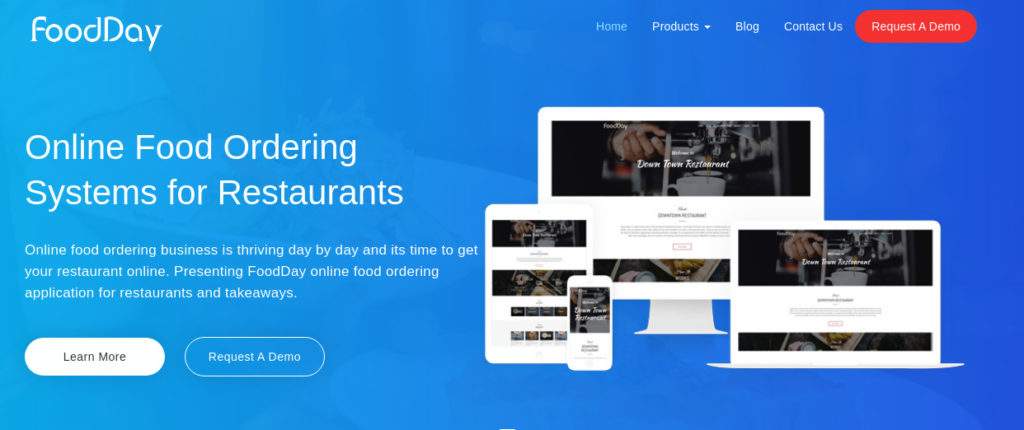 Multi-restaurant food ordering software to start the marketplace today. It helps to create an online marketplace like Doordash, Zomato, and many more. It helps to increase the feasible on-demand delivery of food items and free chatbots. It helps to assist the customer with shopping needs or for any query.
Must-Have Features of online food delivery websites and food ordering delivery apps:
Merchant Features
Push Notification
Easy Menu Management
Easy Restaurant Management
Payment Tracking
Order Management
User/Buyer Features
Easy Registration
Advanced Search Option as per nearby Location
Order Tracking
Multiple Payment Option
Review Rating Option
Food Delivery Website Feature
Real-Time Tracking Record
Push Notification
Secure Login/Logout Option
Convenience of Operating
Conclusion:
The food industry has great potential so starting your entrepreneur journey in the food delivery business is a good decision. You can start your business by choosing the above-mentioned online platforms and making a popular brand name in the food industry.
I have mentioned a few good food delivery website marketplace builders in this post. If you know some more names then share them via the comment section. Also, don't forget to share this article.
Suggested:
Food blogging on Instagram – A few smart tips to consider
Most Popular Food Delivery App To Try.