An affiliate program (CPA network) is a platform for cooperation between product owners (advertisers) and partners (webmasters). In a broad sense, they cooperate with each other and recommend or sell something to potential customers through reciprocal actions. As a result of the actions performed, the user receives a portion of the profit from each sale.
How do affiliate programs work?
You can distribute goods and services through an affiliate program in many different ways: through active sales and through simple recommendations. The main thing is to find a potential customer for your partner, and if everything goes well, you will receive your reward. By the way, you can receive compensation not only as a percentage of sales but also as a fixed payment for doing something, for example, participating in a survey. It all depends on the type of affiliate program you choose for yourself.
Affiliate programs can be divided into two characteristics: thematic and payment schemes. And if everything is clear with the theme (there are, for example, dating, pharmaceutical, trading, travel, etc.), then we want to talk about the differences in the payment schemes separately.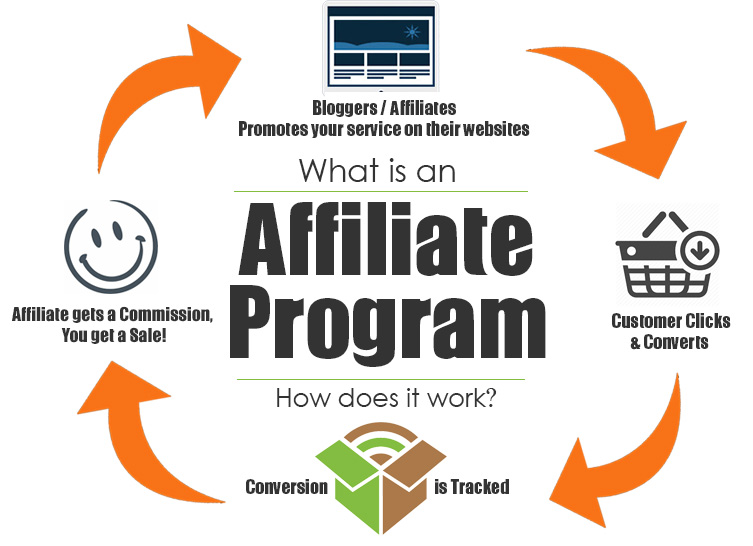 Cost-per-click (CPC)
In this kind of affiliate program, you gain corresponding rewards for each click of a potential client on the website or the seller's website, i.e. your affiliate.
Cost-per-action (CPA)
In such an affiliate program you receive a fixed payment for each target action of potential clients. Only unique actions are taken into account, i.e. those which are performed for the first time by a visitor to the website. Such an action can be anything, but more often it is watching a video clip, registering for a free webinar, downloading free materials, participating in surveys, etc.
Cost-per-sals (CPS)
In such an affiliate program, you bring your partner customers and get a percentage of each sale. The percentage is fixed, but it can vary depending on the specific type of product sold. For example, if you help your affiliate sell an online course, the percentage may be higher than when you help them sell a webinar.
Why is it useful to have several websites for affiliate programs?
Many website owners work with several affiliate programs at the same time. And it is safe to stay with one website if all your partners work in one business niche. But if you plan to expand into other business niches, it makes sense to have several websites.
Such an approach is beneficial in terms of traffic distribution, expanding the audience and potential customers of the company, as well as increasing the number of partners. Not to mention the fact that having several websites in different business niches is convenient. Not only for the website owner but also for search and advertising engines. For example, Google will perceive both of your websites as different if they are in different niches. That means they will appear in the output for different search queries, as well as in different ad units. Even if they belong to the same company.
Monitoring websites related to affiliate programs
A business website included in the partner program should work around the clock, without interruptions, with the maximum possible uptime. Otherwise, it will not generate income. This is especially important for websites that are integrated into an affiliate network or work with several affiliate programs.
And sometimes even seemingly insignificant problems can cause a lot of trouble for the website owner or webmaster. And some problems, if not solved as quickly and efficiently as possible, can cause a negative reaction from the website owner of any kind and significance. From something minor, like overpaying for Google Ads, to users leaving in masse, to losing a lot of ad traffic. And, importantly, the loss of affiliates. Are you sure your site is OK? Follow this link http://www.host-tracker.com/ic/ to check all the critical metrics of your website.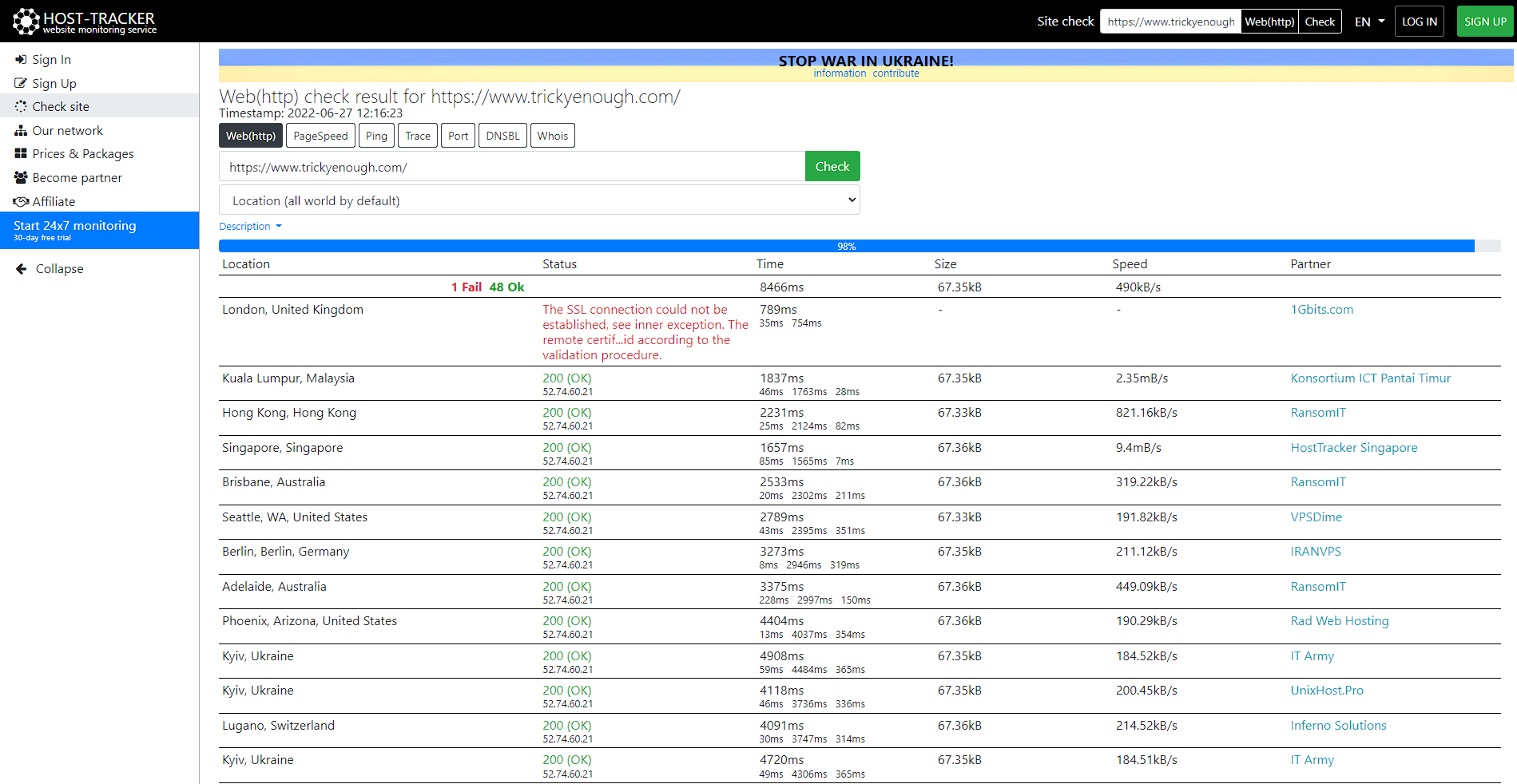 Multi-website monitoring nuances
Considering all of the above, if the webmaster has only one website under supervision, there will be no problems with tracking its status and promptly responding to problems. But if there are many websites of one company, then even an experienced webmaster will have problems with monitoring and solving problems.
Imagine that you need to monitor at least five websites. Take all the monitoring procedures into account. And then multiply those procedures by five, imagining how many tasks you will need to handle. That's when webmasters think about using automated website monitoring services, such as the HostTracker platform. You can find out its site on host-tracker.com and respond quickly to it with instant messages from the service.
This service can perform full-scale procedures for checking multiple websites from more than 140 locations distributed all over the world under different Internet service providers in different countries. In this way, you can instantly find out when, where, and why your website is failing.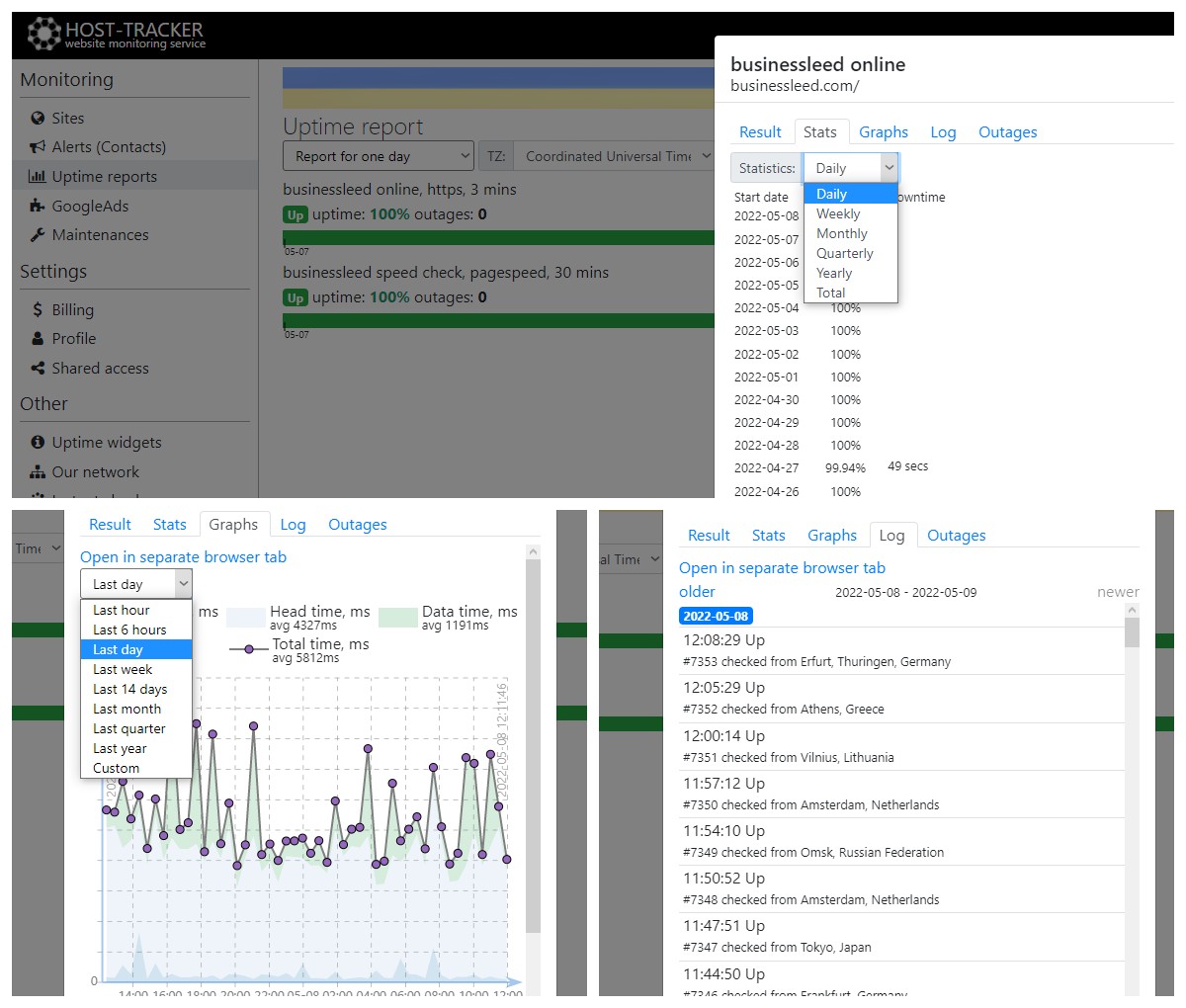 Best affiliate platforms to work with
Affiliate programs, as well as affiliate marketing, have been steadily gaining popularity over the years as a cost-effective business growth strategy. There are many types of affiliate programs, from online courses to website creation, marketing, and business affiliate programs. To optimize the results of affiliate marketing, companies use software and tools to make the process more efficient and effective.
Refersion
Reversion is designed for businesses seeking to stimulate the growth of e-commerce through relationships with representatives, influencers, and partners. This simplifies the process of influence and affiliate marketing through automated workflows, data analysis, and digital tools. This allows you to do everything from attracting your partners to paying commissions. Recruit partners, set the commission structure, track performance, create reports, and process payments in one convenient interface. One of the best features of Reversion is its personalized partner portal. Your partners are provided with their own dashboards where they can track their activity, track commissions and receive payments.
Affise
This is an innovative solution that allows companies to automate and scale their affiliate marketing programs. The platform has extensive functions and tools for creating and managing partner networks. It provides multi-currency and flexible payments, third-party integration, and fraud protection. Thanks to the intuitive user interface, you can easily customize and personalize your dashboards to better manage the workflows of your partners and advertisers. The best part is that you can test an unlimited number of companies until you find the ones that generate the most revenue.
Impact Partnership Cloud
One of the best sets of tools for managing various forms of partnerships. It is a single platform for managing all types of partnerships, including partners, influencers, ambassadors, sponsors, and B2B partners. In addition, it helps companies get the most out of their affiliate programs by combining all the tools they need to attract partners, develop them, and track their effectiveness. It automates actions throughout the life cycle of the partnership to increase efficiency and generates information for decision-making.
Suggested:
Top Paying Affiliate Programs For Beginners 2022: How Can You Get Started And Get Benefits?
Best Affiliate Marketing Programs And Sites

Top 9 Use Cases of Artificial Intelligence for Industries In 2022