Today, there are over 7 billion people who have mobile devices. And these people spend as much as 4.2 hours of their day using apps. This shows the unbelievable potential of mobile apps. With the right mobile app ideas you too can tap into this not billion, but trillion-dollar industry. Who doesn't want a piece, when the cake is this great?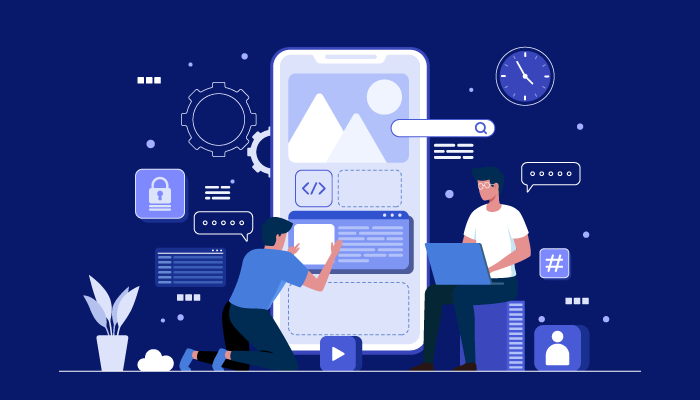 The hard part here is coming up with the app idea. You see, there are hundreds of startups looking for the right opportunities with their idea. Now, if you want to succeed in an industry like this, you need an out-of-the-box idea.
And if that is what you are looking for, you have come to the right place. For this blog, we shall be discussing the top 10 mobile app ideas for startups.
10 Amazing Mobile App Development Idea
There are a thousand different types of mobile apps in the market. And there are a million more resting in the notebooks as ideas. Now, if you want to conquer the market, you need amazing mobile app ideas combined with the right mobile app development. As it turns out, you can find both of these, with us.
With this being said, let' s start with the first idea, which is:
1. eWallet Mobile Apps
The first one on our list is eWallet mobile app development. eWallet apps like Google Pay, and PayPal grew quite popular recently. Leading this industry to become billions of dollars in valuations. Now, there are a lot of reasons to develop an eWallet mobile app.
The market for this is huge, there is more potential, and the market is always growing. This is one of the best ideas for mobile app startups.
2. Job Portal Mobile App
In 2022, there are a lot of people looking for jobs like always. So, what' s the difference? Well, the difference is, that people no longer look for just any job. The new generation is looking for workplaces with diversity and values.
This is the reason you can benefit from a job Portal mobile app development. There are a few popular job portals and websites like LinkedIn, Indeed, etc, but there is always room for more.This is another of the best ideas for mobile app startups.
3. Healthcare Mobile app
Covid showed us well enough the need for improvement in the Healthcare industry. And this time innovation comes in form of Healthcare mobile apps. You see, this app provides many benefits for both patients and doctors.
To name a few, doorstep medicine delivery, online appointment booking, online prescription, etc. There are various types of healthcare mobile apps and with the right one, you can conquer the market.
4. On-Demand Mobile App
On-demand is probably the largest industry on this list. Every service which is delivered to customer' s demand is covered here. This includes food delivery, housekeeping, laundry services, etc. As such, there is much potential in this industry.
If you want to make your place with an on-demand mobile app, you will need to partner with a good iOS or Android app development company.
5. E-Learning Mobile App
Much like the healthcare one, e-learning mobile apps took after following the Covid-19 pandemic. Today, there are large platforms like LinkedIn Learning, Coursera, etc. However, customer demand shows there is still a need for more educational mobile apps.
After On-demand mobile apps, educational mobile app development has the most potential and room for improvement. This is one of the best mobile app ideas on this list.
6. Mobile Banking App
The first question that comes to mind when you read the name "mobile banking app" is, how is it different from the e-wallet app. While both of these mobile apps are financial apps, there is one big subtle difference.
Ewallet apps let you transfer money, attach your bank account, and so on. On the other hand, a mobile banking app is totally focused on the management of the bank account itself. Thus, it allows you to check your balance, transfer money, apply for financial products, and so on.
Mobile banking apps are an amazing example of FinTech mobile app development done right. And also ranks quite high in terms of the profitability on this list.
7. AI-Based Mobile App
Artificial intelligence development has really become noticeably prominent in the last decade. And in past few years, this technology has been showing its true capacity and prowess. Today, if you have the right idea you can bring AI-based mobile apps to the market.
Now, there are a large number of applications when it comes to AI-based apps. If done right, this has the potential to tap into a billion-dollar industry.
8. Logistics Mobile App
Logistics plays a big part in keeping the world functioning. Everything you have ever ordered online was brought to you through some kind of logistics service. However, this humongous industry suffers from multiple problems.
And these problems can be solved with a logistics mobile application. There are various different types of logistics mobile apps, including fleet management, warehouse management, On-demand logistics services, and more.
9. Money Lending App
Money lending has been around since money was invented. However, recently we have seen a change in form of a cashless world. While there are various mobile apps related to financial aspects, this is unique.
You can look at it as a virtual credit card. And as per the situation of the market and the customer demand, a loan lending mobile application is bound to succeed.
10.Food Delivery Mobile app
Lastly, the food delivery app. It goes without saying that everyone loves food. But there is something people love even more. And that is ordering food online and receive it at their doorstep. With a food delivery app like UberEats or Zomato, you can skyrocket your startup's growth.
Conclusion
Developing a mobile application is quite simple, the hard part is coming up with the right mobile app development idea. In this blog, we discussed 10 such ideas of mobile apps that can take the market by storm if done right.
If you want to develop one of these apps, all that is left to do is, hire an android or iPhone app development company.
Suggested:
How Does Grocery Delivery Mobile App Development Increase Your ROI?
iOS vs. Android: Which is Better for Mobile App Development in 2022?