A Single Page Application (SPA) is a web application that loads all its content on a single page. This...
Are you someone considering the development of a website like eBay? But confused about the cost of development? It...
We live in a very competitive environment. Every organization is competing with its peers to attain the highest level...
Today, there are over 7 billion people who have mobile devices. And these people spend as much as 4.2...
Looking for the best doctor on-demand app development company and wanting to know which one is the best, the...
ReactJS is one of the most popular front-end JavaScript frameworks today, and it's growing in popularity every day. It's...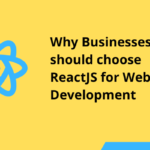 As you know the outbreak of COVID-19 has forced the bank branches to shut down along with other industries....
Mobile applications have transformed the retail industry as a whole. Out of all the mobile applications available, on-demand grocery...
If you're thinking about building an app for your business, you're making a smart decision. Because apps are a...