IOS app development is a diamond mine. And learning Programming Language for iOS App Development can make you the...
Mobile Apps are the software run over smartphones and tablets only and are not compatible with desktop and laptop...
Considering the fast rate of digitalization in the world, every company is looking forward to developing quality software products...
There were several industries that collapsed during covid and others that flourished even more than before. As for fitness...
In a digital world that is always changing, technological technology can be unpredictable. A company's ability to differentiate itself...
Remember how in old times we used to write letters to communicate with our friends? As fun as it...
There are more than 2 million mobile apps in the Apple App Store and Android Play, with thousands of...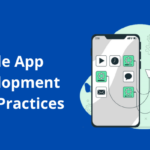 In today's scenario, every business wants to create an app like MoneyLion. Money lending apps help several people manage...
A Single Page Application (SPA) is a web application that loads all its content on a single page. This...