A website is an important web property to have. But a website without targeted keywords is not worth. Keywords play an important role in ranking of the websites. If you are able to rank your website on some of the competitive keywords, then you are in business. We humans can find most of the keywords with ease and start targeting them, but we miss out on checking the keyword rankings on a regular basis. To find out the keyword ranking regularly, we have one of the best SEO tools – Tiny Ranker under the review today. Let us learn more about this productive tool and see how it enhances the site performance.
About Tiny Ranker
A Tiny Ranker is an idealistic tool that every webmaster should start using. If you are really tired of using different SEO tools for analyzing various aspects of SEO, try out Tiny Ranker today. This tool has managed to gather over 3000 worldwide users in quick time. It is the best to analyze your keyword rankings, check the on-page SEO, and see what your competitors are doing to outrage you. If you are not using this tool, you are surely missing something.
Why must one use Tiny Ranker?
Tiny Ranker is an ideal tool to provide you with a stunning range of features. Some of its overwhelming features have been listed here:
It boasts to be the simplistic, user-friendly tool.
Its multi-dimensional dashboard provides a full overview.
One can analyze the website performance in quick time using this tool.
You can email the performance reports to your email id.
You can add multiple websites to each plan.
Keywords Rankings for various keywords can be analyzed at an instance.
Adding a Website to Tiny Ranker's Interface
If you have signed up for this tool (or purchased its premium version), you will like to know the procedure to add a website for which the rankings are to be analyzed. Follow these steps and analyze the website in minutes.
The website name along with the country should be entered. The country must be the one for which the stats need to be tracked. Click on 'Add' button after entering the details.

A new screen opens as you click on the 'ADD' button.

Move to 'ADD KEYWORDS' option and click on it. Now enter the keywords line by line on the page that appears.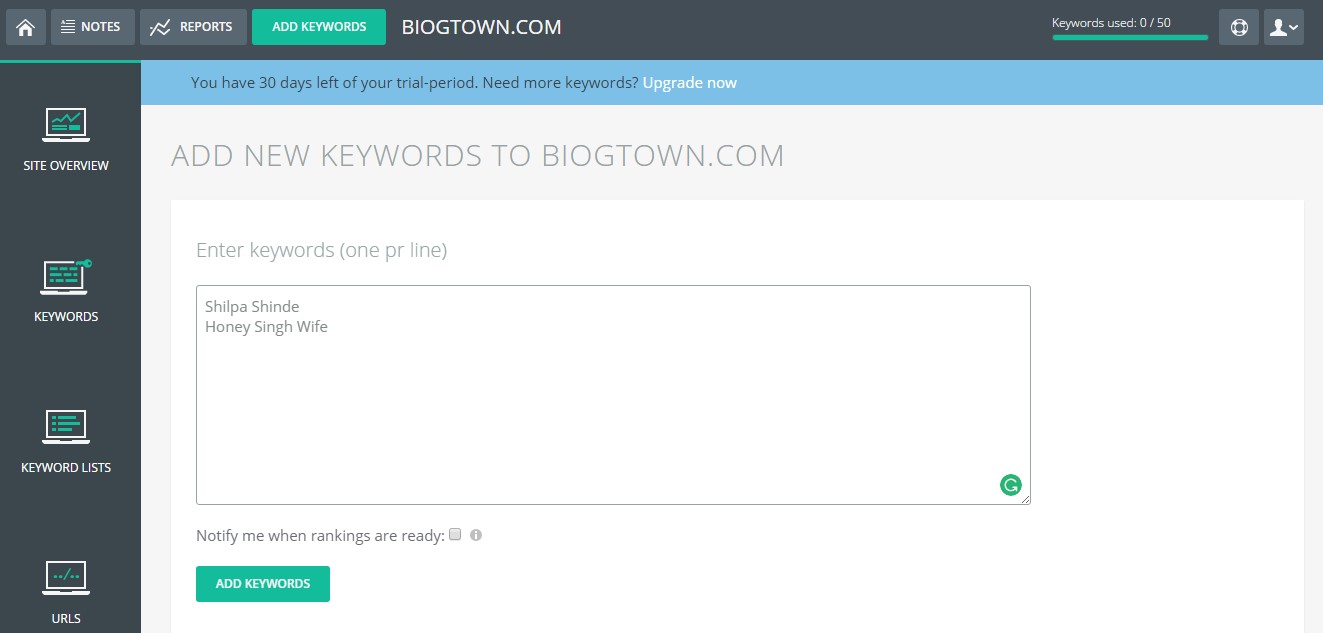 Once all keywords are entered press 'Add Keywords' button. You will be listed the SERP rankings, on-page SEO stats, change in the rankings, and the searches for the keywords. If 'new' appears in 'Ranking' option, then wait for some time as Tiny Ranker is checking the ranking for the keywords currently. These SERP rankings will be displayed soon. The On-Page SEO stats can also be analyzed by clicking on it.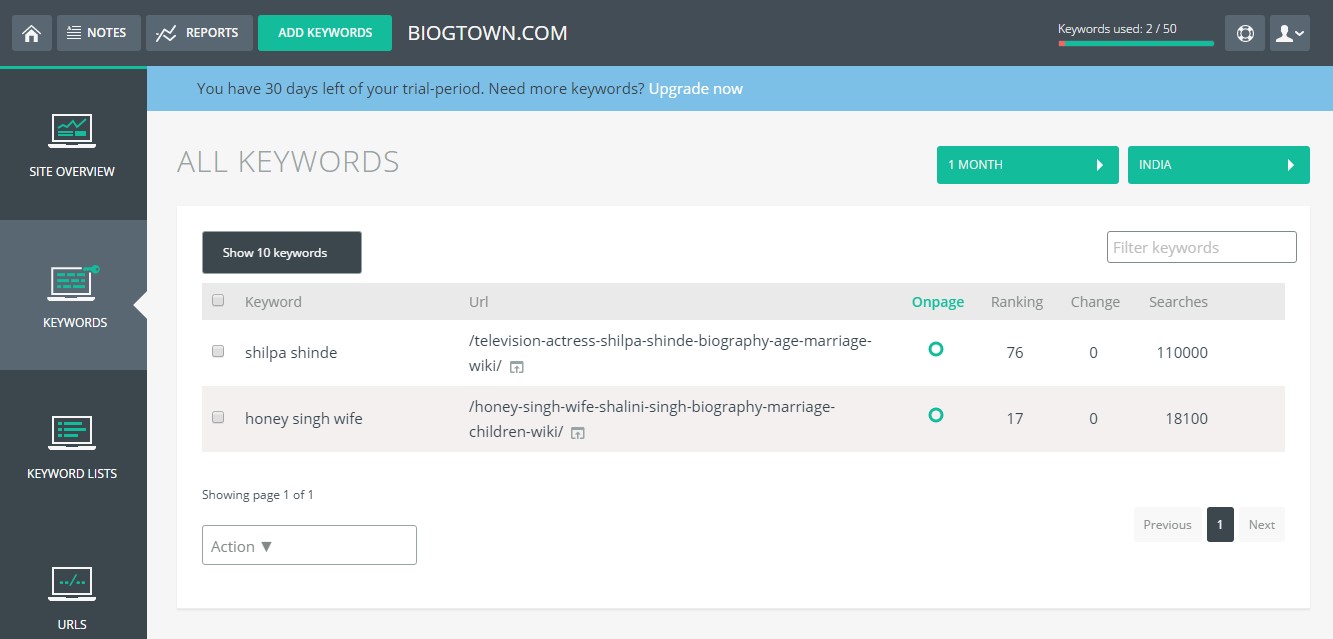 Google Analytics
You also have the option to check your Google Analytics data from Tiny Ranker's dashboard. Click on 'Grant Access' button, and you will be asked to give access so that Google Analytics can be linked to the Tiny Ranker's dashboard. Once the process is done, the Google Analytics data can be fetched directly from Tiny Ranker's dashboard.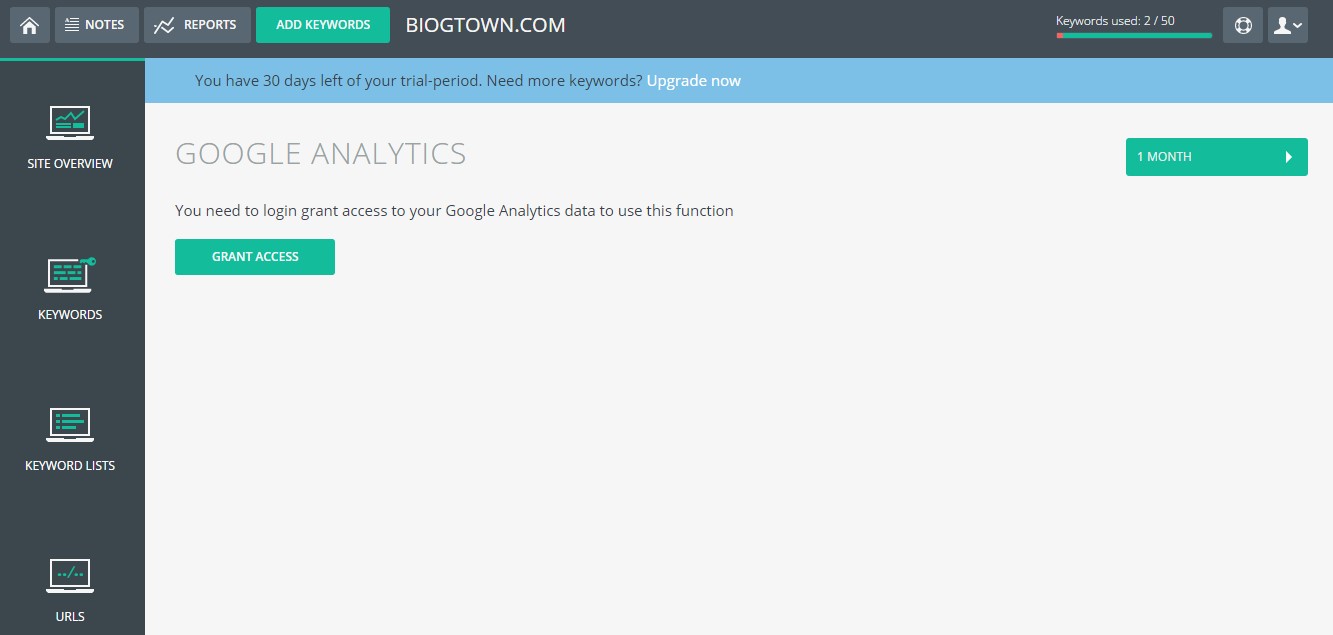 Analyze your Competitors
Check what your competitors are doing to outrage you. Tiny Ranker provides you all means to analyze what your competitors are doing. You can spy on each and every keyword of your competitors and see what position he/she is ranking on SERP. Just add your competitors' website to the tool and start analyzing.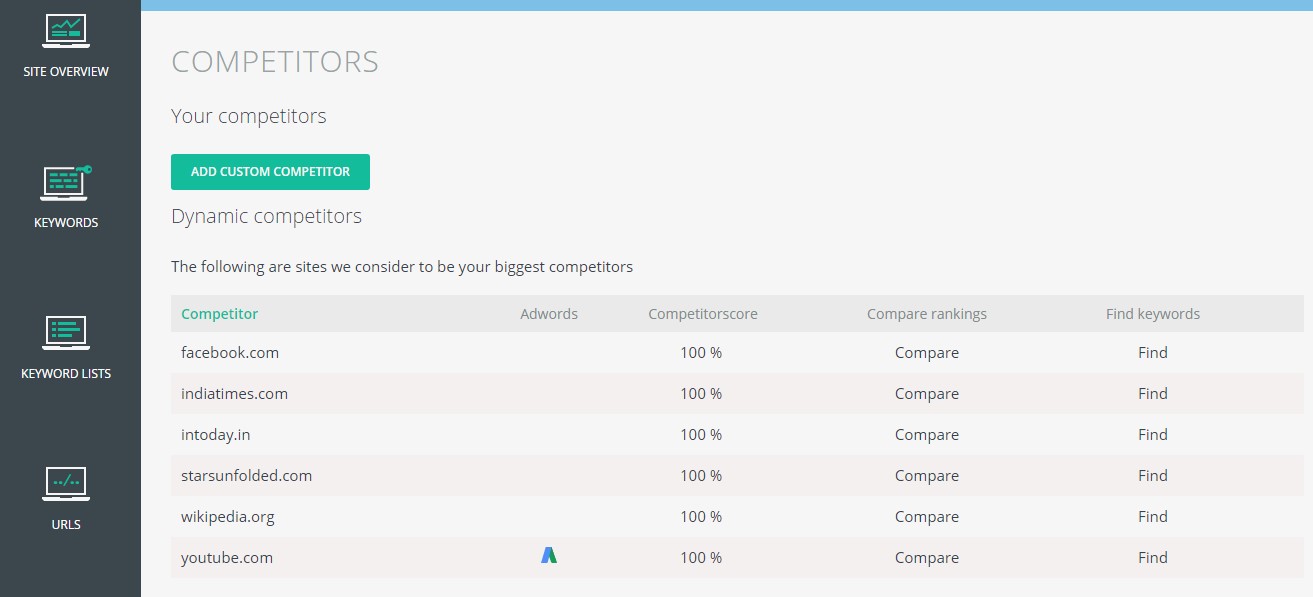 Generate & Email Reports
With Tiny Ranker tool, you can email the reports to your email in seconds. The reports can be sent to multiple as well as single mail id. You can set recurring dates for generating and emailing the reports. These reports contain vital data about the on-page stats of your site, SERP position, change in rankings, and other details.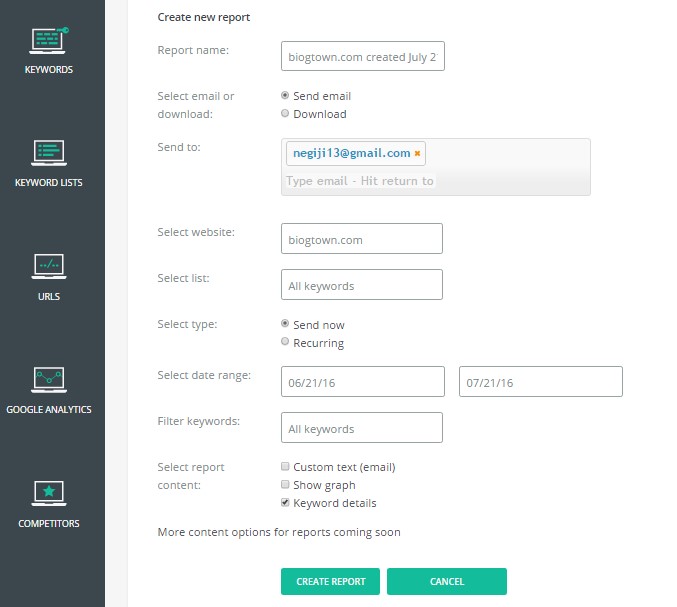 Suggested Post:
How get rid of annoying Emails in Gmail?
Pricing & Plans
You can avail any of the four plans at Tiny Ranker – Starter, Basic, Expert, & Agency. The minimal plan is the Starter plan which starts from $19/month and can analyze up to 100 keywords. The plan can be upgraded based on your needs. All plans come up with features like mobile ranking tracking, SERP tracking, unlimited sites can be added, unlimited users can access the plan and much more. You even get daily updates about the keyword rankings of the site added to its dashboard.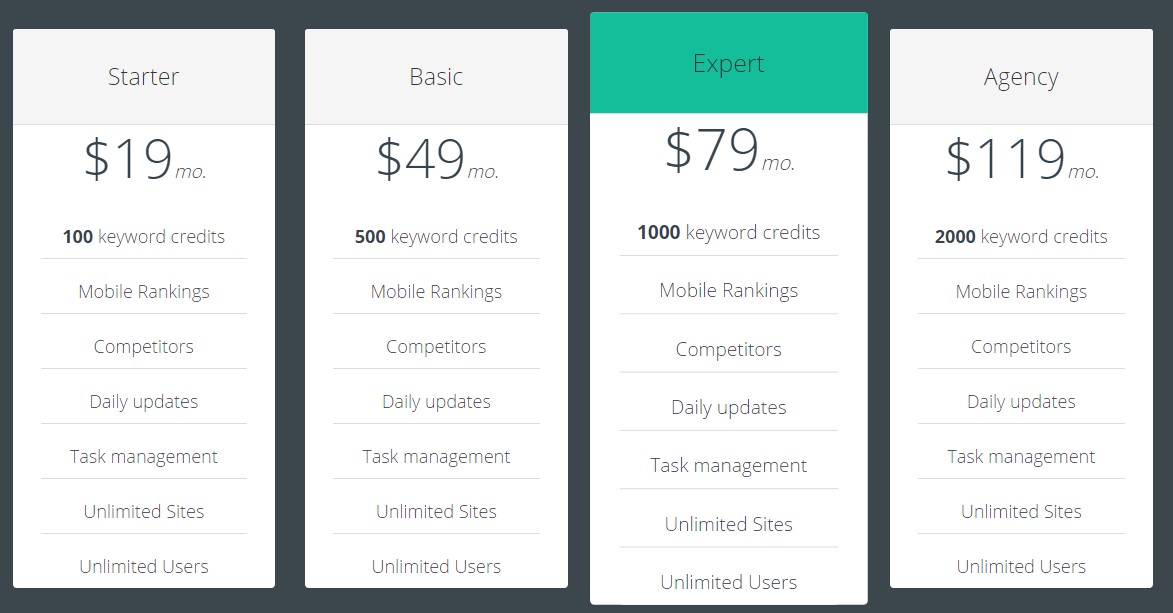 Before going for any of its plans, you can go for its free-trial valid for 30 days. You can test the tool and then choose to continue with it. However, if you have bought the tool and are not happy with it, you can ask for a refund within 14 days of making the purchase. No refunds will be initiated after this time period.
Tiny Ranker Pros
The reports are generated daily and can be emailed directly to your email(s).
Your website's on-page statistics can be properly analyzed and shown to you.
The ups & downs in SERP rankings can be tracked daily.
You can analyze your competitor's site as well.
It even suggests you the best valuable keywords to target.
You can integrate Google Analytics into Tiny ranker's dashboard.
Tiny Ranker Cons
The packages are little inappropriate if we talk about its price. They tend to be on higher side when talked about price.
Despite having a user-friendly dashboard, a noob may face difficulties to understand the tool at first instance.
Final Thoughts
Above, we have discussed some of the most valuable features of this tool and learned how we could track and analyze our website using this tool. It is the one-stop solution for all webmasters looking for a competent tool. The plans may be little higher on price, but the features added to its plans are worth using. Do not miss out on the golden opportunity to try this tool for once. Sign up today for its free trial and see how this tool turns out for you.
Suggested:
Advantages Of Buying Blog Reviews
Top Reasons: Why Are App reviews Important For A Magnified Promotion?
The Affiliate Institute is Getting Positive Reviews