Looking to scale your link building? I scaled mine with guest posts. Then you'll need a team of prospectors, writers, and outreach managers. It's only scalable through communicating effectively, training videos, and project management.
I built quite a bit of link throughout my SEO career, manually one by one: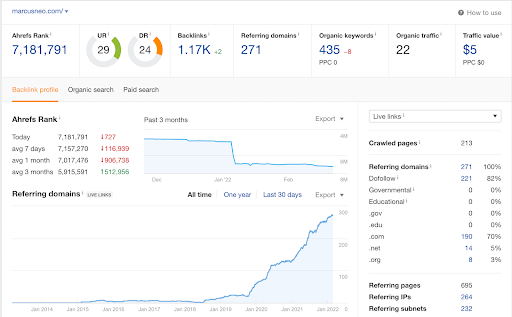 If you don't know yet, SEO link building is one of the most important skill sets one can have. Especially white hat SEO link building. If you don't know, proper links from high-quality, relevant sites are the biggest traffic needle.
Here are three ways to scale link building.
1. Communicating Effectively
One misconception that most SEO consultants have is that you need to be great with data or know how to code. Yes, you got to like data. You must enjoy nerding out to Ahrefs, Screaming frog, and your favorite technical SEO tools.
However, when it comes to building links and doing outreach and writing, messaging other website owners. Communicating effectively is the KEY to getting your message across fast!
That's because you are dealing with different website owners daily. If you're handling a team and multiple projects, then communicating effectively in word, over meetings is crucial.
Yes, link-building is a HUGE pain point.
This is why there are entire link-building brokerage sites built off manual white hat link building. To solve this pain point of liaising with site owners and building links.
Usually, you'll hire offshore staff. Most of your offshore staff are going to come from India, Pakistan, and Vietnam where English isn't their first language. You don't want someone messing up your outreach emails, do you?
This is why communication is key.
Self-Created Training Videos
One key to hiring, training, and keeping staff informed with your standard operating procedures is to self-create training videos. You can then include them in your standard operating procedures and get your freelancers/offshore staff to watch them before hiring them.
This lays out:
· Organization
· Expectations
· Standard working procedures
For example, in our SEO service in Singapore. Our agency screens all links coming through our own sites and clients' sites to make sure they are of quality. You want backlinks from real, constantly updated sites, with targeted traffic.
You want to avoid working with sites obviously selling links, with thin content, and no traffic. This means having a standard operating procedure, down in the video, for your offshore staff or new employees to be self-trained in.
Creating training videos, uploading them on a cloud drive, and then sending them to your employees to watch is one way to scale link building. You can use this principle across onboarding clients and to training staff.
Project Management
There are going to be around 3-4 people working together on an SEO link-building campaign at any given point in time. This requires project management. I assume you are going to be the SEO lead and coordinating staff from all over the world to get things done and on point.
Here are some of the tasks of an SEO outreach campaign:
· Prospects research
· Outreach to prospects
· Updating content calendar, assigning opportunities to writers
· Negotiation
· Documenting and updating backlinks landed
There's no way to do manual link building without proper project management. You'll go bananas. For this, you can use Google sheets. It's free and highly malleable. Project management, training, and processes are the principles to scale any link-building campaign.
Secondly, project management with a client allows for transparency and documentation. You might be working with their web development team whilst you do the SEO, link building, and technical bits. Hence by having a task sheet, you'll get to clearly assign duties and check off tasks between you and the client.
Conclusion
By communicating effectively, and getting your team to talk to each other online effectively, you'll reduce time, to and fro emails, and actually land links. SEOs are notorious for loving data and not focusing on communication. It's high time to do otherwise.
Through creating training videos, you get to stuff your process any time from labor and talent all around the world. They work as a system and stand operating procedures for your link-building process.
Suggested:
How To Not Only Start But Finish Any Project?