Ideally, to fulfill the needs of customers, businesses have to compete with each other and need to think in different and unique ways for customer satisfaction. With the commencement of 4G in India, eCommerce websites have gained momentum. These days, everyone likes to shop online, and almost everything is available in e-stores.
The competition amongst eCommerce websites is increasing day by day. According to Kommandotech, a tech news website, "95% of all retail sales will be conducted through eCommerce in 2024."
If you are planning to start an e-commerce business, then now is the right time. There are 12-24 million eCommerce stores selling products on the internet around the world today. The competition is fierce, but there is a trick to win at eCommerce websites.
Choosing a good e-commerce development company to prioritize the features of your eCommerce website helps you come out with an excellent eCommerce website. Let's discuss "what does a winning E-commerce website include?"
List of things that attracts online shoppers:
1- User-Friendly:
Having a user-friendly website is important from a user's point of view. Also, if your eCommerce website is easy to use and user-friendly, then customers would love to visit it again and again. This increases customer loyalty.
In fact, 76% of online shoppers say that the essential factor of a website is ease of use. The objective of user-friendly is to help shoppers find what they are looking for quickly without running them into unnecessary complexities.
2- Shopping Cart:
Adding a shopping cart is an important functional part of any eCommerce website. It helps your end-users to add their products and checkout in the end. A shopping cart that is flexible enough allows both guest users and registered users to checkout.
Cart is helpful for people who are unable to buy things at the moment. They can add it to the cart and buy it later. Adding cart discounts is a method used by many eCommerce websites.
3- Mobile-Friendly Website:
Did you know, mobile shopping accounts for 50% of online transactions.
A Great E-Commerce website usually offers three types of compatibility for mobile. The first is to keep in mind that the mobile view of the website is responsive and accommodated adequately according to the mobile device.
Second is the WAP which is a template that must be mobile-specific that optimizes the website in time and ensures faster loading time. an application program interface for building mobile apps is needed because everyone likes to access and browse through mobile phones these days.
4- Logistic Integration:
Integrating logistic services not only allows the seamless shipment of goods but also gives both customer and seller an option to track the order in real-time. Allowing the customer to view and access the courier trails instead of reaching the courier services.
5- Payment Gateway Integration:
The integration of different payment gateways is a sign of a good eCommerce website. Every top eCommerce website allows its users to choose from a variety of payment options. This again engages customers, making them loyal to your e-store.
6- Security:
Ensuring the security of patrons is the most crucial thing for eCommerce websites. Security ensures that data such as credit card numbers, UPI pins, etc. are safe and payment is carried out through a secured payment gateway.
Making passwords hashed and not in readable form, protecting servers using state-of-the-art service, and protecting all web pages through SSL are some ways of ensuring your customer's security.
7- User-generated reviews:
Reviews build the trust of your website, and e-commerce development companies strongly recommend it. Around 57% of the total customers buy products after reading the reviews and ratings.
Asking for genuine reviews makes your website more reliable and helps in connecting with people more. Also, it helps in the marketing of the products without any advertisement.
8- Order Management:
A good e-commerce website must be able to help its customers with the order details like refunds, Online payment or cash or delivery, status update, If the buyer can cancel the order, want to exchange, and kind of product update.
9- Content Management System:
A content management system helps in managing the website content such as products, Banners, logos, header and Footer Links, Policies, and social sharing from the backend itself. You can hire an eCommerce developer for making a well-maintained eCommerce website.
10- Special Offers:
Another great way of winning at eCommerce websites is engaging customers on your website, and this is possible by providing special offers. Who does not like discounts and offers?
Customers love to shop from websites that provide them with the right quality products at affordable prices. This trick is not only helpful at winning eCommerce websites but also winning hearts.
11- Communication:
Providing a feature that helps merchants in sending notifications to their customers regarding the status of their orders is a welcomed feature. This way, every merchant will be able to manage his customer just like a real-world store.
12- Wish Lists: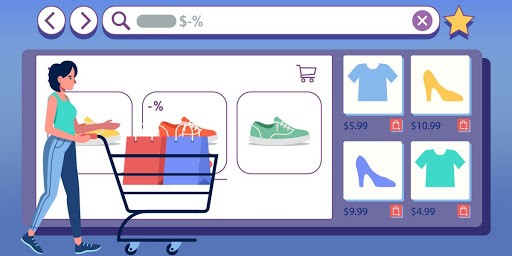 This is the most favorite feature of patrons. eCommerce websites that are not using wishlists are leaving revenue on the virtual desktop table.
If you observe your top competitors like Amazon and Flipkart, both these eCommerce websites allow users to add products to their wishlists. This drives the engagement of users.
13- Find-in-store:
Not every eCommerce website has a brick-and-mortar store. So those who have must add this feature of find-in-store.
This is helpful for people who can't wait for the shipment of products and want instant gratification. Also, being millennials, we like to research online before buying anything, so this is another way to help such people.
14- Collaborating with Malls:
This is a unique feature that you can incorporate into your eCommerce website. You can collaborate with malls, and people can search for nearby malls and order stuff online from stores.
The work will be similar to food delivery apps. Your search for your favorite store, choose your goods, and checkout. The delivery will be done within a day or two or maybe the same day.
This feature, if implemented with the help of a good e-commerce development company, can help your website gain love.Â
15- FAQs:
Adding frequently asked questions about the product helps the customers get all the details of the product. This is because complex purchases require confidence with a seller and detailed information when buying products online versus face-to-face.
An additional information section details frequently asked information, which establishes credibility and builds confidence with buyers.
Suggested:
How To Make Your FAQ Pages More SEO-Friendly?
In a Nutshell:
Those mentioned above must-have features can help you win at eCommerce websites. Marketers and web designers must keep in mind the ease of use, high-resolution photos, security features, and contact information. As they are best practices and trademarks of good eCommerce sites.
The problem of creating the best online store for your business can be solved if you hire an eCommerce developer in India from a trustworthy web development company. This is because an expert can give you the best advice on how to deal with customers and what exactly your customer wants.
Also, if you improvise or take inspiration from the above-discussed features, then you can compete with the top eCommerce websites easily. You need to be smart, think out of the box, and have patience. Cheers!