Are you running a business worldwide?
And your website is in only one language?
Have you not used any WordPress translation Plugins?
Are you looking for a WordPress language translation plugin?
Then you should use the power of WordPress language translation plugins to provide knowledge to the people in their desired language.
If you are already running a website on WordPress, then there are many plugins available that can help to get your website translated into as many languages as possible. You can use the excellent features of WordPress to serve the world's users with their mother tongue.
There are many websites out there on the internet which provide information in Multilanguage. And if you are using WordPress then it becomes a lot easier to make a Multilingual Website. SO…..
Recommended:
Start your Blog with WordPress.
Blogspot Vs. WordPress – Which one to choose?
Here is the List of WordPress Translation Plugins:
WordPress users know that it is a lot easier to translate any language into the desired language using the WordPress translation Plugins.
There are millions of Plugins available on the internet which can make your work much easier.
Here I will be sharing some best Language translator plugins; there are some I have already used.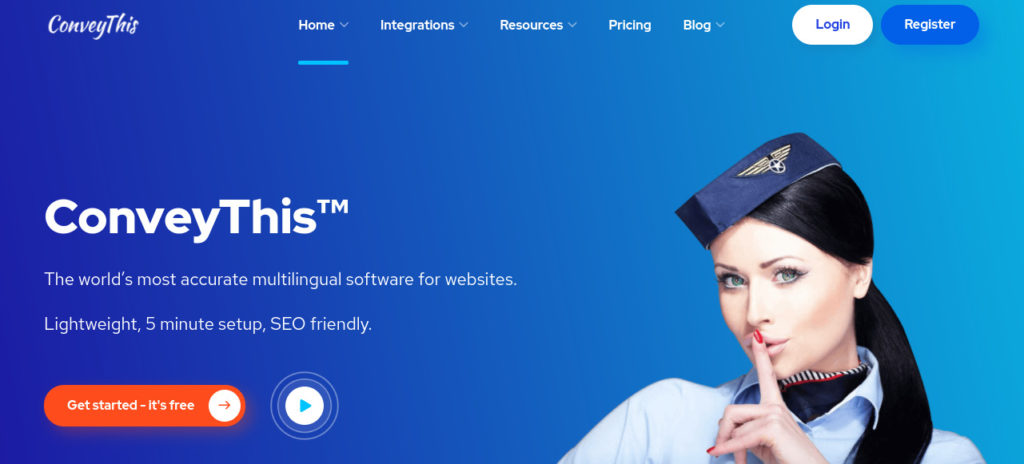 If there is one truly convenient way to translate your website, it must be through ConveyThis!
Successfully re-launched in 2018, an award-winning ConveyThis' team has brought the process of translating a website to the new level. It is the most translated language plugin in the WordPress directory (over 38 language contrubutions) and is growing fast. ConveyThis makes it very simple to integrate into WP website and activate as many as 100+ languages.
So, while you'll configure some basic settings from your WordPress dashboard, your actual translations reside on ConveyThis' servers, and you'll manage your translations from the ConveyThis web dashboard rather than your WordPress site.
So, what are the benefits of that approach?
Well, the big one is convenience. As soon as you activate the plugin and choose your languages, ConveyThis uses automatic machine translation to translate your entire site, and adds a language switcher button. So within the first couple of minutes, you'll already have a working, SEO-friendly multilingual site.
Then, if you want to manually manage those translations, you can go to the ConveyThis dashboard, where you get two different interfaces:
Text Editor — you see a side-by-side list of the original text and the translated version.

Visual Editor — you see a live preview of your site. To translate any text on your site, you just click on it.
Or, you can also outsource your translations to professional translation services right from the ConveyThis dashboard.
To ensure translation consistency, ConveyThis comes with a powerful GLOSSARY function. It can ensure that certains words or phrases are translated in only one way and not the other. Consider something like: ADIDAS. Do you want that brand name become ABIBAS in Brazilian Portuguese language? We doubt that!
Finally, all of your content is SEO-friendly:HREFLANG tags and sitemap.xml integrations. It even includes an integration for RankMath SEO to help you to translate your SEO titles and descriptions.
The only potential downside with ConveyThis is price. While ConveyThis does have a limited free plan that lets you translate up to 2,500 words into one language, the paid plans use SaaS-style billing, which means you'll need to continue to pay for as long as you want to use the service.
Paid plans start at €4 a month for one language and up to 10,000 words.
2. My Wp Translate
:
Plugins and themes from MyThemeShop have always been my first choice, and even, this time, I will recommend you to use the My WP Translate plugin from MyThemeShop. It is one of the best and free used plugins. This is mostly used when you have a wider range of audiences, a global audience.
It will not only translate your content, but also will translate the plugins, and also offer multi-lingual searches. They also provide a paid plugin with the name "Wp Google Translate" it has some more amazing features than the ordinary one and translates your content into more than 80 languages.
Is free as well as a premium plugin that mainly focuses on multilingual tools. By using it, you can manually translate pages, categories, tags, and posts as well as widgets.
Why use it?
You can add single or multiple languages to your WordPress blog or WordPress website with the combination of locales, language name and also with the country flags.
Is compatible with SEO Plugins like All in one SEO and SEO by Yoast.
One can change the language from the front end of the website. Provides drop-down menus with customizable features.
You can also check out a tutorial about it A Quick Start Guide.
And also have some Add-ons like:
Lingotek Translation plugin uses the cloud-based local translation and localization system that provides machine-based translations and also sometimes by human translators. Some of its features include professional, community, and machine translation and enable us to deliver the brand to your consumer abroad in the easiest and quickest way.
Why go for the Lingotek Translation?
It's cost-effective.
The translation is much faster.
Better Quality
It eliminates the copy and paste method for translation
Real-time monitoring
More loyalty and involvement
Review in the context.
The admin's interface is multilingual as well, and each user can use the dashboard in their language.
The WordPress language packs are updated and download automatically.
Customizer switcher is provided in the nav menu or as a widget.
It can also translate pages, posts, categories, media, menu's, widgets and tags.
The Ceceppa Multilingua plugin was developed by Alessandro Senese to help WordPress users for managing a full Multilanguage website. This Plugin also contributes to writing pages and posts in multiple languages.
Some of the Best features of it:
You can edit the content and translate it from one page only.
Provides different post and pages for each language, so that you can use different URL and do different SEO for each page.
It can easily translate your whole theme.
You can also use SEO friendly URL (following the language)
Single click between the languages and the translations.
You can set different menus for each language.
The plugin can also be used for the custom type posts.
There is the availability of group/ungroup comments for each language used.
It is also compatible with SEO by Yoast, All in one SEO and Google XML Sitemaps.
Polylang is another among WordPress Language translators which is one of the best and helps to create a multilingual as well as a bilingual WordPress site. It can also be used with the Lingotek translation Add-on which I already have mentioned in the above list. It can support up to 41 languages as well.
Why Use it?
Helps you to use as many languages as you can. All the RTL scripts of languages are supported.
It has many of the features like Lingotek Translation Plugin.
The language code can set the language in the URL or by the content itself.
It allows the detection of language which helps in setting the language via URL code or manually.
The GTS Translation plugin is mostly popular among the authors of the site and helps them to get more traffic to their website using the linguistic features. It also uses a feature called crowdsourcing which helps in quality human translation and combines automatic translation with human post-editing.
While using the GTS plugin, the translated content is cached in the WordPress database and is easily indexed by search engines which helps to grow your international readership and also improves the website traffic.
Some of its features:
The Plugin claims for increasing the website traffic by 30% after two months.
30 languages are supported.
It uses its private and secure translation server.
Another impressive feature is that translated post can be retweeted

easily

.
One of the best WordPress translators, It supports 103 languages, and the plugin claims that you can reach 99% of the internet users by using it. It is one of the oldest Plugins and is used by 500,000 websites worldwide because it was developed in the year 2008.
Some of its features:
Have an automatic translation feature.
Best known for Mouse over effect.
Integrates with Google Analytics.
Its best feature is that it translates the site on the fly.
Have Valid XHTML
The author of the translator Remy B Claims, the plugin to be the best and easiest translation plugin for WordPress. It also aims to provide a dashboard with the translated interface.
Benefits of the Weglot Translate:
Works with every Plugin and theme.
More than 60+ languages for available for translation.
It automatically detects and translates the content
The language switch button is customizable.
Why use these WordPress Translation Plugins?
I am sharing these plugins because there are some of the plugins which I have already used and have worked well for me. These plugins can help you to get more traffic to your blog or website because you will be targeting people worldwide.
Suggested Post:
What are the essential Plugins for your Blog?
Some of the best WordPress commenting Plugins for your blog.
Finally, What I want to say:
The WordPress translation plugins that I have shared are good enough to use but if you are looking for the right plugin for your website then check your requirements and then choose the plugin according to it.
And moreover, I would like your experience (if any) about the plugins that I have listed, or you can also let us know in the comments which I have not mentioned, and you are using.