There are certainly cool and best applications for children to develop their coding skills. By practicing these applications children not only rely upon technology, but they can also be a good creator. The coding skills nurtures creativity. By developing coding skills, they can develop their own games, solve complex problems, they can think logically and moreover they show interest in maths.
As we are moving towards the contemporary era, technology and programming play an essential role. It is not necessary that coding and programming must be done in the twenties. Now, elementary school students are moving towards programming. You don't look for the ability and curriculum of the students. There are coolest applications and software which will enable the kids to learn coding and programming. This article describes seven applications for teaching coding skills for children.
An award-winning application that guides the children about coding. The interface used in CodeSpark is developed in such a way that kids involve more in fun activities and don't even realize that they are learning. With the character – "Foos", they learn to code. Since this application involves fundamental coding concepts, to help Foos, they use logical thinking and problem-solving ability. CodeSpark develops young buds to create their own stories and games.
This application is free of cost and available on the android and ios platforms. The puzzles in CodeSpark are developed primarily for kids so that they can use this application without the direction of adults. There is an open play area in CodeSpark, where kids can code and share their private games. With the help of custom voice, recordings and photos, they can even interact with the application while coding. Beyond puzzles and play areas they can even learn additional programming concepts and algorithms in a fun-way method.
Another amazing coding platform for kids, apart from the active computing books that they have in their School where they can practice real programming languages, professional tools to create games and learn to build websites. Codakid includes programming languages such as Javascript, Java, CSS, Unreal engine, Python, Arduino, HTML, and Lua. This application also boosts the kids to be proficient in maths, problem-solving skill and critical learning ability. Apart from coding and programming language, Codakid develops the kid in programming drones, build applications, Minecraft and Roblox coding.
3. HOPSCOTCH: PROGRAMMING FOR KIDS
Hopscotch is a perfect application for kids to learn to code. This application is essentially designed for the students of grade 2 to grade 6. This is a cost-free application which revises for ios version. Through the regular practice of Hopscotch, the kids are able to develop games, applications, and animations individually. As they develop the games, applications, and animations by themselves, the application nurtures creativity at an early stage. Hopscotch is a user-friendly tool and very comfortable to access. This application involves video tutorials that guide your kid by developing popular games such as Dino run, Minecraft, Cherry pot, Geometry Dash, Pokemon go and many more games. Moreover, Hopscotch creates new possibilities for students in diversified subjects. This application is recognized as the best app education by Parents magazine.
Another exciting application to develop coding skills is through "Kodable". This application serves to teach coding from basic to advanced levels. Kodable teaches Javascript, Python, HTML, CSS, Java and many other programming languages. This application breaks down complex concepts into a basic one to provide a strong foundation on computer Knowledge. Students who are willing to choose their career in computer science, Kodable provides your kid with great knowledge and learning.
On both on-screen and off-screen components, the children are able to learn over 70 lessons and each lesson includes instruction guidance, study materials, and vocabulary words. There are certain levels included in the Kodable application. At the first level, students learn the basic coding and at the further levels, they move in advance. Apart from the coding activities for children, teachers can create a class account, share vocabulary, show classroom tutorials and manage coding levels for the students.
A unique coding application for kids aged seven and above. With the Tynker application, kids learn to code using different programming concepts. Tynker is involved with programming languages such as Javascript, Python, CSS, HTML and many more. Moreover, the application includes over 2000 challenging activities to develop programming skills. Apart from Tynker, there are few other applications such as Tynker Junior and Mod Creator which enables the student to learn more about coding through interactive learning modules, mini-games, challenging puzzles, and coding projects.
They can even work with loop statements, condition statements, and many other C programming concepts. In addition to this, Tynker introduces Visual Programming Languages. Kids learn coding skills in a fun and adventurous style. Kids are offered buggy code snippets to solve challenging puzzles. They are practiced more with critical thinking, logical thinking, and problem-solving ability. For grades eleven and twelve, Tynker offers coding puzzles on Python to solve. This application is developed for the ios platform.
Free coding application for young buds that works well in the android and ios platform. This is the best application for kids aged five to eight. In a very early stage, the application "Scratch" helps your kid to program their own interactive stories and games. By using this application in an advanced grade, they learn to solve problems, design projects and showcase their creativity. Children learn the basic level of visual programming and make use of this to develop their own favorite characters and make those to move, jump, walk and perform many other activities according to their wish.
Because of learning coding and programs, they not only learn to be more interactive but, they can even express their creativity in front of the computer. Due to this, they can design their own subject projects, solve complex problems, think logically and critically and furthermore build self-confidence. Moreover, they use math as a motivating context to develop numeracy in early childhood.
7. BEE BOT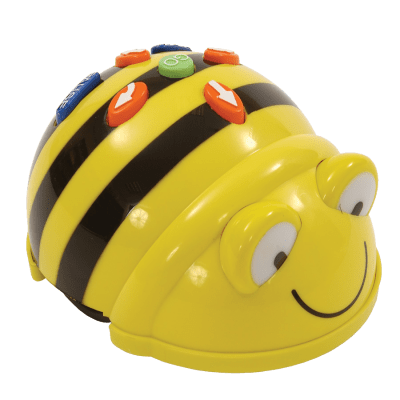 From a very popular Bee-Bot floor robot, there emerged the application Bee-Bot which makes the student understand the basic and complex programs in an easy way. This application allows the kid to perform many challenging puzzles and games using the Bee. With the help of the Bee-Bot application, students can develop their coding skills, learn different programming languages and ability to think logically and critically. This application nurtures creativity among childhood at an advanced stage so that when they grow up, they can handle complex problems and think logically. This application always satisfies with unique programming challenges and puzzles for the kid at different aspects of the game.
Suggested:
The 5 Programming Languages You Should Start Learning Today
Latest Programming Technologies to learn.
CONCLUSION
Coding is neither difficult nor easy. It depends on the way we took it. It is difficult for a student to suddenly fall into advanced programming concepts. Because of this, the student may lose interest in programming and coding. It is necessary to bring coding and programming as an important subject in schools. Even if the child is not interested in learning to code, he is at least able to learn logical thinking, problem-solving and critical thinking. When coding is introduced at an early stage of childhood, we could witness many benefits such as creativity and interaction. So, it's time to teach coding for your kids by using these applications.