Front-end web developer uses multiple coding and Scripting languages to execute web design projects. If you see any website,...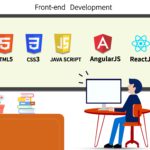 A lot of developers using Python frameworks to build programming and develop software. The architecture provides to our developers...

To combat viruses, malware, malicious sites we download and install an antivirus solution. Moreover, we also purchase its pro...

There are certainly cool and best applications for children to develop their coding skills. By practicing these applications children...

First of all, let's face it — no one cares. We are living in the real world, with real...

Websites are powerful platforms that are used by organizations and companies to reach out to the masses and spread...

Each day we learn new things, gaining new knowledge and skills in web designing. The journey of knowledge never...

SEO as a whole has drastically changed in the past couple of years. The usage of many new front-end...

The process of PSD to HTML conversion is a time-intensive process, which needs skills for technical coding on the...