Facebook is the king of social media platforms. Ever since its launch, it has been the talk of the town and holds its relevance to date. The ever-growing user base of the platform acts as evidence for the claim. But in this post, we will discuss the Best Performing Facebook Feed Plugins for WordPress.
It is not rocket science to break the code of success of the platform. People usually prefer Facebook because it is simple to use, provides various mediums to express and spread messages, and helps build a social circle. Not only individuals but even businesses find the platform beneficial as many are even opting to embed Facebook feed on the website to exact more benefits from the platform.
With the ease of the internet and eCommerce, consumers are finding more comfort with online shopping and exploring brands while sitting in their homes. Hence, there has been an increase in website building platforms such as WordPress that provide easy website building solutions.
By opting to embed Facebook feed on WordPress, brands are combining two of the best in their own categories to get better results for their business. So if you haven't yet opted for this strategy, then you are missing out on a huge opportunity to take your business to new heights.
Various WordPress plugins help you in this cause, but we have filtered some of the best Facebook feed WordPress plugins for your convenience.
Facebook Feed WordPress Plugins That Worth A Try in 2022
Following plugins are some of the best WordPress plugins. You can find them with ease, and as they have a user-friendly interface, you can operate them with comfort and enjoy the benefits it provides.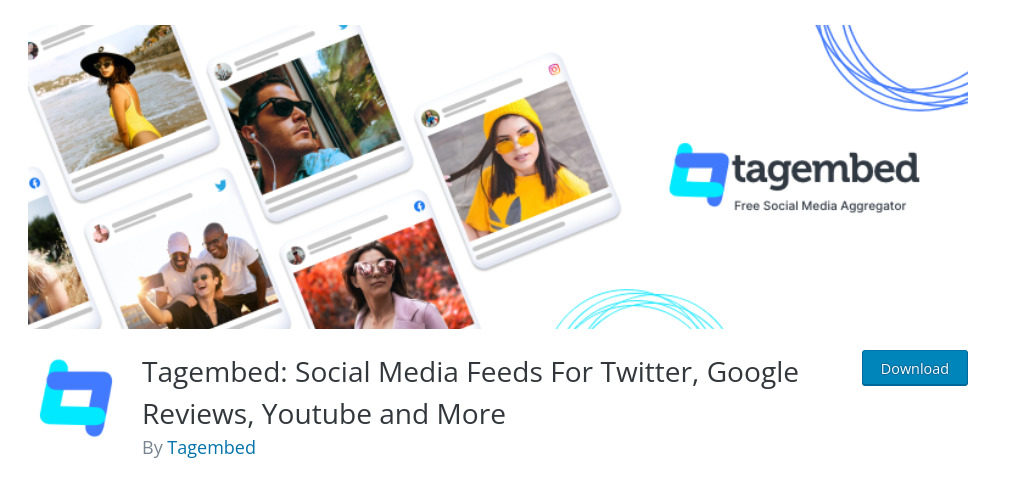 Tagembed has made a name for itself in the market. It has emerged as a popular social media aggregator tool due to its easy-to-use interface and pocket-friendly prices. It brings the same charm to WordPress with its Facebook feed WordPress plugin. You can find it with ease on the plugin store. The plugin helps you collect social media feeds from 19+ platforms, allowing you to curate and customize them and display them on your WordPress website. In addition, it provides a dedicated Facebook widget that enables you to showcase Facebook feeds on the website without any hassle.
It simplifies the embedding process and provides you with a responsive Facebook widget that you can embed on your website within a few clicks. The responsive widget adjusts itself as per any screen size, providing a seamless viewing experience to your visitors.
Alongside easing the embedding process, it also provides various features that make it an ideal Facebook feed plugin for WordPress. Like, it allows you to personalize your feed as per your need by enabling you to change the font size, font style, and more. Also, you can even choose from various themes and layouts and opt for the one that best suits your website's style.
Moreover, the plugin provides you with the moderation feature to remove the posts you find unsuitable for your website. Here you can either remove the post manually or opt for automation where the tool removes the posts containing provided keywords. And as we talk about automation, one of the most amazing features of the plugin is that – it updates the feed automatically. That means, as soon as someone uploads the content on the source, the website feed displays it simultaneously. Therefore, there is no need to refresh the feed manually.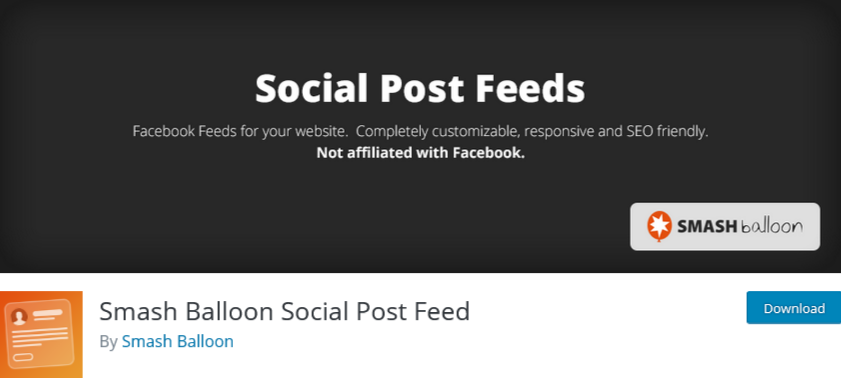 SmashBalloon Social Post Feed is one of the well-renowned plugins on the WordPress website that enables you to display the Facebook feed on WordPress. Like the plugin mentioned above, you embed Facebook feeds on WordPress without writing a single line of code.
With the help of this feed, you can add posts even from Facebook pages and Facebook groups that you are the admin of. Furthermore, the plugin is optimized for mobile devices; hence your website looks wonderful to visitors using any screen.
Also, there is no limit to the Facebook feed one can display on the website, making the website engaging to visitors and keeping them hooked. Also, you can even integrate multiple Facebook feeds on the website to make it more engaging. The unlimited feed enables the visitors to spend more time on the website. Consequently, it increases your chances of converting that visitor into your customer.
3. Flow-Flow Social Feed Stream By Looks Awesome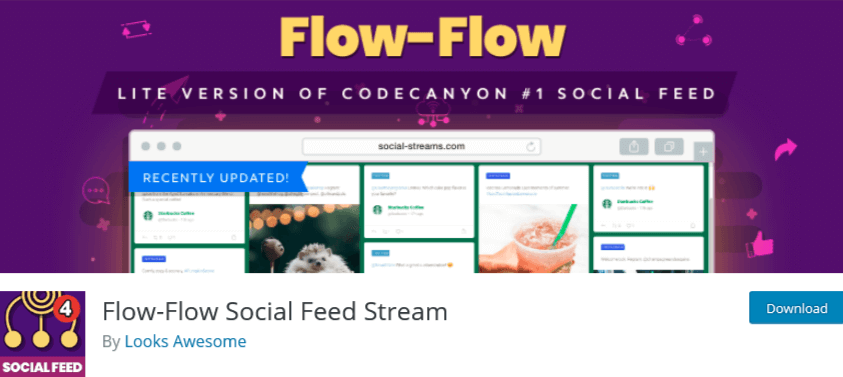 Flow-Flow Social Feed stream is another amazing WordPress plugin that lets you collect Facebook feed from your desired source and display them on your website. Alongside Facebook, the plugin is also compatible with other major social media platforms, hence providing you with options if one platform does not satisfy your need.
By using a rich design from plugins, you can enhance the beauty of your website and attract more consumers to your website.
Like the tools mentioned above, it is compatible with any screen type. That means no matter what device your visitors use, the magic of your feed remains the same. This feature is added, keeping in mind the easy accessibility to the internet. One cannot control what device people use to navigate through the website. Hence, with the help of a responsive widget, your visitors can easily go through your feed.'
The plugin also helps you to increase engagement on the website by providing social media counters like comments, likes, and views. With the help of these counters, visitors can determine the brand's reputation, and by reading the reviews, they can form their opinion.
In Conclusion
Facebook has emerged as a helpful social media platform for businesses. It helps brands reach more customers and provides them a platform to market their products or service to a large audience. While using Facebook for marketing purposes is a smart move, you can extract more benefits from the platform by choosing to embed your Facebook feed on the website. The plugins mentioned above are currently the best in the market. They are easy to operate, pocket-friendly, and prove great results. So what are you waiting for? Try these plugins and now choose the one that best suits your needs.
Suggested:
How to merge two Facebook Pages?
How to Retrieve Deleted Messages on Facebook?
Fixing the Facebook Dating not Showing up.