The technical landscape requires globalization and unification which puts the technopreneurs in dilemma while choosing the right development approach for software development.
Businesses and enterprises usually prefer cost-effective things and can meet the rising bar of standards and skills. The full-stack development approach is a wise choice for the modern web and mobile app development market.
Currently, the IT industry is surrounded by the buzzwords like full-stack development and full-stack developers. For any business, developing new software is altogether a burdened task and requires many developers having a different specialization.
But with the full-stack development approach, you can get all-in-one because they are pro in each and every field and master of all the technologies stacks. Moreover, the demand for multi-skilled developers has grown by 200 percent within the period from 2015 to 2018.
With this blog, you will get to know why choosing the full-stack development approach for modern business is an effective approach and why you should hire a full-stack developer for your software development.
Advantages of Choosing Full-stack Development in Modern Businesses: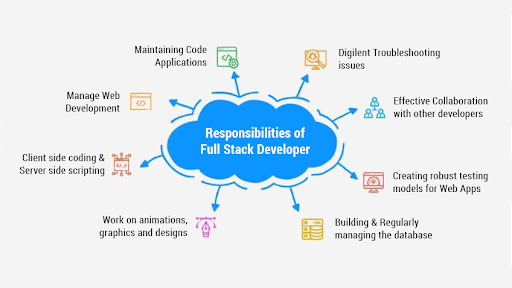 1. Huge demand for full-stack developers
Full-stack developers pose diverse coding skill that is required for software development. For a modern business, it will be a wise option to hire a full-stack developer as hiring full-stack developers is cost-effective because it replaces the front-end developers, back-end developers, and the DBAs (Database Administrators).
2. Distinctive code
Full Stack developers pose an edge over all the other developers as they continuously keep themselves abreast with the latest technology stacks from the back-end, back-ends of the Database.
They bring with themselves creativity and innovation within each and every domain so that a business or any start-up does not need to look for any other developers thus saving their time, effort, and money spent on recruiting and hiring the new talent.
3. In-Depth expertise in multiple technologies
Full-stack developers have hands-on knowledge across multiple technologies. They can create the front-end part, back-end database, add animations on the screen, edit images in Adobe Photoshop and much more to put things in the right place and deliver the project on time.
This results in reducing the dependency on the organization in technical aspects.

4. Good at optimizing the code in Java, HTML, PHP, JavaScript, and more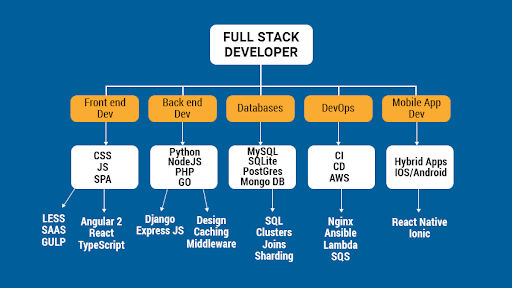 Being an all-rounder, they are well-versed with the font-code optimization of projects and handle the front-end interface of the project using the commonly used programming languages like HTML5, CSS3, JavaScript, and BootStrap 5.
5. Optimize the maximum use of APIs / API Integration
AOI integration within a web or mobile app is the same as enjoying the benefits of reaping the harvest while others sow the seeds. Companies always prefer to integrate and implement APIs in the modern website and mobile app development rather than wasting time on designing their own solutions.
Choosing full-stack development for your business will help you enjoy the third-party services without any extra party. All you need to do is hire a full-stack developer in India and see the magic.
6. Excels in writing the back-end code (Java, Ruby, and Python)
This is the most important and equally equivalent part of a full-stack developer's skill set. Just like a back-end developer, they develop the mobile and web project back-end part to develop the back-end of any project. They also maintain the website and application logic, authentication, and data processing.
7. In-depth knowledge about the database
Full-stack developer specializes and understands the working and functions of a database. However, as an entrepreneur, you must look for a positive and long-term experience within MongoDB and MySQL.
8. Sound knowledge of system infrastructure / troubleshoot issues
Full-stack developers are proficient developers who have a deep understanding of infrastructural connections and general system knowledge. Hence, they can easily detect problematic issues and overcome the project's disadvantages.
They are excellent in handling hardware solutions and prevent delays connected to hardware failures. They provide effective troubleshooting on time that depends on two different factors:
9. Detecting issues during the development phase
Full-stack developers having knowledge in multiple domains and years of experience find the drawbacks during the development process itself and come out with a solution as soon as possible.
10. Issue related to post-maintenance and updates
Opting to develop the website or an application using full-stack solves two issues simultaneously as they are experts and are aware of both the factors, hence they develop elaborated productive algorithms to deal with either of these problems.
11. Proactively coordinate with the clients and manage the entire project single-handed
When you choose full-stack development for your business, you do not need to worry about organization and administrative skills. Usually, they are outspoken and good at handling clients taking maximum advantage out of the current projects.
12. Problem-solver
From a business point of view, full-stack developers are the perfect choice for startups and small businesses. They are excellent problem-solvers and can handle every aspect of the project right from the beginning till its deployment.
13. Jack of all
They have an all-in-one solution and possess practical knowledge in diverse spheres of the development process of software. They are experts in convincing the sales manager and presenting convincing arguments to the stakeholders.
14. User-friendly approach
Having years of experience as a full-stack developer, they pay keen attention to the recent UI/UX trend and develop a user-friendly and intuitive user interface for the users that is a must for the website or an app developed by a startup. This is the first thing a user gets to see while interacting with the brands.
15. Cheaper solution for better result
Full-stack development is a cost-effective approach for any organization as they do not need to hire different IT people for different tasks. In the end, it reduces their expenses and delivers the best result in a more petite time frame.
16. No delays
Posing years of experience in diverse domains, full-stack developers handle the project efficiently by analyzing different cases and implementing the right working plan. They optimize the entire development process by sharing the loads among all the development team members and cording the workflow. In short, it reduces the total working hours spent on the project and avoids delays in delivery.
17. High responsibility level
When you hire full-stack developers for your project, they quickly adapt to the workflow of the project, even if they dive in between. But the scenario is different when you hire newbies or specialized developers.
New developers often face trouble in adapting to the team and implementing quality-directed offers to get the right output in a shorter time.
The Bottom Line
Full-stack development brings your project to life and offers a lot of advantages to startups and businesses. Hiring a full-stack developer for your business is a wise choice as they come with a knowledge of multiple technologies in the same bag.
Aside from this, before hiring any full-stack developer, you need to look at the prerequisites of your project and then make an appropriate choice. Hire full-stack developers as they are budget-friendly and highly qualified experts.
Get in touch with the top full-stack development companies and have your end-to-end software ready for your business case.
Suggested:
What all to keep in Mind while Choosing a MEAN Stack Development Partner?
5 Essential Tips on How to Become a Full Stack Developer.
What is Mean stack development?