Why are entrepreneurs so keen to start their own grocery delivery app? A number of businesses are entering the online grocery market, which has led to tough competition. Also, the customers want the application to act as a one-stop solution for all their needs. If they don't find the right solution on one app, they quickly shift to another that can meet their demands.
In today's fast-paced world, both buyers and sellers look for fast solutions. The reason that has made grocery delivery app development famous is that customers want to make sure that they have groceries delivered to their doorstep due to their busy schedules. On the other hand, the vendors want to reach out to more customers online for better growth of their grocery stores.
Hence, to ensure that your on-demand grocery delivery app can satisfy the users and retain them, it should include several features that can solve your customers' pain points. This blog will help you discover must-have features on all your grocery delivery apps. Check these and grow your online grocery business effectively.
How do grocery delivery apps work?
Grocery delivery apps are not just about the company and the buyers. It's more than that. Delivery groceries apps are a three-way model which includes customers, vendors, delivery agents, and the admin. A buyer selects the items, adds them to the cart, and places the order with the delivery time preference. Once the vendor receives the order, he works on preparing the items to be delivered. Further, a delivery agent is assigned to the order who is responsible for handing over the order at the destination within the set time slot.
Throughout the whole process, the admin has access to every piece of information from the beginning. The admin can track crucial details like the number of orders placed, vendors and delivery agents registered on the grocery app, total earnings, and so on.
Let's look at some essential features that can make your grocery delivery app a huge success.
14 Must-Have Features on the Grocery Delivery App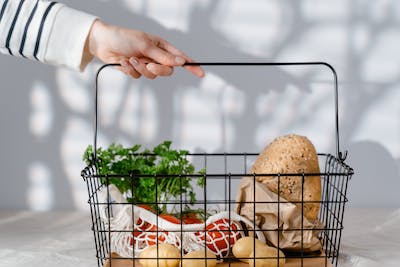 Now that you know that you would need different apps for different users, it's time to identify the crucial features that these apps must contain to ensure that there is a hassle-free process followed for every order.
Easy registration
Registration is the first step that your user will have to follow. The registration process should be easy and hassle-free, whether it's the customer, vendor, or delivery agent. Your application should allow them to register through phone numbers, email, or even social media platforms. The users should get the option to choose from what might be the most convenient for them.
Voice lookup
The users want to browse and search to be as easy and fast as possible. Adding a voice search feature in the app can make it stand out from the competition. It will help the customers quickly search for what they need, hence, leading to a better user experience.
Integrate platforms
Integrating valuable platforms in the grocery delivery app is a must. It could be social media platforms so that the users can share their reviews and recommend them to their friends. The application should also integrate necessary payment methods to make online grocery shopping reliable and secure. GPS integration will help the delivery agents to deliver groceries to the right destination without a hassle.
Customized solutions
In today's time, everyone loves personalized solutions. For instance, you could provide product suggestions to the customers based on the types of groceries they often order. You could also send alerts to the vendors regarding what items their customers buy the most. Personalized messages help build a strong bond between the app user and the company.
User-friendly interface
No one wants to waste time understanding the app and its complex functionalities. The simpler the app is, the better the results will be. A User-friendly interface is crucial for easy navigation. Furthermore, it will also ensure that users have a seamless experience on the grocery delivery app.
Real-time order tracking
Users want every minute update of their orders. With the tracking feature, users will be able to keep a check on the order status right from when it is placed to when it is delivered to them. Adding this feature will not only enhance the user experience but also provide peace of mind to them.
Loyalty programs and discounts
Want to improve your on-demand grocery delivery app's retention rate? Loyalty programs and discounts are a great way to ensure users return to the app regularly. You may provide the following:
Discounts to new users.

A promo code during the festive season.

Coupons for those who refer the app to others.
Proper product listing
It might seem easy, but proper care must be taken while categorizing products. All products should be listed under the appropriate categories and have detailed descriptions so that the users can thoroughly understand them.
Repeat order
Grocery is one such thing the order of which may remain the same for many customers. For instance, a user may order eggs, milk, and bread every other day. For such users creating a quick reorder feature can do wonders. They should be allowed to repeat any of their past orders and save time adding these items to their cart repeatedly.
Push notifications
Be it the customers, vendors, or even the delivery guys; they have to be given regular updates. Push notifications will enable sending regular updates on the order status, sharing discounts and coupons quickly, sending personalized messages, referring products, updating about any change in the app, and much more. The feature will ensure that users can quickly check the status through a short message.
Multiple delivery options
Not all your users will have the same preferences. There might be some who would need same-day grocery delivery, whereas others may want it to be delivered at a specific time slot as per their availability. Hence, the grocery delivery app should provide various delivery options so that the needs of all users are met.
Customer support
Customer support is the most crucial part of any application. A customer may need support with payments or orders; delivery guys may need help with route navigation, or a vendor may require assistance with updating the information. The application should provide support to all via chat, email, and phone.
In-app reviews and ratings
How would you check whether the users are satisfied with the grocery app services? Features like in-app reviews and ratings can help track how people are responding to the application and what areas require improvement. It will also help boost the overall user experience and improve service quality.
Integration with a CRM system
One of the essential factors to consider while running a grocery store delivery app is to ensure that you gain valuable data and insights. Once the app is integrated with the CRM system, it will help collect customer data and analyze it for better recommendations. Further, this data will also enable the business to personalize services for a better customer experience.
Launch a Feature-Rich Grocery Delivery App
Now that you have discovered how the on-demand grocery delivery app works and the most important features to include for business growth, are you ready to launch your app? You will need a team who has gained valuable experience in grocery delivery app development. Adding the features mentioned above will ensure that you build an InstaCart clone app that attracts the target audience, provide a good user experience, and have a better retention rate. Implement your grocery delivery idea and get ready to lead the market.
Suggested:
Which is the Cheapest Food Delivery app?
Most Popular Food Delivery Apps.
Strategies for Boosting the Efficiency of Your Grocery Delivery App.