There may be many grammar checking tools available, but Grammarly is one of the best and the most used tool for checking the Grammar of your content. And Today In this Post I will be telling you that how you can get the Grammarly Premium for free. I have been using the Grammarly premium version free for the last three months with the intention to edit my essay. And I will be telling you the secret in this post that how you can get the Grammarly premium version for free.
Why Use Grammarly?
Grammarly is one of the best tools used to check grammatical as well as spelling mistakes while writing quality content. Almost all Professional bloggers are using Grammarly to avoid spelling as well as grammatical errors.
And More importantly, it can be used for free also. If your grammar is good, then I will recommend you to use the basic free version of the Grammarly. It is one of the best free proofreading tools.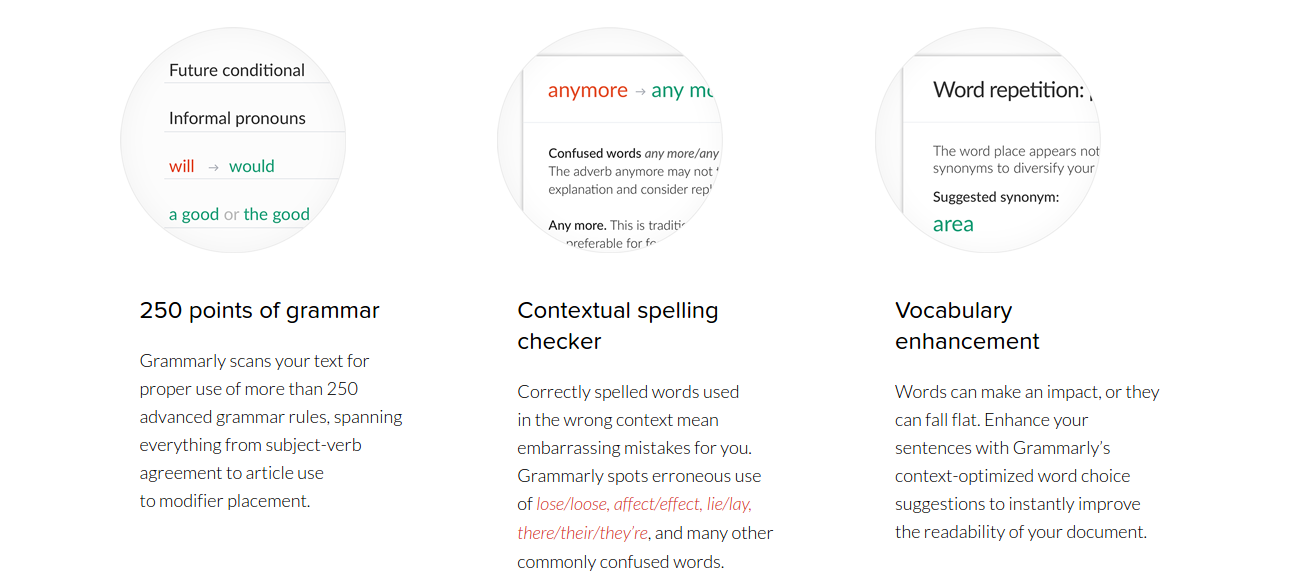 It helps to understand the grammatical mistakes of a person and Fix them. I would say that Grammarly is helping millions of bloggers and content writers to write error-free content and which in return is ranked well in the Google SERPs. You would have read that Google ranks the content which is grammatically correct and perfectly SEO optimized. And Surely Writing content with proper grammar is one of the major factors. I will suggest you read about the Google Artificial Intelligence system (RankBrain).
Platforms Where we can use Grammarly Apps?
It is an amazing app that can be easily used with your browser. If you are a big fan of the Google Chrome browser, then it is the best Extension that can be used to check grammar for all the things with which you work on your Browser. It is going to help while making your Emails, Commenting on the others blogs and mainly it is one of the things to be done before hitting the publish button for your post you can check the grammar and Spelling mistakes.

Grammarly also provides an application For your windows computer. You can see the above image for the same. That means if you are writing content on your Microsoft Office Word file, it will help you to get rid of the grammatical mistakes and spelling errors there also.
Here is the list of Platforms where Grammarly can be used:
Multiple Browsers
Android phone
IOS phones,
In Microsoft Windows
In Microsoft Word
And I must tell you that from the day I have started using Grammarly, My results have boosted up and Even there is a huge bump in my Online Income.
What are its Pro features?
Grammarly premium features are far better than their basic version. The Basic version of Grammarly has some limitations Whereas the premium version is amazingly good. The Premium features include:
1. Spelling mistakes
2. Passive invoice Checking
3. Checking of the first letter of universal Words like Lord, God, and related to it.
4. And many More Features.
How exactly can you get the Grammarly premium for free?
It is not a big deal to get Grammarly premium for free. It is a simple method. I am following the same and will be suggesting to you the same.
What you only have to do is to follow the Grammarly referral program. You can see the below image for the same.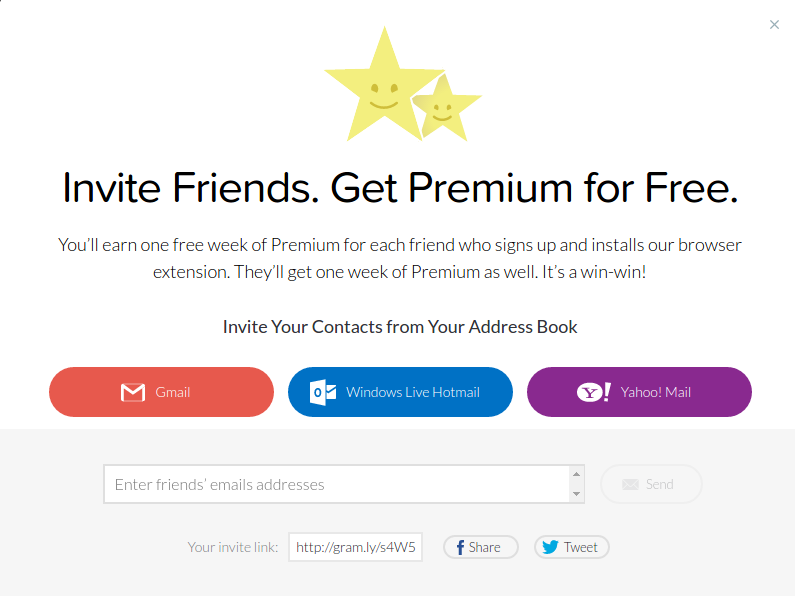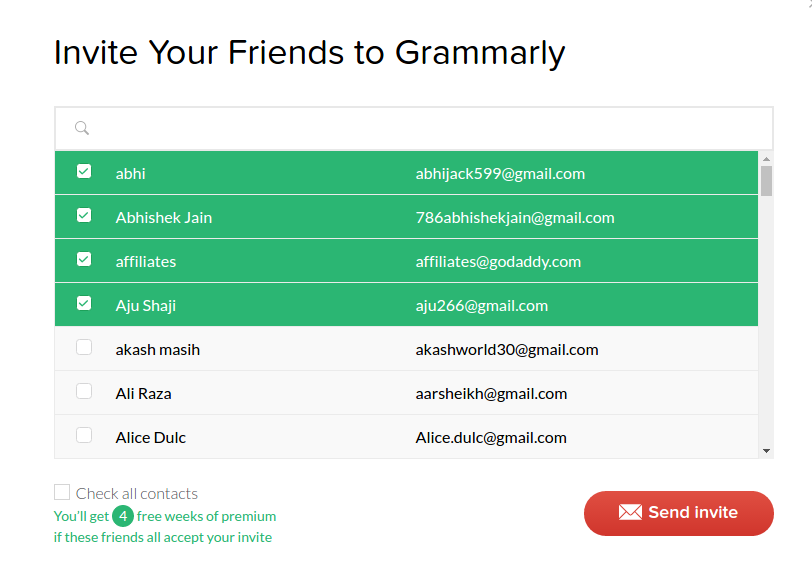 Grammarly has ended the referral program for me after one year but you can get your one week Grammarly premium for free for the invite you send to your friends. You just need to create an account with Grammarly and install the extension on your Google Chrome browser, and just in a few minutes, you will be getting the Grammarly premium version for free. You will not need any Grammarly Coupons or Grammarly codes to do that.
You just have to invite the people to your contact list simply, and Once they accept your request to use Grammarly, you will be getting Grammarly for free.
[su_button url="https://www.tkqlhce.com/click-8104611-11275899″ target="blank" background="#05bf39″ size="8″ icon_color="#fb0707″ text_shadow="0px 0px 0px #000000″ rel="nofollow"]Try Grammarly Premium for a week for free[/su_button]
If one of the friends accepts an invitation from your friend list that means you and your friend will be getting one week of Premium version of Grammarly for free.
Get Grammarly Premium By Paying
If you do not have enough friends or not willing to follow the above steps, then you can Upgrade Grammarly Premium. Sometimes, your friends may ignore your request which will end up with the normal Grammarly usage for you, but the best thing is that you can upgrade it by paying a small fee.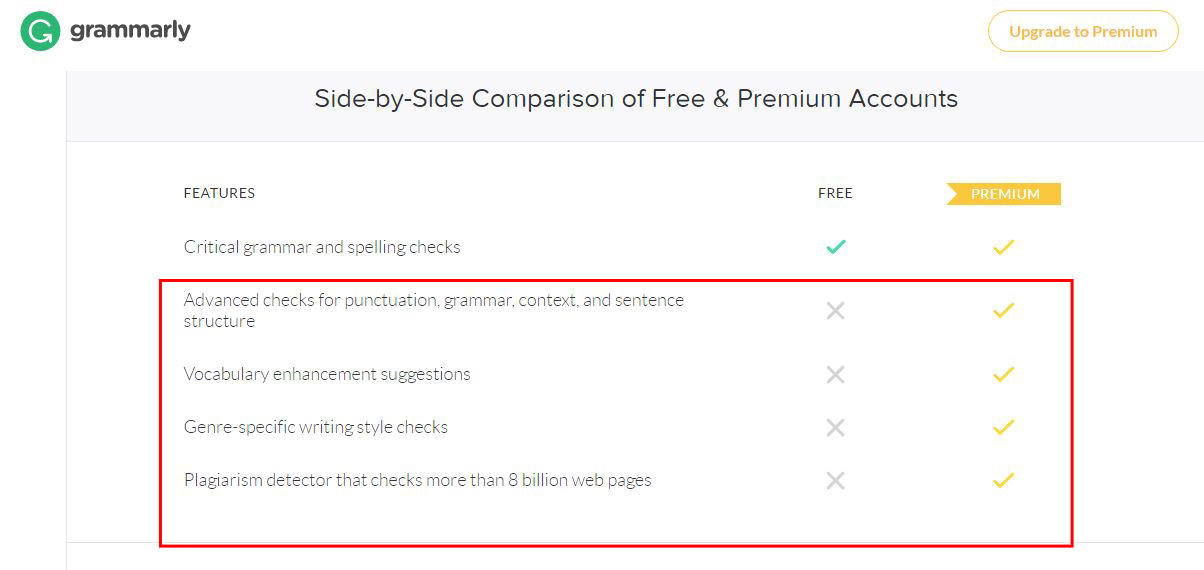 You can see the difference between the Normal Grammarly and Premium Grammarly in the Below Image.
And also if you are going to pay for a year then it may cost you almost $140 USD which is not a huge amount to pay.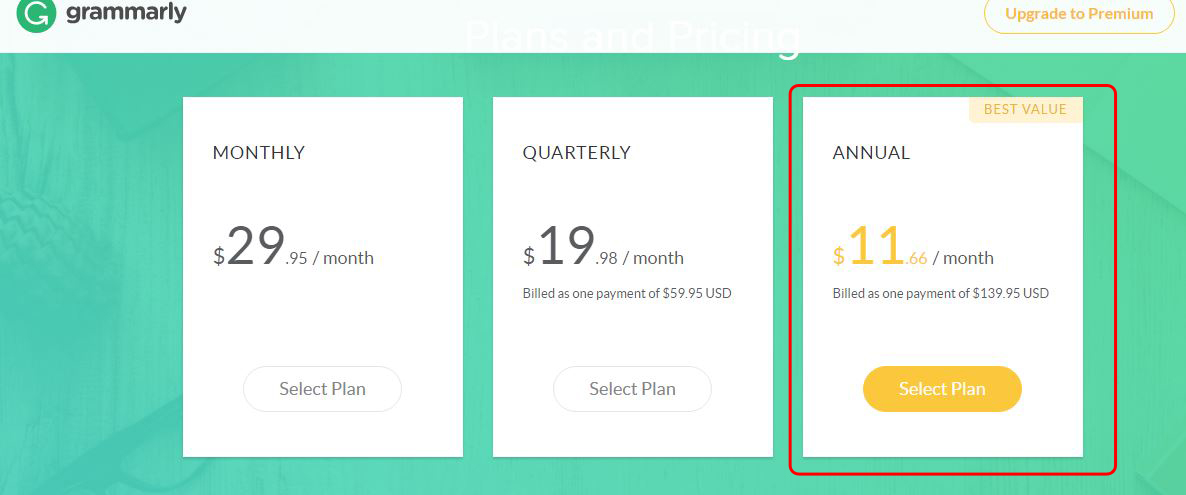 So if the above things are not working for you or you know that it is not going to work for you or you are too busy to do the above things.
Then you should go for [su_button url="https://www.jdoqocy.com/click-8104611-11234462″ target="blank" background="#05bf39″ size="8″ icon_color="#fb0707″ text_shadow="0px 0px 0px #000000″ rel="nofollow"]Grammarly Premium[/su_button].