These days people tend to be more productive, optimize their life and make the most of them. Thanks to a variety of information that surrounds us we can choose the option that fits our needs, tastes, and business strategies. Besides, in the world of web development, new worry-free solutions and online instruments appear day by day. All we need is to keep our eyes open. When it comes to launching a website, we face a number of website builders offering fantastic options for anyone even with a skill gap. Today, however, we'd like to take a look at the two most popular drag-and-drop builders on the Web – MotoCMS and Wix.
First, let's make a list of questions necessary for making an informed decision later on. Namely:
How wide is the array of MotoCMS and Wix templates?
What is the difference between MotoCMS and Wix website builders?
How rich is the e-Commerce functionality in MotoCMS and Wix website builders?
Why choose MotoCMS and Wix for launching a blog?
What is the pricing policy of MotoCMS and Wix website builders?
How deep is the tech support that MotoCMS and Wix provide?
With this in mind, let's dive deeper in and explain the strengths of each website builder to let you make your pick. For the simple reason that nothing fixes the wrong pick. Let's discuss…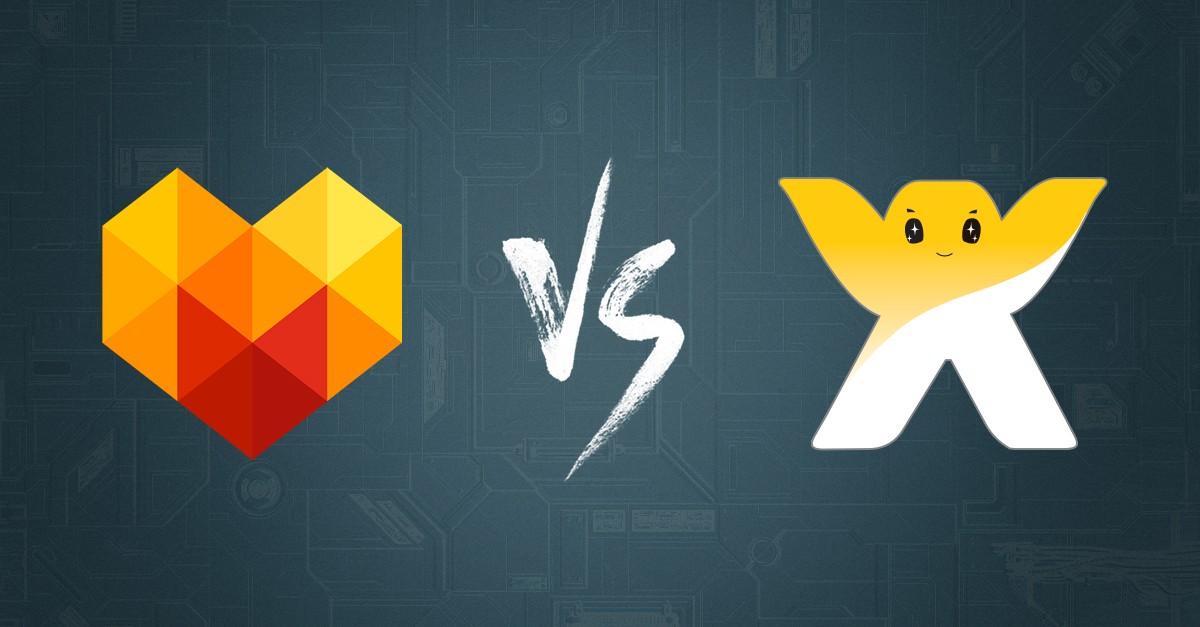 MotoCMS Website Builder
To start with, Moto CMS 3 Templates is a website builder that offers to get the best solution possible for businesses of all sizes and budgets. The best thing about MotoCMS is that it suits well both newbies and experienced developers. With a rich drag-and-drop functionality, MotoCMS allows anyone to create different web projects such as landing pages, online stores, portfolio pages, business sites, etc. Simply put, the array of options for businesses is only limited by your imagination.
What about the collection of MotoCMS templates?
Well, there's a rather impressive inventory of various MotoCMS templates divided into thematic categories. Depending on your business niche, one can find medical, sports, society, cars & motorcycles, education, and many others. Just decide what business niche you're in and make your pick.
MotoCMS Block Editor
As to the admin panel of MotoCMS website builder, there's the Block Editor that helps customize your template with ease. By simply dragging blocks from the right panel you can add necessary options that fit your delicate taste. With the Design Tab, you can change the overall look of the text and color palette. Even more, you can add widgets.

MotoCMS e-Commerce Functionality
For launching an e-Commerce web project, you can choose any of the e-Commerce MotoCMS templates or buy an e-Commerce plugin for any other MotoCMS template you choose. For example, the Zoe Fashion Responsive Moto CMS e-Commerce template is just the thing for your online store. It means you can launch a full-fledged online store within hours without having to sweat for it. It comes with all necessary e-Commerce options such as authorization, registration, shopping, shipping calculations, and much more. Check it out for more advanced features and options included.
MotoCMS Blogging Functionality
Starting a blog with MotoCMS is as simple as that. Hit the Blog – Templates – Main Page and enjoy what your visitors will see once they land on your web page. See how easy it is to customize the structure of your blog, add the date of publication, author, comments, subscriptions, etc.
MotoCMS Pricing Policy
To understand that you get the best solution possible, MotoCMS offers a fantastic option to register for a Free 14-Day Trial. In 14 days you will be offered to pay $119 for a basic package or up to $200+ for a more advanced solution.
MotoCMS Customer Support
Take advantage of the multifunctional tech support offered by MotoCMS for its customers. Even those who have never gotten their feet wet in building their first website, can get friendly 24/7 support and enjoy the communication. In addition, you can call your personal assistant and have a live conversation at no charge.
What's even more, MotoCMS gives you several communication channels such as a chat, make a phone call, Help Center, etc.
Wix
With the Wix website builder, everyone can build a great-looking website that is within the budget. Used by more than 103 million registered users worldwide, Wix is considered to be one of the most popular website builders that don't require deep skills and coding knowledge. And it is also one of the platforms to create a free website.
Collection of Wix Templates
Once you sign up for Wix, you'll be asked What kind of website do you want to create?
Right from the start. There are eight thematic categories such as music, designer, and photography, and three functional ones for business, online store, and a blog available. Make your pick, and you'll be redirected to a collection of Wix templates divided into categories and subcategories.
It's important to note, that one can create as many websites as he/she needs once registered. In this case, however, all your content will not be saved. So, keep in mind, try as so many web themes as you wish but be ready to lose content.
Wix Website Editor
With Wix Website Editor, you will definitely enjoy the customization process. There you'll find a number of useful buttons such as Background, add, Wix App Market, Blog on the left, and others that can help you fill your website with galleries, social bars, contacts, or event lists. Give it a try, and you'll like it.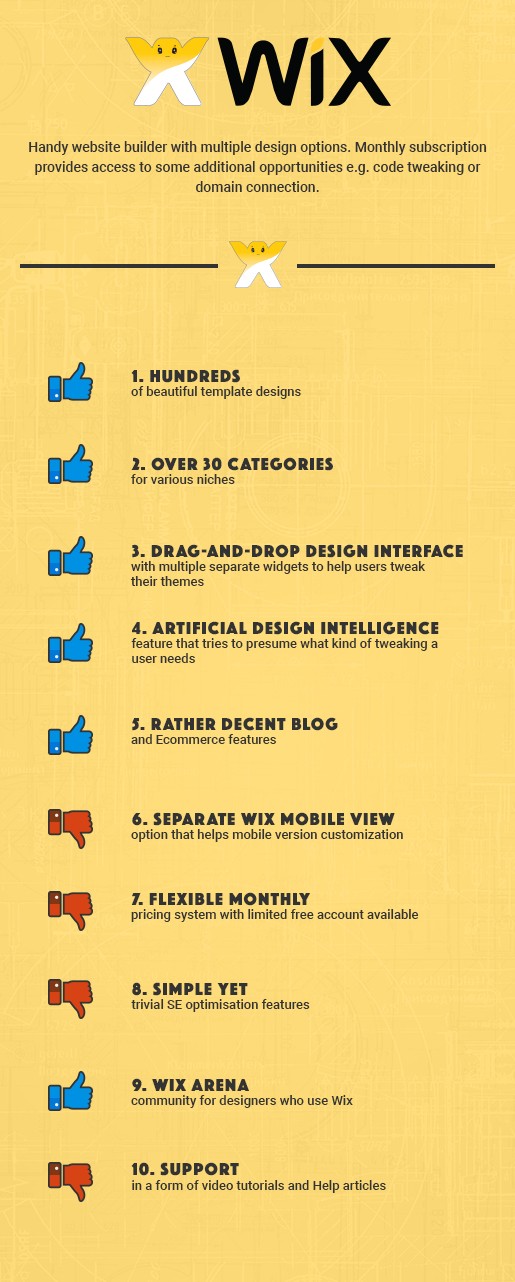 Wix e-Commerce Functionality
In order to launch an online store, you have to choose which of the two editors to use – Aix ADI (Wix Artificial Design Intelligence) or Wix Editor. Both of them offer an outstanding user experience and user-friendly interface.
With Wix, you can take complete control over your online store. There are some great e-Commerce options to help you make some noise about your exceptional products and collections. Stop holding yourself back and customize your e-store to an astonishing degree. However, remember, you have to upgrade to an e-Commerce plan to be able to accept online orders from your prospects. And what's more, you can pay via credit/debit cards, PayPal, or Offline Payment.
Wix Blogging Functionality
A blog is one of the most popular and used pages in almost all Wix templates. And again, Wix offers you to see how your future blog will look like. Just like MotoCMS does. Thanks to the numbers in the Insights tab, you can see how great your writing is. In addition, you can add categories and tags to your posts.
Wix Pricing Policy
Keeping into account that Wix claims to be a website building platform allowing to build a website for free, there is a number of Subscription Plans with a price range of $4,5 to $24,5. So, what will you pay? It's simple:
If you need more storage place for your content
If you want to connect your domain
For Google Analytics tools package
In order not to see Wix Ads banners.
Wix Customer Support
Again, keeping into account that the Wix website creator claims to be maximally simple and intuitive, they offer poor tech support, except for an article in the Wix Help Center, and a video tutorial. It's important to note, that a live support option can be a great addition to the overall functionality of Wix.
Final Thoughts
As far as we see, both MotoCMS and Wix collections of templates look great and impressive. All of them are well systematized, divided into categories for your convenience. Every time you will want to try a new look for your website you have two options – either to register for every MotoCMS template or try another Wix theme and lose your content. What's your choice?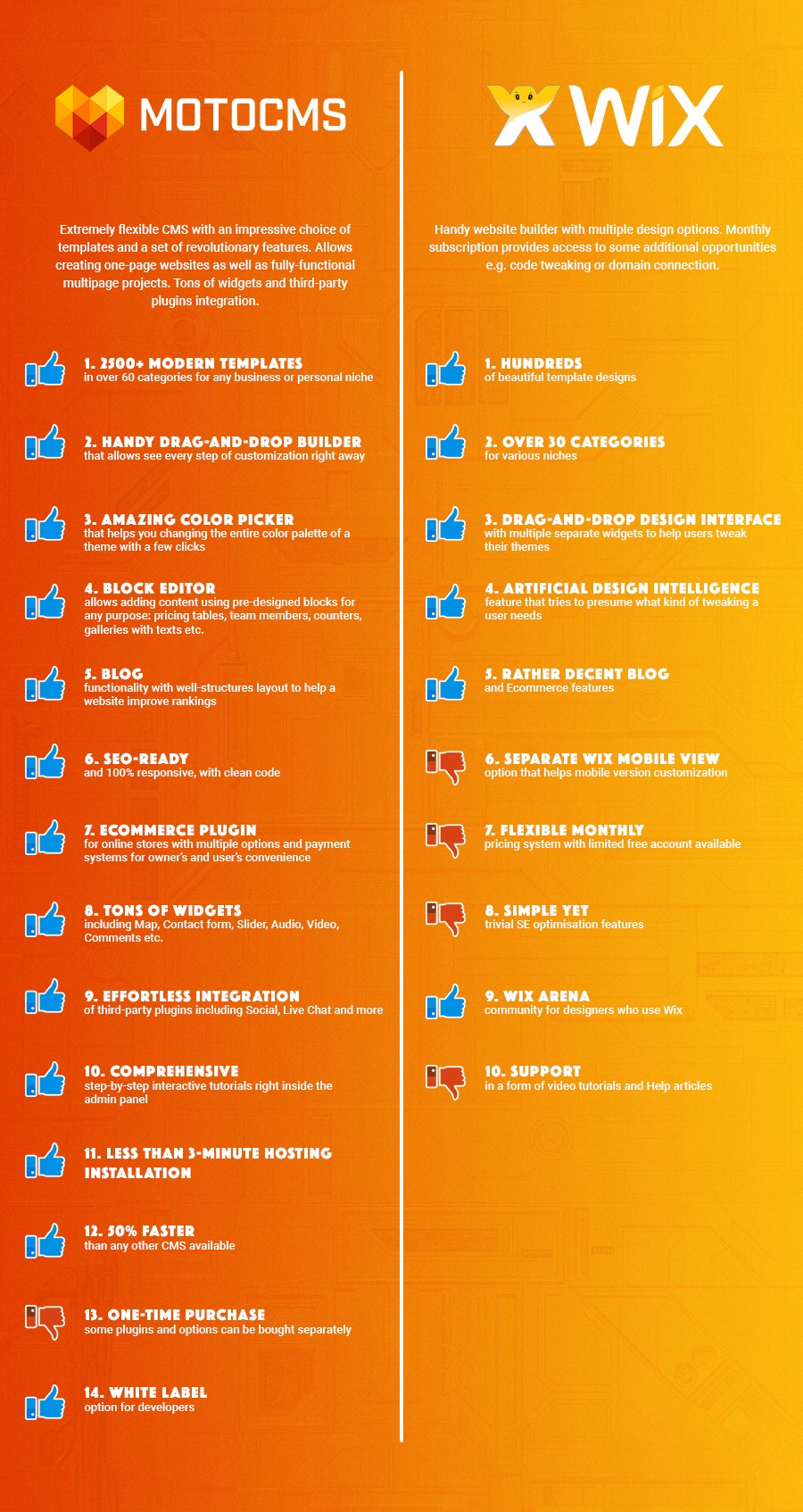 When it comes to customization, both website builders offer a fantastic set of advanced features and tools to make your website shine. If you want your online shop to gain wide world popularity, MotoCMS looks like a better way to your business. It offers rich e-Commerce functionality, wider payment methods, and presets. If you want to get the word out about your new blog – both platforms offer powerful blogging functionality to create the best solution possible. And once to mention is an outstanding MotoCMS tech support provided via a live chat, the Help Center, a phone call, and various tutorials.
Time to expand your circle and make your pick.
Suggested:
Custom Magento 2 eCommerce: The All-In-One Guide To Speed Optimization.