When have you dialed the customer support number last time? Do you remember such words like Hello, how are you today? How, may I help you? and more. We all had experienced it at some point.
But…have you ever imagined yourself doing the same? Just suppose you are doing the same and answering the same questions 100 times a day by 100. What if you don't know any answer? That's the problem that the customer care team faces on a day-to-day basis.
In such a world of rising customer expectations and fading customer loyalties, how do companies provide prompt and unhindered services to the customer?
The solution is Artificial Intelligence. Many tech enthusiasts are welcoming AI-based devices and robots with open arms due to its astounding benefits. And when speaking of its perks, we should have a look at the stats once.
The latest Statista results demonstrate the different benefits of using AI in service organizations worldwide in 2018, by level. During the survey, 48 percent of respondents considered the improved prioritization of agents' work as a significant benefit of AI in 2018.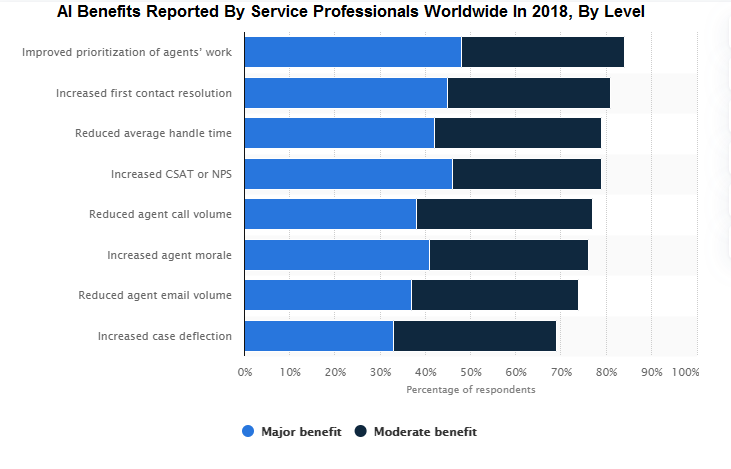 This article is written specially to shed light on some of its significant contributions in the workforce as artificial intelligence solutions are developing rapidly to make the complex tasks simple.
Let's peek into the ten ways AI can improve customer service.
1. Chatbot-based customer support
Customer care teams handle a large number of calls every day and are challenged to reduce the average resolution time for every customer. Chatbots can become a major player here in addressing these two challenges. Don't you think so? Yes, it can, as Gartner predicts that 85% of the customer interactions will go on without humans by 2020.

Well, chatbot features are not just limited to the fast real-time prompt responses, but it can also resolve a large number of customer queries with the highest accuracy and humanlike behavior.
2. Advanced human interactions with customers
Artificial intelligence can be a significant player in augmented human-customers interactions. Its two meaningful ways are AI-augmented messaging and AI email tagging.
AI-augmented messaging allows the chatbot assistants to handle a large part of the customer queries and helps the customer service agents. With AI email tagging, agents can save time in reading the emails. The AI-powered programs scan, tag, and direct emails to the right office.
In such a way, human agents get enough time to concentrate on the complex tasks that require human intervention.
3. Nuanced insights from customer da
With the AI advent in customer analytics, companies can excavate nuanced customer insights. Before AI, data mining was a tedious and time-consuming task.
AI systems can process and analyze large data amounts plus collect insights that open a new door of great business opportunities. Its implementation can aid the brand in analyzing their customer actions, discover interests, and make use in driving successful targeted campaigns. They can proactively address customer issues and identify customer requirements.
4. Personalized user experiences
Do you know maximum customers love to solve their issues on their own? Yes, there are almost 71% of customers who want to solve their problems by themselves. Artificial intelligence and machine learning solutions can play a vital role here in helping the customers to find the right answers.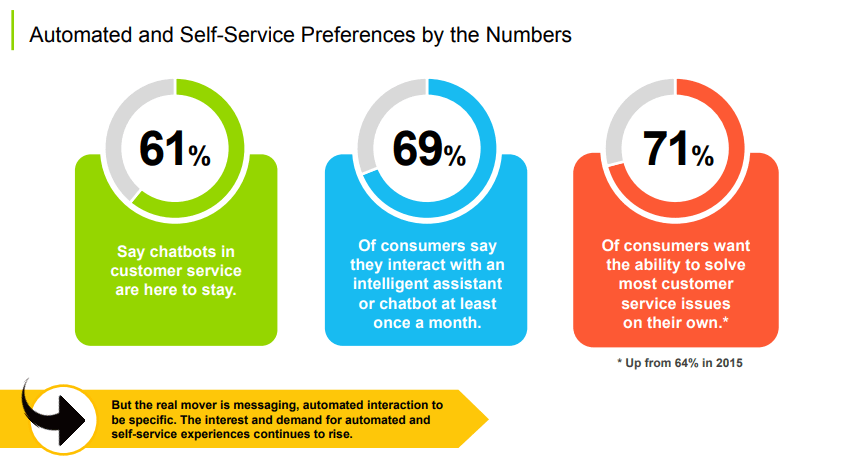 AI analyzes customer behavior and recommends services or products based on their preference and browsing history. It can probe substantial data sets, draw information such as location and weather, and suggest suitable content to customers.
With customer personas, businesses can concentrate on individual purchasing patterns and gain better customer understanding. It allows them to send the relevant content to customers on the correct time from the right channels.
Consequently, customers can find solutions without calling customer service.
5. Predictive insights
Creating experiences is vital for businesses that later become a part of the customer lives. Predictive personalization makes the customers feel that services or products specifically tailored for them.
AI integrated systems have benefitted companies with an improved customer relationship. It has also enhanced business transparency and communication.
AI predictive insights have made it easy to scan through previous products, services, or inventory for recommending the relevant items to the customers. And if AI solutions get infused with the emotions, it will simplify and streamline the customer interactions across all channels.
6. Cost Reduction & Resources Optimization
Do you know business across the globe spends trillions of sums in the customer care service every year? According to IBM, companies spend over $1.3 trillion on 265 billion customer service calls annually
With Chatbots, companies can cut their customers' service costs plus speed up their response times. They can free up their agents to concentrate on more prior tasks. Call computerization is the perfect example here that combines machine learning and advanced speech recognition for the better conventional interactive voice response systems.
Additionally, it provides 60% – 80 % cost savings over human-powered outsourced call centers.
7. Helps customers in decision making
Maximum customers believe that AI-powered chatbots assist in making better purchasing decisions. These days customers engage with the brand digitally through devices like mobile, tab, and more. It clearly states that personalized touchpoints are vital to aid the customer's decision journey and guide them in making the right decisions.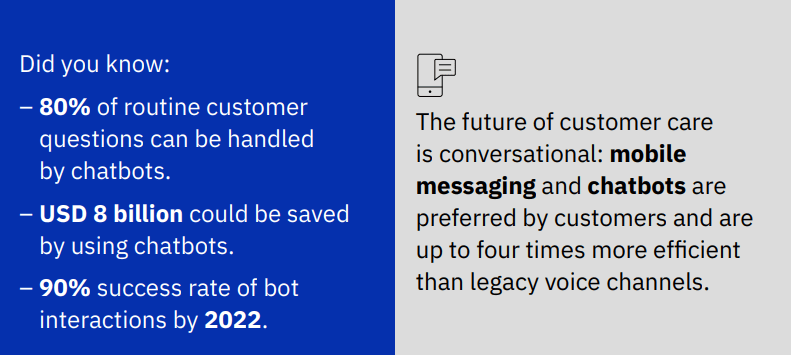 All this reduces dependency on customer care agents, and they can freely perform other tasks. It also speeds up the resolution process with real-time assistance and solutions.
Well, what if the conversation gets complex? In such a case, interactions are passed to the customer support agent, and the human role comes into play. The machine learning system gives a better understanding to the bots. They learn from repeated issues and provide the right solutions to a particular problem. It can sense human behavior patterns which is beneficial for both the customers and customer care agents.
8. Data Collection
Artificial intelligence simplifies the data collection and unifies it accordingly to create a single customer view depending upon the customers' behavioral patterns. The new-gen AI-powered systems are adept in proactively requesting the customer's data without human intervention. They can analyze customer behavioral patterns quickly and respond instantly to their needs and sentiments. They are quick in responding to customer queries and even know when exactly to do further questioning.
After the data collection, the AI system can monitor the data and proceed with further actions to guide customers through their shopping journey. Industries that have done AI integration are now benefiting from data collection and storage. Even their real-time processes have reduced with no human intervention.
9. Simplifies data management
AI-powered bots and other systems can handle multiple tasks at once in the customer care industries. Do you know the bitter truth of these industries? Almost 52% of customers hung up the customer support call without getting issues resolved as they don't want to wait long for a customer executive and 50% customers support calls are left unresolved or need escalation.
Industries are discovering solutions to improve customer interface. They are using AI to automate replies for customers and also present them FAQ content. Additionally, it helps in data sift, more data procurement, data analyzation, required data search, repetitive questions response, and perform menial tasks.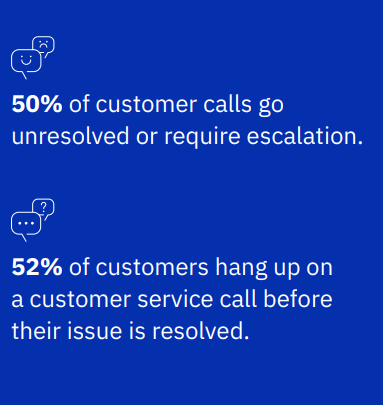 AI can mirror the task and provide the solutions in case the problem occurs again in the future. It can analyze unstructured data within seconds. Comparatively, it's much faster and efficient than humans.
10. 24×7 Support
Customers never want to compromise with the services. That's why businesses should be available and responsive to customers every time throughout the year. And it's easily possible with automated customer service.
With it, companies can deliver better customer service and resolve issues quickly even before it arises. It simply means that customers can get their queries resolved anytime with no hassles.
Besides, it benefits you with the highest customer satisfaction lever plus increases brand reputation and higher customer loyalty.
Wrap Up!
Industries should integrate AI in their system to increase its customer base, retain, and make them loyal to their brands. Now let's summarise the AI business perks again from the quick checklist:
It provides engaging customer experience.
Keeps you ahead in the competition.
Aids customer care agents.
Automate quick response.
Route tickets to the right team.
Speed up the resolution process.
Personalize customer experience.
AI continues to provide substantial business benefits, and many machine learning company in India are focussing specifically on this sphere to aid their clients better. So, if you also want to join this AI world, then consult these companies and attain meaningful business ideas that can foster your growth and profits.
Suggested:
Will Artificial Intelligence Rules The Realm Of Digital Marketing.
How Artificial Intelligence Is Evolving Mobile Technology?