Setting up a business might be tough.. hardly any exaggeration. To implement and additionally operate a customers are both...
The worldwide business shutdowns of 2020 and the Great Resignation of 2021 caused millions of people to start working...
Everyone wants in on the action when it comes to social media. The most active social media accounts are...
It's no hidden secret that your real estate website is the digital asset that could help your business get...
There is nothing more glorious than being a boss in your business. The courage, inevitable desires, the spirit, power...
Gone are the days when a business's phone system was limited only to landline networks. Today, with the help...
Owning a business in the present digital world is not a big deal. Today, many are capable enough to...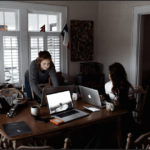 When society progresses more and quicker into a booming technological period, so do our corporate practices. Point of sale systems...
We are living in uncertain times. The world is changing, and the digital landscape is no exception. We're at...