AI is a double-edged sword in content creation and management. Picture this: AI writing tools speed up content creation,...
AI Detection tools have become vital in digital marketing and communication. The rise of artificial intelligence (AI) has blurred...
In the annals of human history, a new chapter is being written, and its ink is not made of...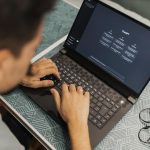 The digital age necessitates integration. Digital tools have changed the way we live, do business, learn, and socialize. Add...
Rapid artificial intelligence (AI) breakthroughs have significantly impacted the healthcare sector. AI is transforming patient care, diagnostics, drug discovery,...
Artificial Intelligence (AI) emerged as a most powerful tool that has revolutionized various industries in recent years. Education and...
The finance sector has long been driven by data analysis and decision-making processes. However, introducing artificial intelligence (AI) has...
Marketing is a complex entity that relies heavily on human creativity, precision, strategy, and an in-depth understanding of consumer...
Artificial intelligence (AI) integration has brought about a dramatic revolution in the automobile sector, which has historically been at...