Links remain the core part of the search algorithm.
Without links, it's impossible to rank highly for competitive keywords.
But despite this fact, many marketers hope and pray that they don't need links to rank for their target keywords.
Why?
Link building can be boring and tiring.
There are lots of frustration and rejections in the process. I don't blame marketers who just want to avoid it.
The truth is that you can't rank without links.
Not at least when you are targeting a very competitive keyword. I've also seen keywords with moderate competition, yet you can't rank without zero links.
I've also seen keywords with moderate competition, yet you wouldn't rank them without links.
According to a study conducted by Moz, they found that:
2% of all top 50 results had at least one external link pointing to the website.
And 77.8% of top results had at least one link pointing to the page.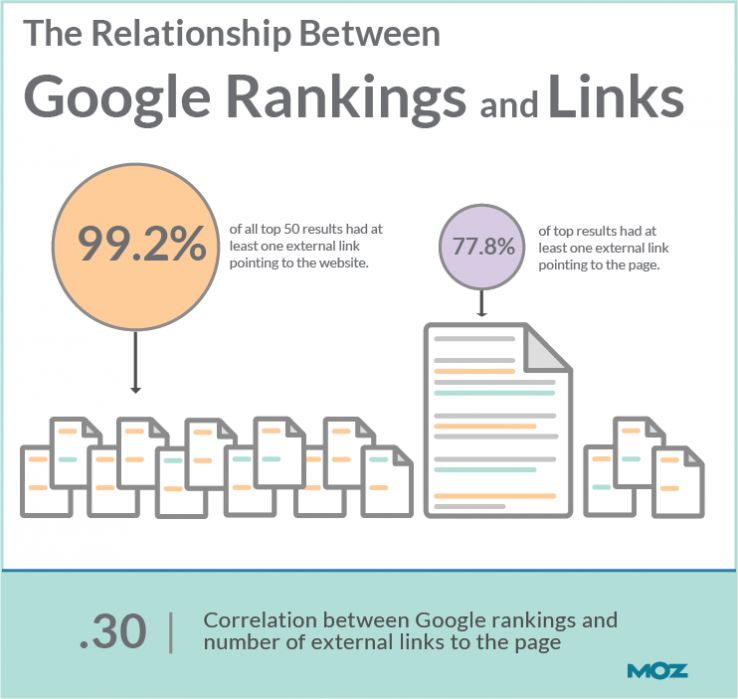 Wake up to reality.
Stop hoping and praying that link building goes away, or you don't have to do it.
Except you don't want organic search traffic, link building tactics will always be important.
The good news is link building can be easy and fun when you follow the right process.
The tactics I am about to reveal in this article have been very effective for years.
They will continue to be effective as long as links remain a core part of the search algorithm.
What are these link building tactics I'm talking about?
Suggested Post: How to rank on Google First page without the backlinks?
Tactic #1: Interview Experts
Experts are respected in our society.
People pay attention to every word they say.
Sometimes, we pay experts just to give us their views.
For example, why do we have life coaches?
Is it that people don't know what to do with their lives?
Is it that people can't even make decisions for themselves?
According to reports, life coaches charge around $100 – $200 per hour.
Veteran life coaches can charge up to $600 per hour.
Why do we have consultants?
It's because they are knowledgeable in their field.
We respect their views.
Many people flock to them and pay them for their service, which is just to give advice. Nothing else.
Including expert interviews in your content improves its credibility.
Writers in your niche will cite the content in their own work because it includes views from experts.
For example, Jon Cooper wrote a post where he published views from many experts in the SEO industry.
The title of the post is "The Most Creative Link Building Post Ever."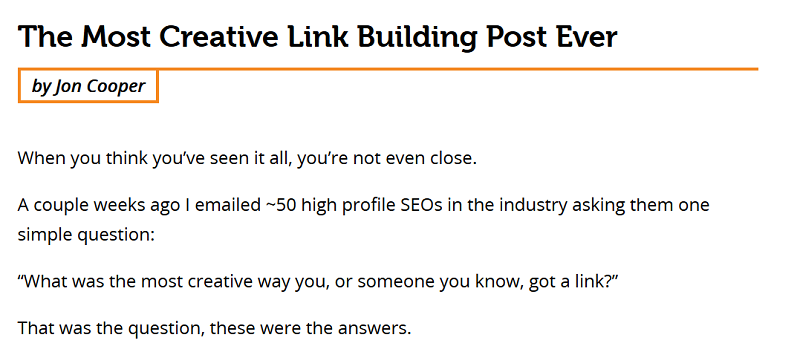 In this post, he included views from SEO experts like Glen Allsopp, Sujan Patel, Nick Eubanks and many others.
The post has received 526 backlinks at the time of writing.

Maybe you are in the toothache niche. Think of dentists you can include in your contents.
Or, maybe you are in the estate planning or elder niche. Think of law attorneys you can include in your content.
Experts are highly respected, and their opinions are valued.
Including them in the content creation process will increase backlinks to your website.
Tactic #2: Publish and Distribute Infographics
Infographics are reliable assets for link building.
They can spread very quickly.
According to a research conducted by Buzzsumo, infographics receive the most average shares more than any other content type.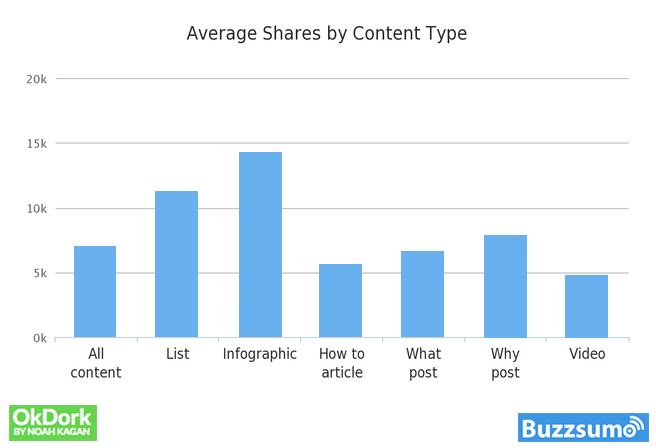 Because they are easy-to-digest information, writers can use your infographic on their websites. That means more backlinks for you.
It's also easy to pitch your infographic to bloggers for the purpose of using it to back up their points (if it includes some facts).
Copyblogger created an infographic titled "15 Grammar Goofs That Make You Look Silly."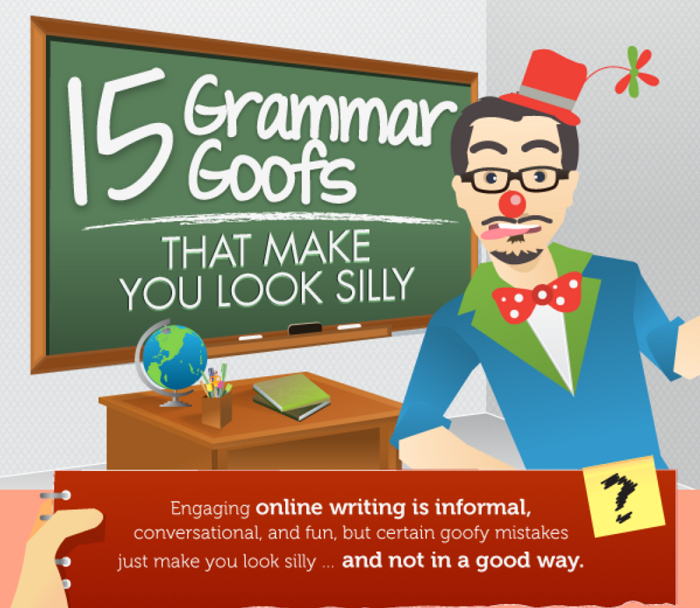 That infographic has received over 250,000 social shares.

The infographic has also received 2,900 backlinks according to Ahrefs.

For your infographic to earn links, the topic should be well researched, and it must be greatly designed. Getting these two right is very important.
A poorly researched and designed infographic won't get any worthwhile attention to earn links.
Get to see what your competitors have created and come up with something even better.
For example, if you want to create an infographic about how baby sleep, you should do a search for that on Google.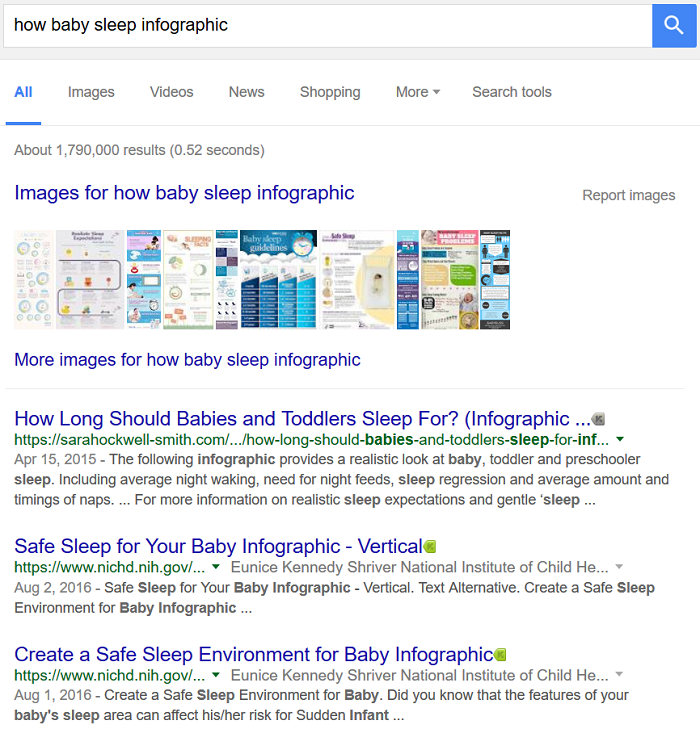 You can click on Google images to see more infographics the competition has created. That will give you a better idea of how to approach yours.
After you've got the content and design right, the next thing is to promote your infographic.
The infographic won't just start getting links by itself.
You'll need to do the boring work of reaching out to active bloggers who may be interested in publishing your infographic on their blogs.
When a blogger agrees to post your infographic, do not forget to ask for a link back to your website. That link will serve as the source link.
Suggested Post: 
How to Better image optimization for Better SEO?
The link credits you as the creator of the image.
You can use this simple tactic to build links in almost any niche.
In fact, it works in the Casino industry.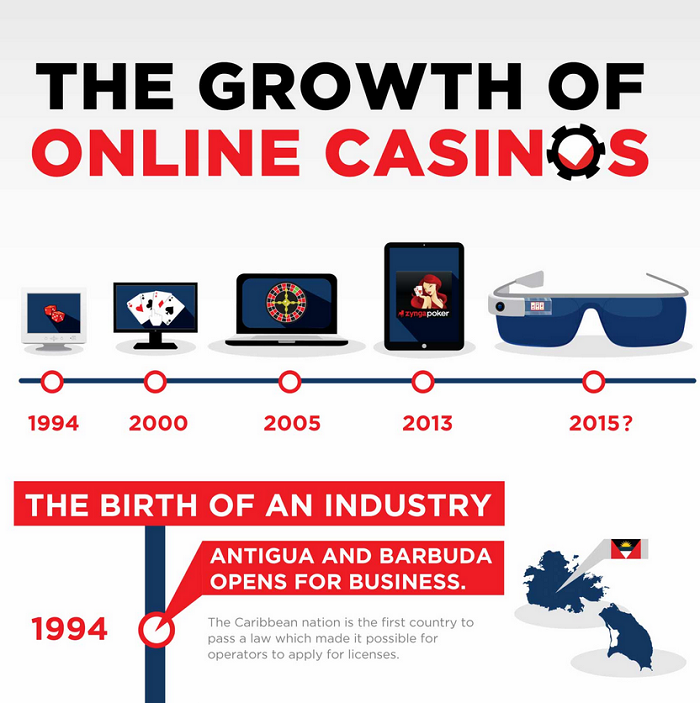 Tactic #3: Videos
According to a comScore's study, 182 million U.S. Internet users watched nearly 40 billion online videos just in a single month.
That's a lot.
Many marketers dismiss the video as time-consuming and expensive. That's very true.
But the ROI can be exceedingly great especially when done for link building.
I must say that you should not venture into video marketing just for the purpose of using it to build links alone.
Video marketing offers great ROI on its own.
Keep in mind that marketing isn't just about written words alone.
Don't forget that YouTube is the second largest search engine in the world, only behind Google.
YouTube provides you with the opportunity to be in front of your target customers.
YouTube allows webmasters to embed your video on their websites. This could lead to more mentions of your brand which will have a big positive impact on your organic traffic.
When website owners embed your YouTube video, you can reach out to them and ask for a link to your website. This could be the start of a great long-lasting relationship.
You can also create video resources on your website.
People like linking to high-quality resources online.
Anyone can use this strategy.
Whether you offer white label marketing services, or you're a local dentist, you can use videos to earn links and improve your organic search engine rankings.
These 3 link building tactics are very effective and will improve your organic search rankings starting right now.
Thanks for reading.
Please share this article with your network on social media.