Flyers and billboards have dominated the marketing sphere for a major part of the century. However, the marketing landscape has changed considerably, owing to the advent of digital marketing. Did you know that 96% of all the search traffic comes from Google searches on smartphones? Desktops draw nearly 5.6 million searches daily. Whether you want to do it on desktops or mobiles, online marketing can bring you the traffic you want.
Had it been that easy, then everybody would have been successful online marketers, right?
So, here's the catch. Achieving online marketing success can be easy only if you target the right audience, plan the perfect strategies and culminate one sale each day from the leads.
Sounds too much to take in?
Check out these top 9 online marketing tools that will make things easier for you. Use these tools to obtain maximum traffic, leads, and sales from your online marketing strategies.
84% of people consider online reviews to be personal recommendations. Managing tons of client reviews can be quite a task, right? That is when the role of Rize Reviews comes into play. It is a reputation management tool that has got an inbuilt mechanism to take care of your online feedback.
Features:
Customizable mobile-friendly landing page.
Distinct feedback request flow.
Automatically sends follow-up emails.
Auto-schedule emails.
Printed reviews cards to hand out to your clients.
You can request your customers to offer feedback with the help of this tool. This tool also lets you publish positive reviews to highlight a positive brand. It can also gather tons of positive reviews from over a hundred sites to monitor the online reputation of your business.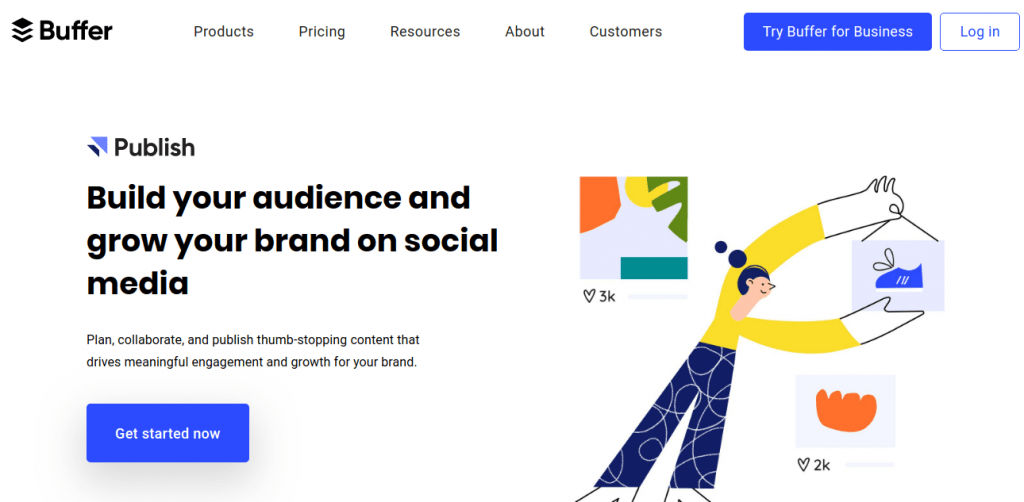 Almost 95% of adults usually follow a brand via social media. Thus, if you can get your social media campaigns right, there's nothing stopping you from gaining immense traffic to your brand. Buffer can help you stay on top of the social media game amidst your competitors. It will let you schedule your social posts, tweets, etc. beforehand.
Features:
Share scheduled posts to multiple social networks.
Automate your Twitter, LinkedIn, Pinterest and Instagram posts.
Create optimized posting schedules.
View activity and engagement analytics.
Automatically publish posts from automation and RSS.
Say you intend to offer 50% off on your student essay writing services after the Christmas Holidays. All you have to do is create the social media content in advance and schedule it on Buffer. The tool will post your content as and when you desire.
91% of B2B marketers design content marketing strategies to reach out to their potential customers. The thing is you will reach your target audiences only if you generate content relevant to their needs and requirements. Buzzsumo will help you cover all those topics usually searched by your target audience. From infographics to blogs, you will find everything in this tool.
Features:
Content insights.
Social backlinks.
Advanced filtering.
Competitor analysis and comparisons.
Social backlinks.
You can analyze the best performing content on social media through this tool. Once you get an idea of what contents resonate well with their audience, it will be 10X easier for you to share the right content.
Online marketing is often rendered useless if you have a poor website. However, you needn't worry since Crazy Egg is here to help you out. You can check out the website performance on this tool and make the necessary changes. Say the tool shows that your website loads slowly. Then you can make the changes required to boost your website's speed.
Features:
Heap map tool.
Simple setup.
In-page analytics.
A/B Testing.
Confetti Tool.
Your website may not perform well due to severe IT issues. Crazy Egg will take care of the IT problems on your website. Other factors that Crazy Egg manage include analysis and reporting, targeting and personalization, research and heatmaps.
81% of people tend to skip online content and go through visual content. Also, 80% of marketers use visual content as an integral part of their marketing plans. You need to capture the attention of your target audience better than anybody else in the market. Canva will help you do so. You can create impeccable graphic designs to draw and hold your customer's attention.
Features:
Layouts for different purposes.
Library of fonts.
Drag and drop editor.
Customizable branding.
Social media graphics.
The best part about Canva is that you don't have to be tech-savvy to use this tool. All you have to do is upload the image you want to use. Paste it on your template and that's it. You can also change the dimensions of your template as per your requirements.
You may have mind-blowing ideas for your project. Nevertheless, what's the point if you can't execute them right? Marketers should have a proper plan up their sleeves. CoSchedule helps you plan your marketing strategies and work on your content. You can also organize your campaigns in an efficient manner with the help of this tool.
Features:
Audio content.
Customizable templates.
Channel management.
Email marketing.
Portfolio management.
If you want to streamline your online marketing process without any stress, CoSchedule is the perfect tool for you. It also integrates with Evernote, WordPress, Chrome and Google Docs.
Over 67,000 searches are conducted on Google every day. Don't you think that your target audience will be least bothered by the thousands of ads that they see on the SERPs? SEMRush will help you highlight your ads at the right time and at the right place. You can also compare the performance of your site with that of others in the same niche.
Features:
Advertising research.
Display advertising tool.
Audience insights.
Traffic analysis.
Product listing ads.
It lets you access the rankings and change them, as well. You can analyze the authority of your domain. The on-page SEO checker lets you monitor your website rankings easily. It also gives you certain recommendations on how to improve website performance.
8. Meltwater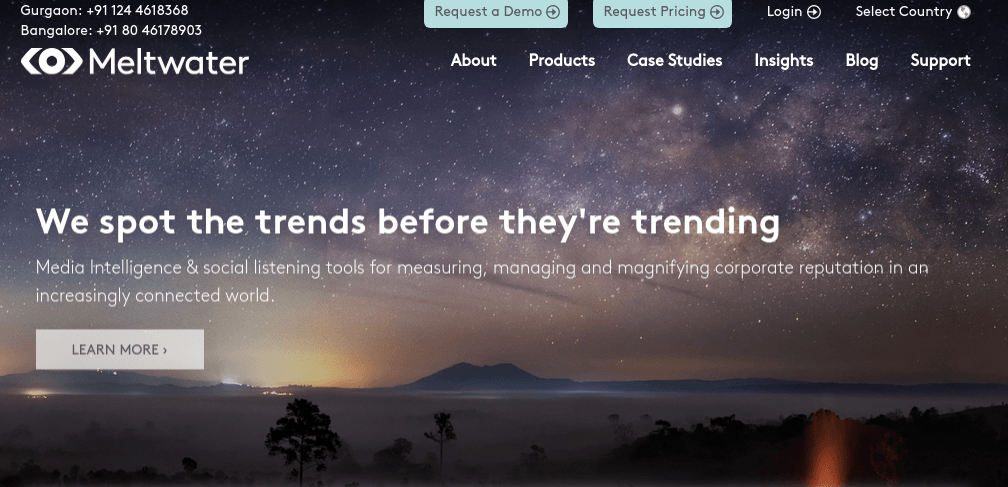 How often do you get tired owing to the pressure of multiple campaigns and activities? Pretty often, I assume. In that case, Meltwater can help you. It will let you keep an eye on each of your marketing activities and campaigns. It sends you real-time analytics with the help of artificial intelligence. You can even keep tabs on the best-performing and keywords and online trends.
Features:
Automated content scheduling.
Custom Facebook ads.
Facebook marketing analytics.
Filters by language, social media channel, topic, etc.
Content curation.
You can sift through anything from social media postings to news stories and everything in between. This tool lets you gain access to content on a local, national and global level.
Surveys suggest that you can lose almost half of your site visitors if your website takes more than three seconds to load. You may not have enough time to check out the loading speed of your website. Trust Pingdom in this case. With this tool, you can optimize your website performance and boost your conversion rates to a great extent.
Features:
Real-time performance data.
Important interactions.
Monitor websites and servers.
Detailed website analysis.
Share the data with others.
Pingdom lets you know how fast your website loads, so that you can make the necessary changes in it. You can use this tool for free. However, if you decide to use the premium package, you can check the website speed, status, and alerts.
Wrapping It Up
Online marketing is no easy feat. You may have to work really hard for days and nights and that even doesn't really guarantee your online success. However, the tools discussed above can make your work easier. Try them out and hopefully you will be able to rock your online marketing strategies. Good Luck!