Duplicate content is an issue that can get a penalty to your website. Google always asks to write unique and good content to get rid of the panda penalty. There may be many factors in ranking a website in Google SERPs, but alongside that, there are factors that can get you a Google penalty, if avoided. Canonicalization is one of the major factors that can get you a Panda Penalty.
In this post of mine, I will be sharing how you can solve the canonical issue to avoid the Panda penalty or duplicate content issues on your own Website. Canonicalization is a basic On-Page SEO tag that helps the search engines to consider one URL for your Website or blog.
Learn:
What is Canonicalization (canonical Issue)?
When for the first time I heard the word canonicalization, I was thinking of some other meaning of it. As the word is difficult to speak and spell but it has great weight. Well, let me explain to you the term canonicalization. Many SEO experts and webmasters use the term Canonical issue.
I will try to explain this term and how you can use this term to solve your canonical issue.
Suppose we have two URLs for a blog or a website (like the links below).
https://example.com
https://www.example.com
If both of the above URLs show the same content and no redirects are allowed on these two URLs. Like "https://example.com" is not redirected to "https://www.example.com" and vice-versa using the canonical tag. This will be considered duplicate content for Google, and the site owner will face the panda penalty for the duplicate content. And solving this canonical issue can be termed canonicalization.
This can even happen with a plane Website without CMS. Which may have an index.php file and the domain name and if this canonical issue is not solved then one can face the penalty for duplicate content from Google or other search engines.
https://example.com
https://example.com/index.php
If the above of both URLs show the same content, then that will be considered as duplicate content for Google.
Although search engines are becoming good enough and are also using artificial intelligence. But we still need to conform to the search engines which URL they must follow. Actually, search engines use bots that can't decide whether the URL is from the same page or different. These bots will consider duplicate content if we do not solve the canonical issue.
If the URL of your website appears with both the non-www and www in any of your browsers, then it is for sure that you need to fix this canonical issue. You must fix your server's settings so that your website URL appears with only one URL so that whether you type the URL of your blog with www or without www in any of your browsers, it redirects to only one URL. You can try my blog's URL to check this issue. Either you type the URL of my blog with or without the www, but the URL of my blog will automatically be redirected to the "https://www.trickyenough.com/." So, if you are using both two URLs for your blog or website, then there is an important tag that you can use to let the search engine know which URL they must follow, you simply use rel=" canonical." And just this simple tag can save you from getting a penalty.
Recommended:
How to Check Duplicate Content Using Copyscape?
Redirection of the links – Are bad or Good for SEO?
How to perfectly apply the URL Canonicalization?
For implementing the URL canonicalization perfectly, you need not code long lines. For solving the canonical issue you just need to type a single line of the tag. You can check the below tag for the same.
<link rel="canonical" href="https://example.com/index.php">
Let's understand with the help of an example: suppose your website or blog has two URLs and both URLs have the same content and you need to show Google that the content belongs to one source only and no content is duplicate or identical to each other.
https://example.com/indexp.php
https://example.com
Now Google thinks that the above two URLs are different, but you can simply use the tag canonical for the "https://example.com/index.php" to convey to Google that the URL is identical or canonical to the "https://example.com/." And I am sure that doing this will help Google understand easily that there is no duplicate content on your site and you will be saved from the Google penalty.
Where to use this Canonicalization tag?
This tag must be placed in the header section of your website or blog. The tag will not work if placed somewhere instead of in the header section.  You can check the below image for reference.

In the above image, you can see that I have kept the canonical tag in the header section only. There are two canonical tags for the blog because blogs have multiple pages with posts. Then that tag can be used next to the canonical tag like this:
<link rel="next" href="https://example.com/page/2/"/>
How to solve the canonical issue in WordPress:
WordPress is one of the most popular platforms and solving the canonical issue with it is also important and easy. I have worked with many WordPress websites and blogs and believed that you need not put the canonical tag in the header section. You can simply use Some SEO plugins like SEO Yoast and All in One SEO to their work easily.
If you are not familiar with WordPress, then I suggest you first read why to use WordPress for your blog and then a complete guide to starting your own self-hosted WordPress blog.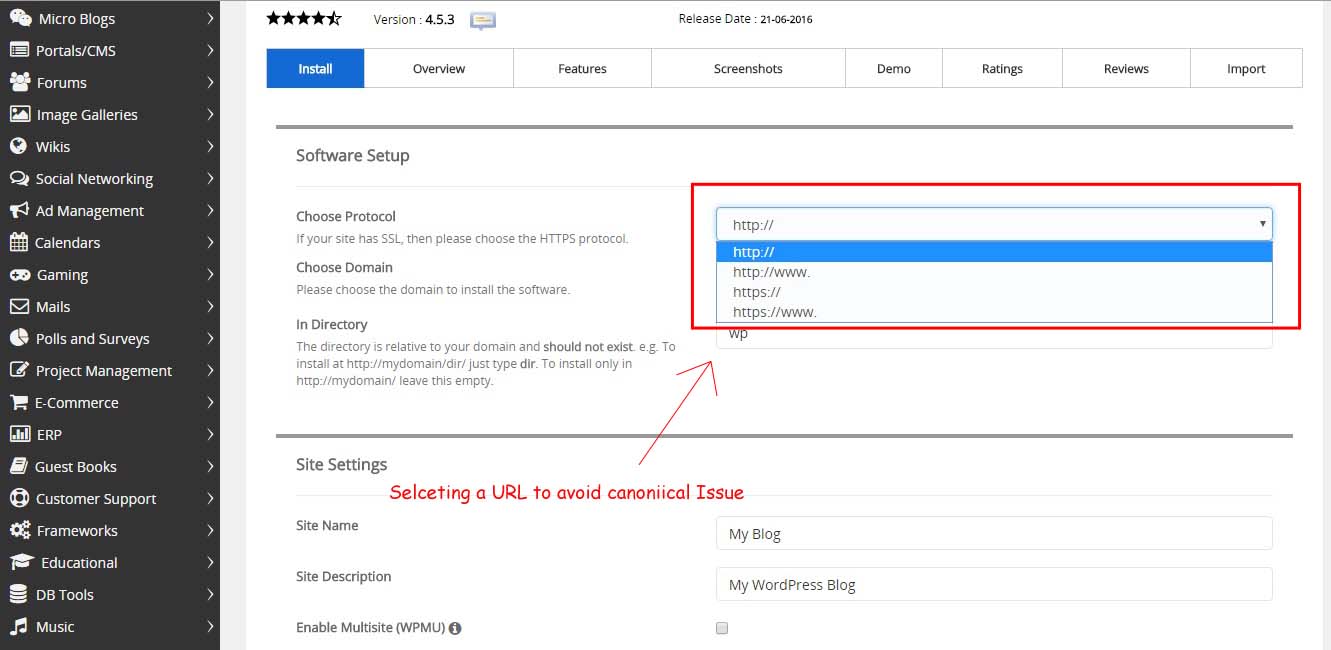 As in the above image, you can see that you can easily use a URL for your blog and website. Whether you want to go with the www or non-www URL of your blog or website, it's your will but make sure not to fall victim to duplicate content.
So, after installing WordPress, I suggest you check your general setting in your WordPress and fix the URL if there is any problem.

If the URL in the general setting is the same as it was while installing it, then you can leave the other thing on the SEO plugins. And I am sure that you will not be facing any penalty with your blog or website.
When must you be using Canonicalization?
It is not only important to use a canonicalization tag on the place, but it is also important to decide when you must use it. Because there may be a situation or CMS, or coding when we need not use the canonical tag.
You must solve the canonical issue when in need: below are the conditions given:
When there are two URLs for the same content.
When mobile sites are having the same content on little different URLs.
Having HTTP and HTTPS URLs with the same content.
Also, when categories and tags have the same content.
When the website has non-www and www versions showing the same content.
Suggested post:
Moving your WordPress site from HTTP to HTTPS for free.
Best Copyscape alternatives to check plagiarism.
Other things to be kept in mind while doing canonicalization:
Do not use multiple canonical tags. If your blog or site has multiple canonical tags, then it will be considered a bad SEO practice. Try to use only one canonical tag with clear preferences. I have also written a post on the things that hurt SEO, so I recommend you to read it.
Try not to add canonicalization tag on the second page of your URL as possible that Google may not index the URL. What I meant to say is that Skip pagination canonical Issue. The Sitechecker tool will help you analyze your site and find the problem of multiple canonical URLs. You can also check out a detailed list of tips on how to fix this problem.
Never use the canonical tags on the Links which are shortened. Applying a tag to the shortened URL will end up in many errors. It will be better to use shortened links for Better indexing.
For solving the canonical issue with mobile versions of the website. Google has suggested using the two Rel tags, (rel=" alternate" and rel=" canonical") which specify that the URL of the mobile version is showing the same content as the other site. (although due to the responsiveness of the page, bloggers are not using the re=" alternate" tag. The site is responsive which means one can use the same themes on the website on the desktop and mobile devices as well). But if you are still willing to apply this tag then here is the perfect tag for it. <link rel="alternate" href="your link (URL of your blog)" media=" only screen and (max-width :640px)">
As I mentioned earlier also that it will be a waste of time to place the canonical tag outside the header tag. So, if you are not using the tag in the section (<head> header section</header>) then Google bots will not be able to grab that tag, and your site will end up in a penalty.
Using multiple canonical tags will also be a waste of time. As search engines are going to ignore those tags and your blog or website will face many errors and many cases Google penalty.
Do to use redirects like 301 and 302. Because this forces search engines to grab one extra URL. In actuality, Google crawls 2 URLs and if this redirection is done permanently instead of temporary redirection, then you can face the Google penalty. And even the 404 code for a long time could make a penalty for your website.
Finally, what I want to Say:
On-page SEO is more important than Off-page SEO because if the On-Page SEO is not done correctly then doing Off-Page SEO is a waste of time. So, canonicalization is an important part of On-page SEO, and this canonical issue must be solved with perfection to get rid of the Google Penalty.
So, if you are still facing any problems with the canonical issue or have any questions, feel free to ask me anything in your comments.