Google uses the Panda algorithm for detecting and downranking the duplicate content. It aims to drag down all those sites which have the same or duplicate content, means if the new content matches the older content. But Sometimes the copied content ranks better than the original, and the original content is considered as the duplicate content. So to get rid of these conditions one must use some online Plagiarism tools for the checking Duplicate content.
What is Copyscape?
Copyscape is a free tool for checking plagiarism. It helps to check the plagiarism content of a site, or you can use Copyscape to check if the other sites are not copying the content from your site. Copyscape is one of the oldest and trustable tools available on the internet. Many Webmasters and SEO firms use it without any hesitation.
Why use it?
It helps to Check Duplicate content on your site.
You can check if the other sites, bloggers or authors are not copying any content from your website.
Provides a Premium API.
Free Comparison Tool
Also, provides Free Plagiarism Banner
Mainly CoypScape Provides us with a choice of Free and premium services.
How to use CopyScape to remove duplicate content?
There are many Features which you can use to remove same or duplicated content from your site or ask others to remove the duplicate content that they have copied from your site.
If you simply want to check duplicate content on your site then just use Copyscape to get best results. The tool will show you all the pages and post that contains the duplicate content for or from your site. Which you can remove if your site has duplicate content, but if others have copied content from your site, then you can ask them to remove via email or using DMCA.
Recommended:
How to get rid of Duplicate content on your own site.
Get rid of spammy comments and Email.
Protect your content with Copyscape:
The only thing you need to do is the signup with the CopyScape. You can sign up for Copyscape Premium or Copysentry, I used only the free the services, but you can use the premium services too.
After this, you can choose from a list of options like: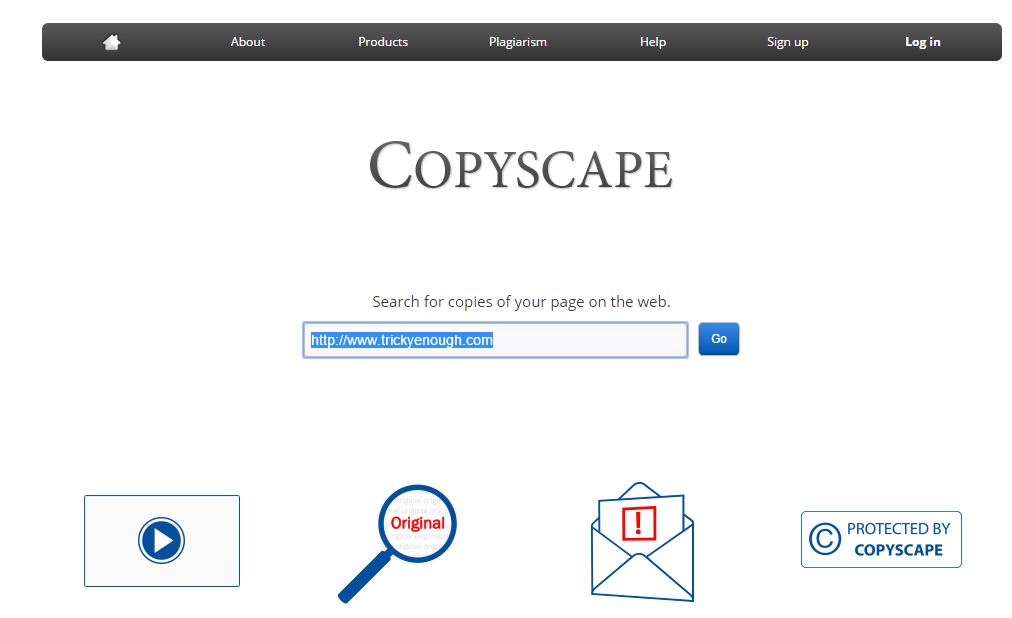 Links from a page
List of URLs
XML Sitemap
RSS or Atom Feed
And then you can provide the page or the link which you want to protect. You will get alerts in your inbox if someone uses your content on his or her site.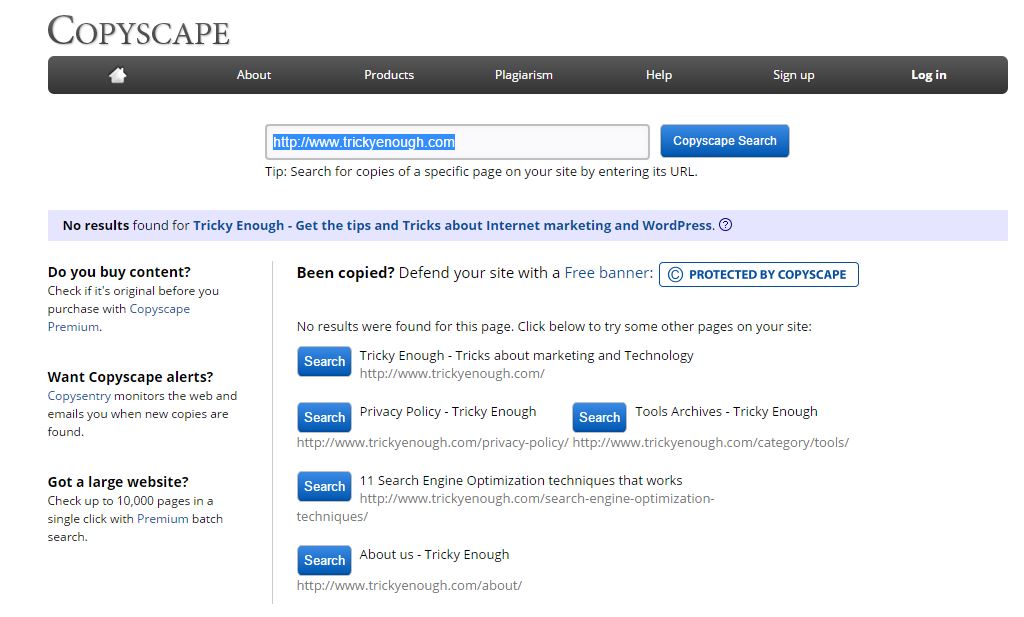 Hope this post of mine Helps you, and if you think there are any other plagiarism tools for checking duplicate content is better than Copyscape or as good as CopyScape then Please tell us by commenting.
You can also try Alternative of Copyscape to check duplicate content for your website.