We live at the age of innovative technologies, almost fully automated processes base on IT, at the age of the Internet and Blockchain. Today, it's not a privilege to have access and use the products of the wit of man. Further and further we transfer our life into the Net, in particular in omnipresent Social media. If earlier we use them just for socializing, today we go beyond these frames. Now we do our business there, promote ourselves for personal satisfaction and in order to make money as well.
Instagram has become the best place for that purpose, taking into account its specification on visual content that is loved by people so much. People are ever-more inventive with means of fast promotion on Instagram. They invented bots which provide you with a certain amount of likes and follows in a couple of minutes, then they went further and developed the idea of introducing special automation tools into your marketing performance. One of these cutting-edge tools become Ingramer.
What is the service and what are its functions?
Ingramer is a tool which makes all your marketing activity on Instagram automated. It guarantees the gradual progressive growth of your account. Not only quantitative but qualitative as well. Do you have trouble picturing it? Let's look deeper at its functions!
In short, it can be the Instagram growth Assistant for you.
First goes the function of following. The tool follows only your target audience, attracting new only wanted users to your profile. Thus, due to psychology principle of mutual interest, you are able to get new users for your account much faster.
At the same time, if there are a lot of unnecessary acts in your followings, the tool of automated unfollow will clear up your profile in a safe and effective way to use Instagram. This function enables unfollowing all accounts at once as well if you are willing to start from a blank slate.
You can raise the prospect of your account visibility with the help of auto likes. Ingramer likes the posts only of your TA drawing additional attention to your account as people are always interested in those who like their posts.
You can get the extra trust of people that follow you through their Stories viewing. This way the tool enhances the loyalty of your supporters and their engagement consequently.
Another Ingramer tool which won a name for itself is Hashtags generator. It is AI-based algorithm which makes up the list of most suitable hashtags by the keyword, a photo or any URL you point. It is a fast and most productive tool for your promo campaign via hashtags.
The possibility to monitor your account statistics is no less important. With Ingramer you can track the activity of your audience (number of follows, likes and comments), its loyalty and rate of their engagement. Thus, you can advance your promo strategy if needed.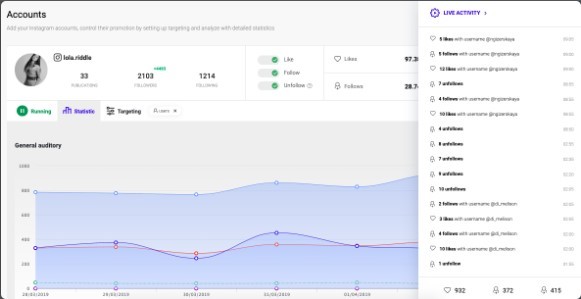 Soon the new functions will be added to Ingramer functionality:
First of all, the option of Direct Messages. You know that person and more private communication maintains the high level of your audience involvement in everything that is going on in your life. By the way, you can sell via DM as well. Thus, write appealing messages to your fans and customers, the rest will be done by Ingramer.
Comments can maintain audience loyalty no worse than DM. It is always pleasing when someone leaves comments under your post, isn't it? So why not to let automation tool help us? It will leave your best comments under the posts of your TA, drawing attention and bringing some love to you as an active party in interest.
The last but not the least function that is to come is auto-posting It gives you a chance to plan your posts in advance without wasting time for the publishing itself, especially if you are a busy business person. Just schedule your posts with ingramer.
What makes Ingramer different from others?
The most exact targeting algorithm
It is worth mentioning that the performance mentioned above Ingramer functions are based on the carefully set targeting module. Ingramer enables targeting by hashtags that your TA uses, by the location which it points and the list of usernames that you make (that can be your competitors, for instance). Moreover, you have a possibility to add certain hashtags, locations, and usernames to the blacklist so that Ingramer not to target its actions toward such acts.
Recently Ingramer has added the new filters for more precise targeting. These are the language filter, the gender filter, the timezone filter. The language filter is of extreme importance if you run your business of, for instance, a women wellness center in Arkansas. Thuswise, you can fix the targeting only on women who live in Arkansas.
On the assumption of all functionality described above we speak about the high efficiency of Ingramer. Through imitating real human behavior it provides a smooth promotion. Even in 3-days trial, you can get around 1000 new followers and potential clients!
What is very important for any automation tool, it is the speed of work. Ingramer shows the first results (first likes and follows from real people) literally instantly. Can you achieve that by yourself?
Moreover, however paradoxically it sounds, but the automation tool do can increase the ER of your audience. Enabling commenting, liking, sending DMs to your supporters will increase their trust in you and their involvement and activity on your page.
Will it boost your sales consequently? Sure! Only imagine, you can reach potential clients fast and without any barriers. Even if take Instagram DM only, they can enlarge your client base significantly within a short period of time.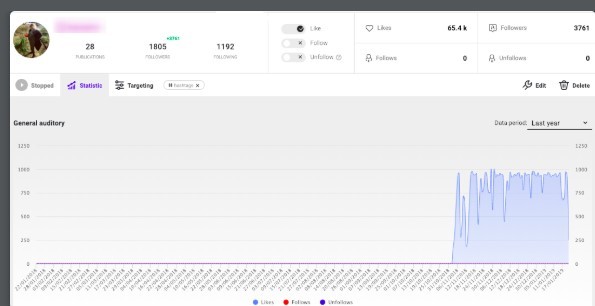 The great desire to be of use
We want to be useful to our clients. Not only through providing the cutting edge automation tool, but through multifaceted assistance as well. We keep the high-quality blog which presents not only helpful tips for your promotion but the entertaining content as well. If you wonder what's is the best time to post on Instagram, what Huskies you need to follow there or what are the hottest models on Instagram, Ingramer Blog is at your disposal.
Ingramer offers 24/7 support for all clients. You will be provided with all required information and content about the service, its settings, and the special offers. If you have some troubles, you can contact the team via online chat, by email or you can find them on Social Networks.
Thanks to Ingramer's algorithms, it incorporates Instagram limits while operating. That guarantees solid promotion without any IG blocks or bans.
In terms of total security, Ingramer provides you with free way-up proxy servers which provide your security and anonymity on the Net.
The first argument for that is the fact that Ingramer is a cloud-based tool. That means you do not need to download any application. You have access to your dashboard wherever and whenever you are. Seconds, the interface is designed the way you can use all tools freely without reading any manuals and so on, your intuition will be enough to start your Instagram promo campaign.
Suggested:
Instagram marketing for B2B business.
Let's sum up the discussion
Your time, your efforts are precious. You can save them while running your promo campaign on Instagram. For that, you just need to use special services of marketing automation. Ingramer is one of those tools, but we can claim boldly that to a certain extent it is one-of-a-kind. First, it imitates real human behavior adhering to its set of algorithms, providing you with quality promotion on IG. Second, it is performative and allows you to see the first results in a moment later after you press the button "start". Third, the team is first class. It will support you anytime and will provide the most informative and funny content. Forth, the security blanket can't be odd in any case. And on top of all, ease of use.
It is of importance to note that the automation tool is not the bot which is used for the simple purchase of likes and follows for your account. Ingramer provides you with real likes, real followers, and fans and real customers. It does all the work that usual marketer does in order to advertise a brand. But there is one significant difference, the automation tool works non-stop and for a much cheaper price than a specialist in the field will demand.
You can take a 3-days trial period and see that all for yourself. All the best!