Your app will not meet user expectations unless it includes trending and modern app designs. That's why it's crucial to update the app with the new app design trends, observing what's trending in 2022 and upcoming years.
Do You Know?
74% of visitors are likely to return to your site if it has good and attractive mobile UX.

Source: ValueCoders
Now the question is, which are the best New Trends in Mobile Design. Well, to answer this question here, I have listed the 12 best and attractive app design trends in 2022.
Top Mobile App Design Trends 2022
The mentioned latest mobile design trends offer a new look to your mobile and web app. If you have confusion in picking the best design for your app, you can avail of mobile app development services from top-notch organizations; this will help you choose the appropriate design meeting the app services and area.
"GOOD DESIGN IS GOOD BUSINESS." (Thomas Watson Jr.)
1) Neumorphism
Icons and buttons play a vital role in mobile apps; that's why in 2022, mobile application developers are striving to make them more appealing. For doing so, they are using a hot new app design trend called "Neumorphism," short for "new Skeumorphism."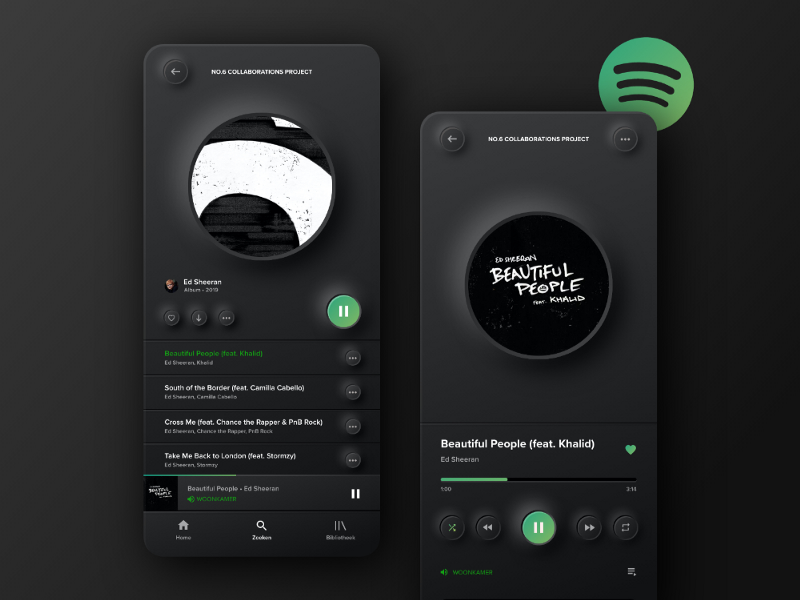 Image Source: Pinterest
This mobile design trend has improved its design in 2020, and now it offers new and enhanced 3D-like graphics. This app trend offers lush dimensional makeover to the flat icons and buttons. Doing so provides a bulging and 3D outlook to the tabs and icons available in the mobile apps.
2) Complexion Reduction (CR)
Complexion Reduction is one of the hottest and new mobile design trends; it offers multiple functionalities such as:
Removes excess colour
Bigger, Blacker, Bolder Headlines
Thin, Easy, Recognizable Icons
Brighten up your App Icon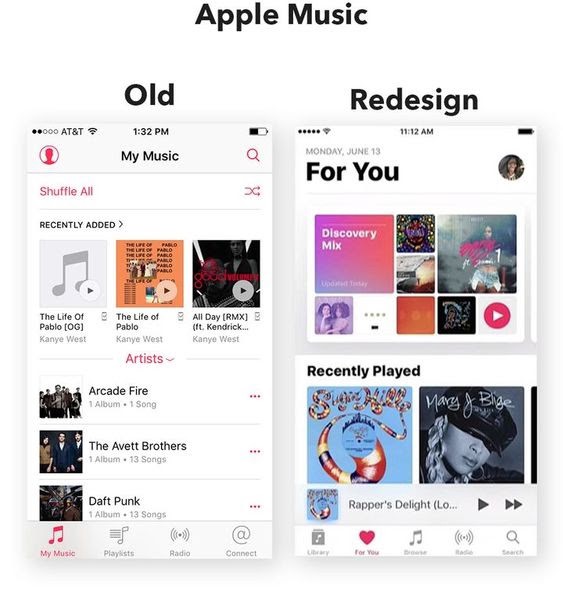 Image Source: Pinterest
This mobile design provides an appealing look to the app. Numerous famous apps used this app trend, namely, Instagram, Airbnb, Apple Music. Complexion Reduction mobile design will get immense popularity in 2022 and upcoming years as it offers the design that the current market wants. Nowadays, various top mobile app development companies prefer using this app design trend.
3) Simple and eye-catching Visuals
It's not enough for an app to have multiple features if it will be not eye-catching, then it will not be able to attract users. Nowadays, users prefer designs that are simple, lessens eye strain, building simply comprehensive designs matched with soothing colors and visuals.
"DESIGN IS INTELLIGENCE MADE VISIBLE." (Alina Wheeler)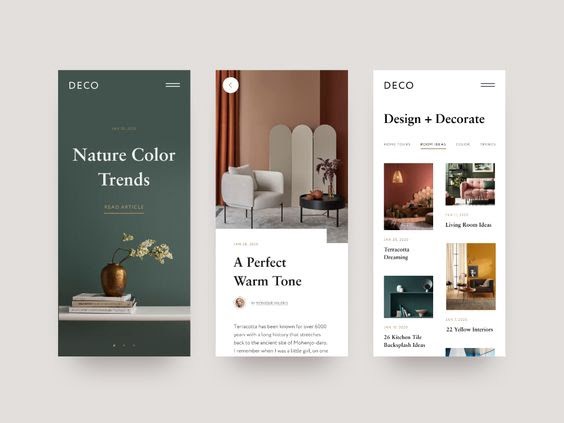 Image Source: Pinterest
Such New Trend in Mobile Design uses natural and soothing colours and offers simple layouts that don't confuse users, empowering them to stare at the screen for long without encountering difficulty.
4) Gratifying Swiping Experiences
Swiping is one of the great functions that each mobile app user wants as they prefer swiping more than clicking. Satisfying swiping design and experience is the best mobile design trend for so many years and till now.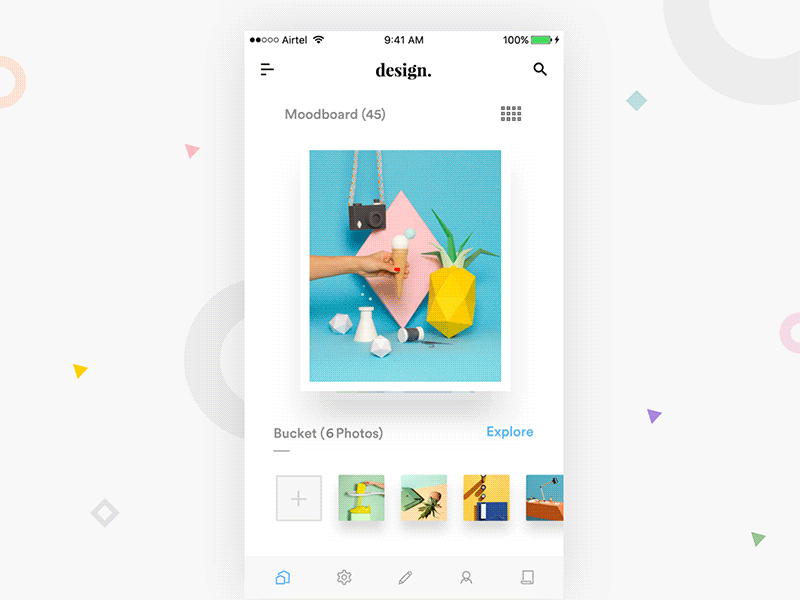 Source: Behance
There are various approaches to improving the swipe experience, so all you just need to do is imagine the right idea. For example, adding the animation to the swipe pattern satisfies the users and also shoves them to swipe right or left.
5) Analogue Originals
Analog Originals is based on various elements such as cardboard and paper textures, collage layouts, slightly yellowed backgrounds rather than pristine whites, retro typography, and more.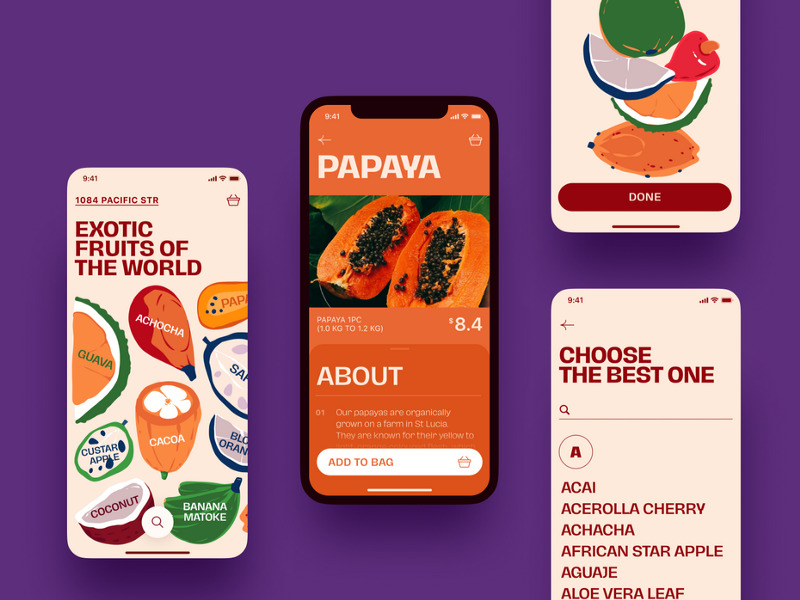 Image Source: 99Designs
Well, you might have seen the app designed based on newspapers and magazine themes; this became possible because of this Analogue mobile design. The look of app design with this mobile design trend makes apps feel more real and modest.
6) Wisdom in shadows and layering
Nowadays, shadows and layering patterns are trending as it offers a more appealing look to the mobile application, and that's why in 2022 it will be more preferred in mobile app development. To offer visual depth to this mobile design trend, designers add strong colors and shadows, a contrast to photography, graphics, etc.
The layering of pictures forms an overlapping pattern to form an internal hierarchy. Integrating such design with shadows offers a new dimension to your mobile app. Sometimes using this design trend can create trouble for you as it requires a lot of attention over dimensions and shading parts. So to avoid this, you can go with the option of mobile app developers for hire. But don't forget to hire developers from the best mobile app development company.
7) Abstract & geometric modeling
Abstract & geometric modeling is one of the New Trends in Mobile Design, which draws users' attention with bright colors and simple geometric shapes.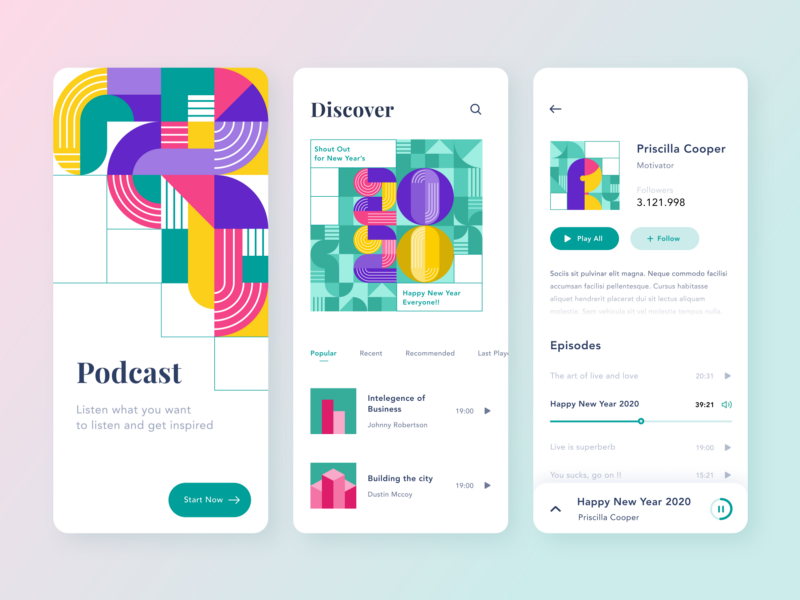 Image Source: Pinterest
This app design trend includes variation and artistry walls, which offer a unique dimension to your app. Mobile application developers prefer using this mobile app design trend as it offers simple and appealing visuals, which are comparatively liked by all users.
"Design Adds Value Faster Than It Adds Costs." (Joel Spolsky)
8) Immersion into VR and AR
In times of lockdown when moving out from home isn't an option, virtual reality and augmented reality-oriented apps become of crucial elements starting from entertainment to offering an excellent online shopping experience, it helped in all ways.
Thank God that now the COVID-19 Vaccine is formed due to which we can think of leaving home for various sorts of work. Well, after COVID-19 also this app design trend will last and will continue getting popularity in 2022 and upcoming years.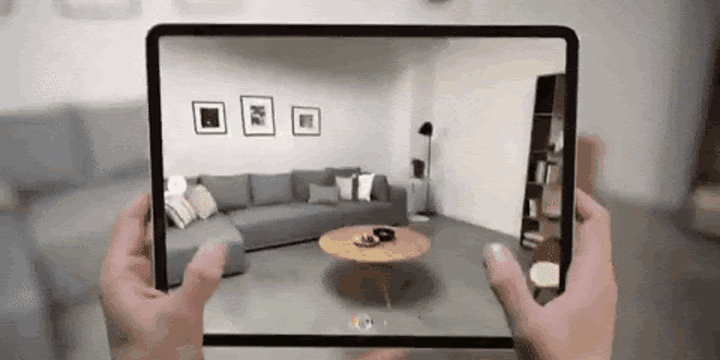 Source: Love Creative
The app designed by this app design trend makes you feel like you're inside the app, which offers engaging design elements. IKEA's, Snapchat, Google lens, Instagram are examples of AR and VR apps.
9) Surprising Angles
The unusual angles design are trending nowadays as an app designed related to it offers a sharp look. The surprising angle design trend is drawing users' eyes and offering an amazing look to the mobile and web apps.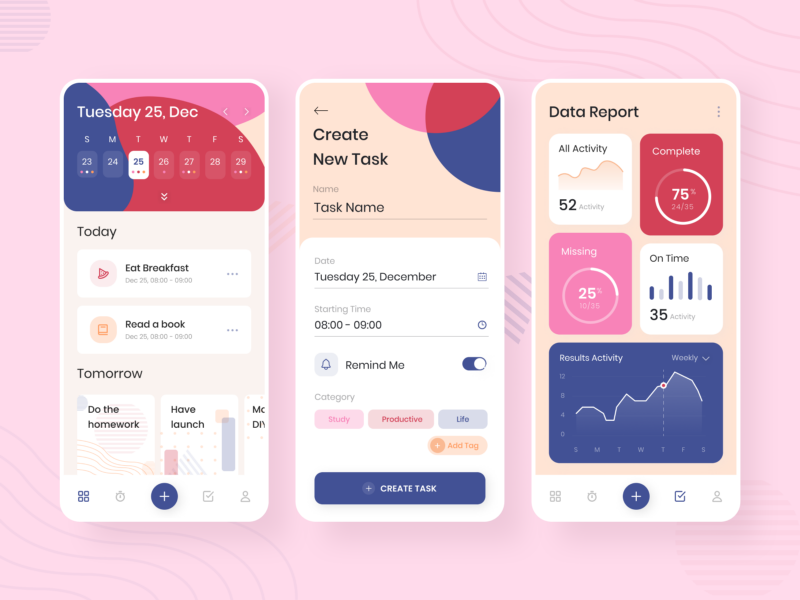 Surprising angles add interest and make app designs even more dynamic. Well, if you also want to offer your app a more appealing and unique look, then with the support of a mobile application developer, you can do this.
10) Wavy Appearance
Big giants are combining voice search technology and vocal user interfaces (VUI) in mobile apps, as this is done because the current audience prefers listening and searching using voice technology. Well, along with incorporating the VUI in mobile apps, designers are also focusing on wavy app designs that suit it.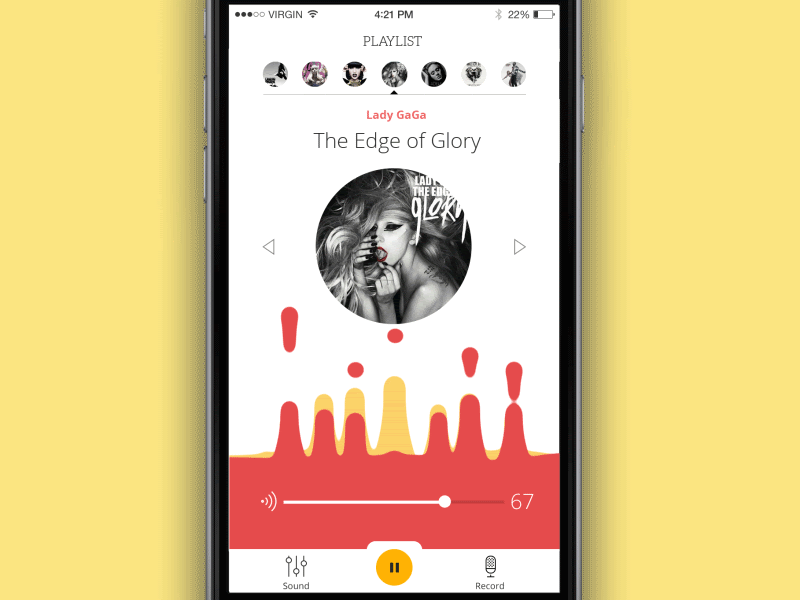 Source: Pinterest
Mostly in the music app, a wavy design is included as it matches it and offers a soothing look to the application. This famous mobile design trend is winning the heart of so many users.
11) Scalable Typography
Typography is the latest mobile design trend; its bright colour and amazing font look mainly attract the visitor's attention. If you are running a small or moderate level business, then for you, this new trend in mobile design will help you offer an appealing appearance to your app.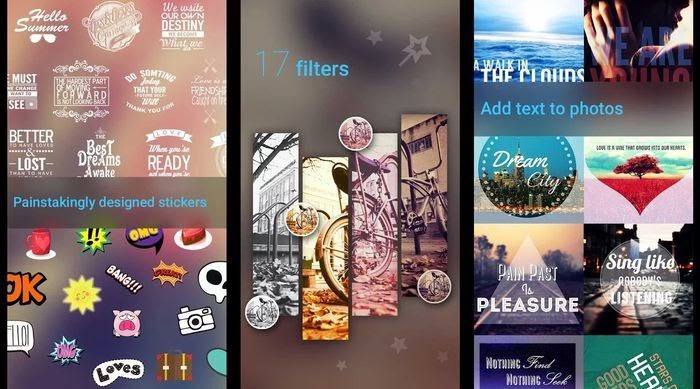 Image Source: Make Tech Easier
Apple-designed and released a new typeface in San Francisco, which was specially built for Apple Watch apps. Typography design impacts the look of the app interface and overall app design.
"PEOPLE IGNORE DESIGN THAT IGNORES PEOPLE." (Frank Chimero, Designer)
12) Fresh Multiple Color Palette
This is also one of the famous mobile design trends which offer a gratifying appearance to your eyes. This mobile design trend is mainly used in food, fashion, and interior designing apps as the design includes fresh color, which can easily attract users.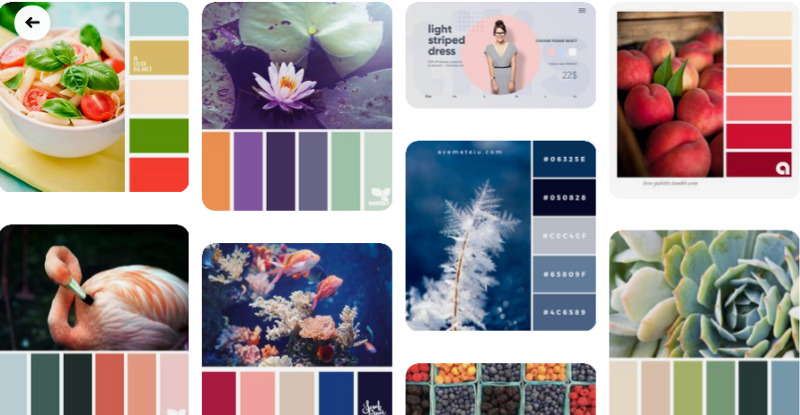 In this mobile design trend, multiple unique (dark to light) shades are there, which enhances the appearance of the mobile interface.
Wrapping Up
If a mobile application has a poor UI/UX design, then it will for sure not draw the visitor's attention and this result in less consumption of the apps. That's why while developing the app, experts majorly focus on its UI/UX design, advanced technologies, features, and functionalities.
The mobile design trends of 2022 assure the comfortable usage of mobile apps. If you are bewildered about picking the best app design trend for your mobile app, then hire mobile app developers from the named mobile app development company. This will help you build the interior app with leading app development solutions.
Suggested:
What is the Difference between Web App Development and Mobile App Development?
Technology and Agriculture: How Mobile Apps Have Made Them Meet.