The rapid capture of mobile technologies in the previous decade has given users complete control over their life. Everyday...
Having a mobile presence has become essential for a company's existence due to the shift in human behavior throughout...
Mobile App Maintenance Service and how to look for a perfect one. Can you imagine a day without using...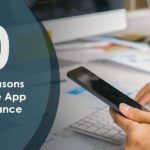 Three aspects help the mobile app become successful: market, audience/customer, and the product itself. And this post aims to tell...
Are you an avid book reader? If yes, then you must have been aware of the pain of carrying...
Getting into the development of a mobile application is an ambitious project. Whether it is to develop it internally...
In today's modern generation, the life of every individual is heavily dependent on digital platforms. In such a scenario...
Crossword app puzzles have been a trend for game enthusiasts since 1913 in the US. It has been adored...
If we talk about eWallet applications, the first thing that we need to remember is the strong digital presence....