There are no two opinions that both WordPress and HubSpot are the best CMS, but widely different platforms that help you take your website to the next level. We will take deep dive into "HubSpot vs WordPress" in this post.
Well! Website is the front door to your business. If your website is designed, developed, and managed properly, it becomes really easy to revolutionize the online business and generate fruitful results.
For achieving all this, it is vital to choose the right CMS platform. Indeed selecting the one from the top two is not a cakewalk, but considering the variety of factors makes it easy to decide which tool will create an excellent website without extra effort and time.
Before we compare both the CMS, it's crucial to understand that cost, website management, marketing analytics, search engine optimization, ease of use, blog management are some of the factors that you should always look at while selecting the CMS.
By keeping all these factors at the top, let's compare HubSpot vs WordPress and reach the best decision.
HubSpot vs WordPress: Best CMS in 2021 and Beyond
Let's get started…
HubSpot vs WordPress: Cost
Pricing is an important factor that inspires users to make an informed decision. But when it comes to WordPress and HubSpot pricing, it becomes murky. Therefore, it is becoming more important to know how much HubSpot and WordPress actually costs.
Indeed, WordPress is a world of new possibilities. By using this open-source platform, you can easily build websites for free. But to drive the success of a website campaign, you need to incorporate additional software such as live chat, A/B testing, security, etc. And for each plugin, you need to invest extra cost. Moreover, you have to invest huge amounts of time in connecting those plugins.
On the other side, HubSpot is an all-in-one business automation tool that helps you perform sales, marketing, and service from one tool. By using this powerful tool, you don't have to add extra plugins and pay for it, as everything is in-built in the software. By making a one-time payment of around $300 per month, you can perform all the website-related tasks easily and under one umbrella. As I am a HubSpot user, I can say that investing this amount is worth it.
HubSpot vs WordPress: Website Management
Whenever it comes to website development, developers need to look at various things such as website design, page loading speed, etc. Also, developers need to have deep technical knowledge so that they can code easily.
Indeed, WordPress is one of the top CMS that allows you to create text-based websites that will further give an appealing user experience. Also, WordPress offers basic tools with a variety of themes and plugins for which you need additional subscriptions and specific site-building software.
Prefer reading- Points to remember while selecting WordPress Theme.
But on the contrary, HubSpot allows you to create excellent websites with zero coding skills. It offers hundreds of customized templates that can easily be customized using drag-and-drop-editor. Moreover, it also supports 24*7 customer support that helps users develop compelling and professional websites in no time.
HubSpot vs WordPress: Marketing Analytics
To improve the website's performance, it is important that you analyze its performance on a regular basis. It not only helps you know the exact place that needs improvement but also gives an idea about how you can optimize your website for better results.
To be straightforward, WordPress does not have any native analytics feature that can help you analyze your website performance and track which page is performing well or needs some improvement.
But if we talk about HubSpot, it has its own analytic tool that will let you see how your website is performing. Furthermore, if you use HubSpot enterprise, then do multi-varying testing with AI that will further help you create excellent landing pages. So, if you want to take your website to the next level, I would recommend youtube analyze its performance regularly.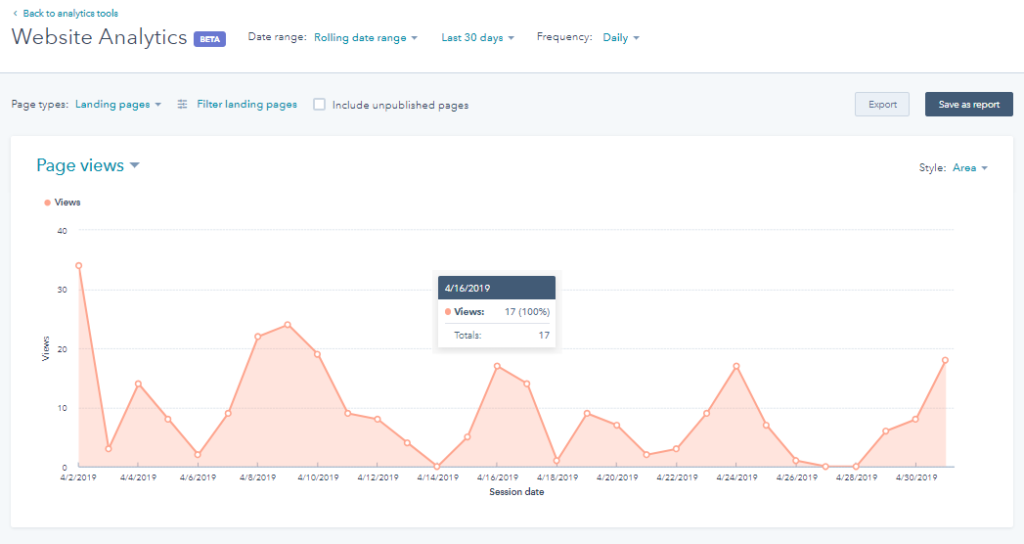 Source: HubSpot
HubSpot vs WordPress: Search Engine Optimization
Nowadays, CMS without SEO is of no use. If your website is not SEO optimized, then it is really impossible to create a great website and keep in the top searches of Google.
If we talk about WordPress, then it is not integrated with the capabilities of SEO. But yes, you can expand its functionalities by installing plugins. By using the handy plugins, you can manage almost any SEO demand. For this, you have to spend additional costs and time on maintenance.
On the positive side, HubSpot has its roots in SEO. If you build a website on HubSpot, then you can ensure that your website is highly optimized. It has a strong foundation of keywords that will allow you to keep your website at the top searches of Google. Moreover, the array of HubSpot tools will keep you up to date by considering the latest search optimization trends. Code alert is one feature that allows you to highlight syntax errors in your code files to improve website speed.
WordPress vs HubSpot: Easy to Use
Interface and usability are major factors that grab the visitor's interest and retain them for longer. If the website is easy to browse and clearly demonstrates the features, then you can easily build visitors' interest and can easily convert the visitor into a lead. And when it comes to the comparison of HubSpot CMS vs WordPress, both stand equally.
No matter whether it is HubSpot or WordPress, both allow you to design, develop and launch professional and user-friendly websites easily. Both platforms help in developing a website with proper navigation with simple and alluring functionality.
HubSpot vs WordPress: Blog Management
If I am not wrong, then blog management is one of the most obvious things that almost every CMS includes. By creating alluring and effective content, you can easily catch visitors' eyes and build stronger relations with the customers.
Indeed, WordPress is one of the commonly chosen blogging platforms that allow you to produce optimized content. But to make it live, you might require the assistance of an IT manager or technical developer. Furthermore, if you want to optimize the content for the entire website, you might need extra plugins.
But HubSpot owns a user-friendly and clean blogging interface that allows you to create, upload and manage powerful content quickly. While creating a blog in HubSpot, you will get an option to check whether the content is fully optimized or not. Also, it showcases the areas that need some improvement in the content to make it more SEO-friendly.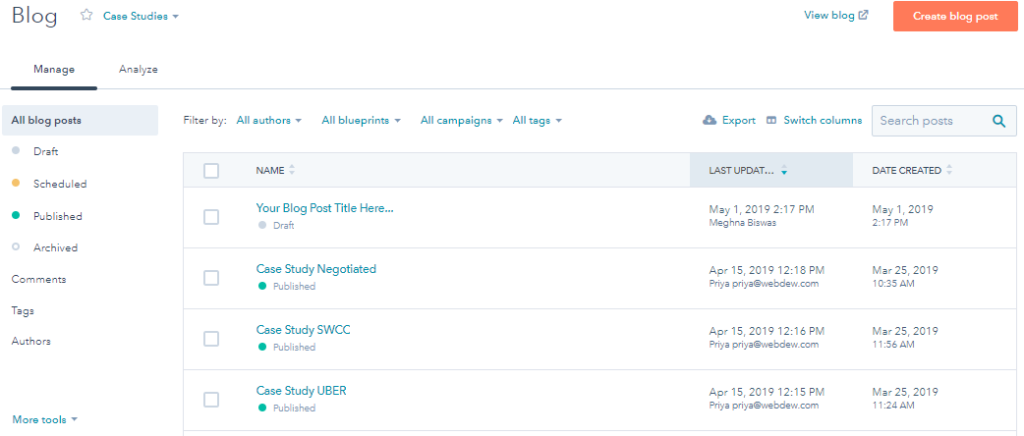 Source: HubSpot
The Last Say
Hopefully, you have a clear understanding of both the powerful CMS software. Indeed, WordPress is an effective tool in terms of usability and cost, but when it comes to other crucial features like SEO, analysts, content, management, etc., HubSpot is a clear winner.
I would rather say, do not go on my words; go to HubSpot and get its free trial. You will automatically resize the difference and know why 72% of the people say that after using HubSpot, they experience an increase in sales in the first year.
What are you waiting for? Go ahead and make your move.
But still, if you want to ask something or look forward to some suggestions, feel free to share in the comments below.