Digital platforms and products are maturing at compounded rates. New algorithms, UI makeovers, cross-platform policies, enhanced features, and a lot more keep changing the way how people interact with each other on the internet. On one hand, Elon Musk has mastered the art of influencing the masses with his tweets. However, a lot of businesses are stuck at don't you have a page on Facebook? Consumers are now super connected with everything- friends, ideologies, causes, events, trends, and purchase decisions. Both consumers and digital platforms are evolving at a pace higher than most businesses' ability to adapt- leaving them vulnerable to digital Darwinism. In this article, we will have a closer look at the risks posed by digital Darwinism in the post-pandemic era and how you can save your eCommerce store from succumbing to it.
Ecommerce Brands Succumbing To Digital Darwinism: A Flashback
Boston Computer Exchange (1982) was the last eCommerce company, but when was the last time you bought something from it? Pets.com was another short-lived sensation that opened and closed within two years. In more recent times, many businesses try entering the eCommerce space and making a quiet exit not because they don't have mind-boggling cash flows like Amazon, but because they try to adapt to their customers.
Amazon became a $1.6 trillion company by constantly disrupting the eCommerce landscape. They introduced Amazon Prime, Fulfilled By Amazon, and all of the other novelties that soon set the bar of consumer expectations. The pandemic, eCommerce boom, and reopening will leave online retailers in great distress as it is expected that the consumers will return to the brick-and-mortar stores. In fact, the Chinese customers in the Covid-19 affected areas almost completely returned to their older shopping habits. However, many business leaders feel that the shutdown period wasn't long enough to make permanent consumer behavior changes.
Yet, nobody can accurately predict how much of the online sales will be sustained once we return to normalcy. The outlook remains positive, and that's an alarming bell for the eCommerce store owners as competition might get fiercer than ever before: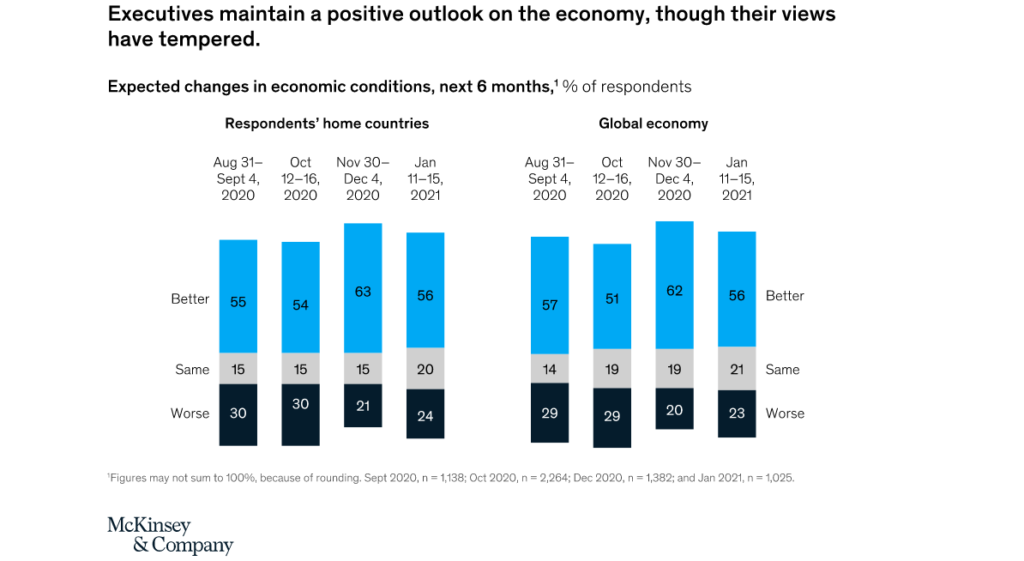 Almost every business, including online stores that survived past the lockdowns, had shown highly accelerated digital growth. The adoption plans for digital tools were slashed from years to a few months and continuing this stride. Let us have a look at how you can save your web store from digital Darwinism:
The Five-I Framework To Thrive In The Era Of Digital Darwinism Explained For Ecommerce Stores
After going through a series of articles on how the internet era started, how early online entrepreneurs like Elon Musk and Jeff Bezos viewed it, how it transformed, and how the giants managed it, I coined this Five-I framework to battle digital Darwinism. It is meant as a continuous process that should become a part of your business philosophy.
Include Digitalization In Your Ecommerce Business Case
Your business case is your reason to venture into business and prove its efficacy to your stakeholders. As an eCommerce store, the digitalization of your organization should be a part of your business case. You can start by determining how connecting each and every activity on your web store front end with the backend will benefit your stakeholders. Next, you can focus on covering as many processes as possible through digitally monitored middleware. This includes vendor development, online content calendar, project management, surveying, after-sales service, and even non-core business processes.
Interweaving digitalization in your business case has a unique advantage: Even if you don't have a plan for the data you are collecting, you will be able to figure it out later. And it will also act as a base for setting up digital infrastructure in the future. As an eCommerce store, you can find it easier to start using inventory management solutions if you were already using spreadsheets for inventory management prior to scaling up. That data can be migrated to your platform, and hence, you will have a better position to start with.
Integrate And Digitize Your Ecommerce Store's Core Processes
The core processes like inventory control, order automation, cross-platform data transfer, social selling, and warehouse management should be integrated at first. This is necessary since many platforms don't have standardized methods of doing business. For instance, if one of your third-party warehouse services providers doesn't have the capability to process bundled orders, operations might become complicated for you.
In such cases, employing a middleware that will break down the data in a format acceptable by your third-party warehousing partner will be the only way to benefit from such orders. Similarly, integration-intensive approaches like headless eCommerce will ensure that your eCommerce business undergoes change as a byproduct of digital evolution instead of being subjected to it.
Implement Database Pooling For All Stakeholders
Not sharing data even with other departments inside the firm is common even in today's time. Building these walls inside your organization will only limit your growth. The fundamental reason behind implementing digitized tools within an organization is to share the insights and bring greater coordination. For instance, using CRM data or negative social media mentions tracing repeated complaints about a particular product to improve purchase decisions can work wonders for you.
In the same way, newer concepts like crowdsourced delivery for last-mile delivery will require partnering with numerous parties that aren't going to permanently deal with you. Gated access to the stakeholders helps ensure that they receive only the information they need. With adequate security measures, you can implement database pooling throughout your organization and become highly reciprocal to the supply chain.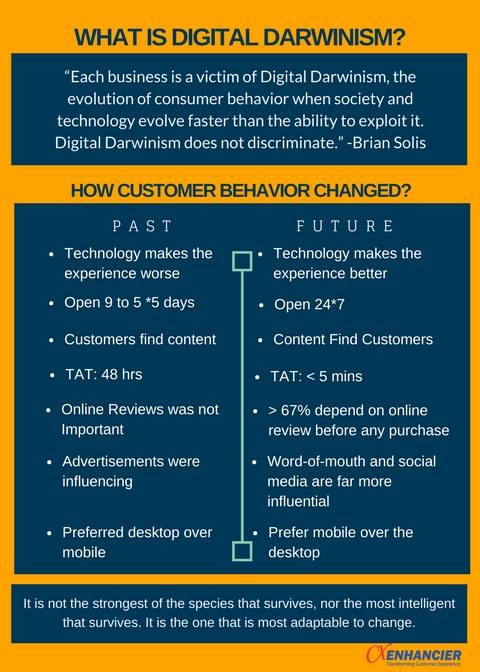 Interact With Your Customers Using Various Platforms On A Daily Basis
Interacting with customers on multiple social media platforms, chatbots, and emails can help create accurate sales offers. Your customers will always drop hints here and there, but it is almost impossible to catch up with purchase trends without database pooling. Pooling insights with your stakeholders like vendors and logistics partners will also save you from adverse situations like the bullwhip effect.
On the flip side, it can be a very positive move for procurement as you can make purchase decisions in real-time. As we move towards an era where almost anything could become a trend, offering relevant products on your web store at the right time can be a great advantage. Recently, Bernie Sanders was at the helm of social media attention for this picture: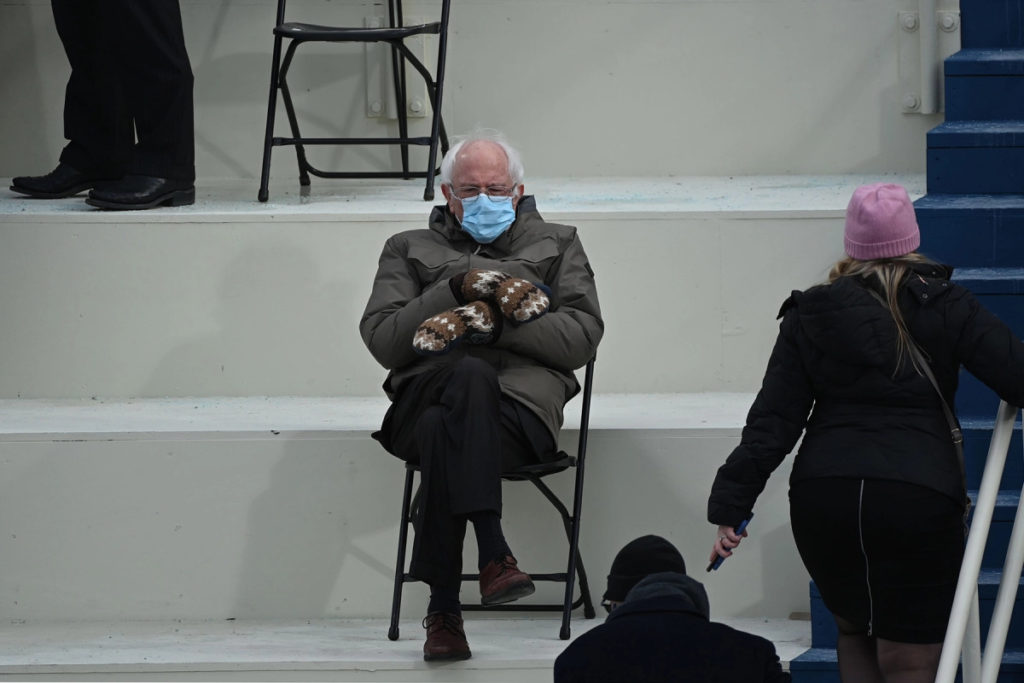 Even Ikea joined the bandwagon to advertise its folding chairs: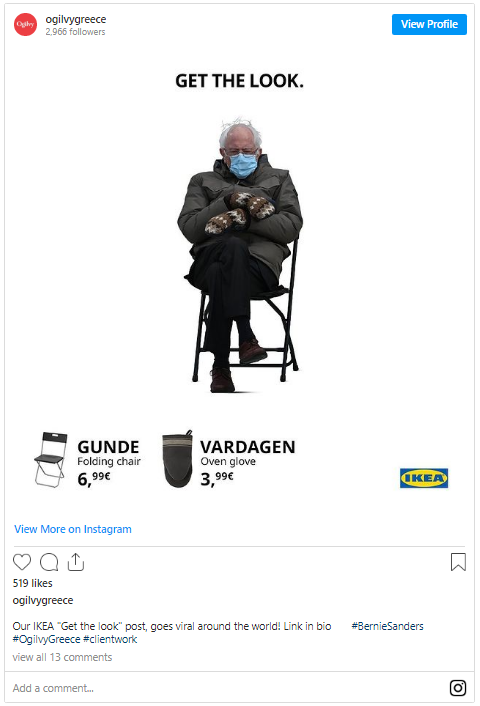 That's how smart eCommerce brands capitalize on opportunities. People also started selling vegan mittens to make the most out of this trend. Interacting and analyzing what makes your customers 'feel' will help you sell,' and without digitalization, that's impossible in today's date.
Improvise Processes And Monetize The Digital Enhancements On Your Webstore
You should aim at improving the processes instead of merely digitizing them. For instance, if your eCommerce business uses spreadsheets for inventory control, you can implement a full-fledged solution for inventory management that also helps with order processing automation and warehouse management. Cover as many adjacent activities as you can to add value to them as a whole. Using chatbots on your eCommerce website for aiding navigation also gives you a chance to make sales using a conversational UI.
"Connected customer" is the driving force behind digital Darwinism, and you can monetize any link that connects your website with the customers. You can integrate referral-based solutions, discount coupon platforms, and even location-based check-in solutions (if you are into omnichannel sales) for improving customer experience. This will also give you opportunities to make money as you get more involved with the customers. All digital enhancements enable you to upscale interactions and, thus, gather insights that help boost your sales.
Summing Up
It took less than 60 years from the first aerial flight to the first successful manned space mission to the moon. But it will take about 52 years to shoot the first movie sequence in space (Tom Cruise-Space X) after Neil Armstrong first stepped on the Moon. So digital Darwinism isn't going to swallow your business overnight, but it will require you to follow a proactive approach. The Five-I framework will surely help your eCommerce store in surviving digital Darwinism in 2022 and beyond.
Suggested:
Top 10 Tips and Tricks to Win the Competition with eCommerce Store