E-commerce helps purchase and sell labor and products on the Internet with they offer an ideal e-commerce works within...

Today the most booming industry is the e-commerce business and growing by leaps and bounds. Shopping online used to...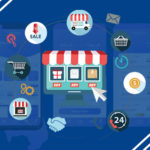 Ray Tomlinson would never have thought that his simple communication tool would earn fortunes for the businesses. With the...

The Corona pandemic has affected every sort of market and business in one or another way around the globe....

One of the most wanted aims of the people in this world is to get themselves integrated with the...

If there's one cardinal rule that you simply can't avoid in today's digital marketplace, it's the need to integrate...

If you are an eCommerce store owner, your ultimate goal is to perform better than your competitor and rank...

Digital platforms and products are maturing at compounded rates. New algorithms, UI makeovers, cross-platform policies, enhanced features, and a...

Online shopping fraud is on the rise. As the COVID-19 pandemic has decreased the footfall to brick-and-mortar stores, shoppers...