When you're an aspiring graphic designer, it's easy to fall into traps. Those traps could cost you years working...
Have you been looking for a way to get your client's websites done faster? A White Label Webflow Agency...
Are you looking for a way to reach some potential customers for your business? Email marketing can be a...
Graphic designs play an important part in today's dynamic market world. Graphic designers are needed by businesses to produce...
Every business needs a website nowadays. It's a fact. Because you should be present online. Your offers must be...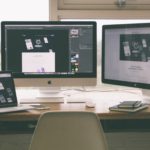 Designers! Are You Limiting Your Growth Due to These UX Designing Mistakes? Are you confident about your UX designing...
Social media marketing is the use of various online communication platforms, like Facebook or Instagram, to disseminate a company's...
User experience is seldom overlooked in web design and is often taken for granted by developers and business owners....
Fonts have become a staple element and key component in many applications, including graphic design and data visualizations. Creating...
Dear Employee, 'Be who you are' -by Boss