Do you want to upgrade your business and make it tech-savvy to get exponential growth? If your answer is...
Nowadays, more than a million people use Shopify regularly. Consequently, it is among the most successful e-commerce systems. There...
Several content management systems (CMS) are available in the market; how would you choose the best one for your...
Shopify is a popular multinational e-commerce Canadian platform for online stores, drop shippers and retailers. Shopify has numerous integrations...
What makes the best eCommerce development platform? You probably have heard about different eCommerce Development Platforms, such as Shopify,...
Anyone who wants to start dropshipping cannot overlook Shopify. With over a million businesses creating their eCommerce store with...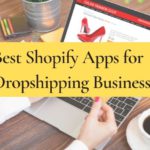 When it comes to developing eLearning courses, there are so many options available. But which one should you choose?...
WordPress Plugins are software components that are written in the PHP language to incorporate additional features in the WordPress...
Modifying any website can be intimidating when you are unsure how to handle it. However, at times improving a...