Social media marketing has become one of the greatest means of promoting a product or service. It has been...
Social media channels are now the most powerful means of communication. Billions of people actively use them. According to...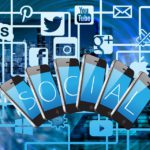 Marketing has long been a part of our daily lives. Big business recruits the best specialists to increase sales....
Pinterest can be a great social media platform that can help you grow your business. Pinterest allows you to...
Video marketing has certainly seen growth in recent years and for good reasons. Besides being a cost-effective marketing tool,...
Finding the best influencer is the choice of everyone. Whoever chooses influencers wants them to be genuine and bring...
Digital advertising is the trend of the day. New trends in online advertising have taken advertising to a higher...
In this pandemic era, when social distancing is the norm, digital advertising has been the better way to reach...
Running an effective keyword campaign is key to tapping into the vast amounts of internet traffic coming from search...