The way of life is more mobile than ever. It is hardly unexpected that games have kept up with...
Smartphones as always doing the job. Whether we are trying to entertain ourselves or trying to search for some...
There are more than 2 million mobile apps in the Apple App Store and Android Play, with thousands of...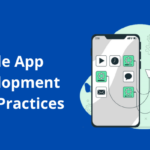 In today's digital-first economy, two vital elements drive progress: Application Programming Interfaces (APIs) and mobile applications. The two are...
Emojis are the best way to communicate with anybody as texting someone is very boring and time-consuming. People started...
Mobile games are the need of the hour. As we call it, they are inevitable in the smartphone. Who...
Technology is developing with time, people are using apps for their every work. From doing mobile recharges to ordering...
Having a mobile presence has become essential for a company's existence due to the shift in human behavior throughout...
Here you will get everything to take a screenshot, whether you have Windows, Chrome OS, Mac Os, IOS, Android,...