You can have thousands of unique site visitors every day and still not convert those customers into sales. This...

SEO is a mechanism that helps Google to determine which websites are eligible for search engine queries. Dynamic companies...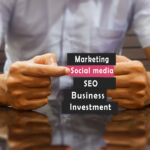 During the last few years, there has been an interest among established bloggers in anonymous blogging so that the...

Search intention and search engine optimization go hand in hand. However, search intention is an often ignored factor in...

Many content owners mistakenly believe that SEO is no longer relevant in 2020. SEO continues to evolve – which...

Voice search is emerging as one of the most significant SEO trends right now. More and more number of...

If you think people are going overboard when they ask whether or not link building is dead, we're here...

There is a new kid on the block known as Bidirectional Encoder Representations from Transformers, also short for "Bert."...

While most businesses understand that a part of their content marketing strategies needs to include keeping a watch on...