Digital platforms and products are maturing at compounded rates. New algorithms, UI makeovers, cross-platform policies, enhanced features, and a...

Reams have been written on just how much artificial intelligence helps eCommerce to know about customers, trends, and products...

E-commerce has paved a doorway for many start-ups to emerge and boost growth. And it would be interesting to...

Magento is a synonym for success and why not? Magento is one of the leading CMS platforms to build...

This blog will highlight the 5 ways in which Big Data will help you boost your e-commerce business. But...

E-Commerce businesses are the way to sell products and services. Explore a step-by-step guide on how you can start...

Ever wondered why people virtually hop straight into Amazon when they need a product without caring about the many...

Everyone knows that selecting the perfect e-commerce platform has been important for any of your online business, which is...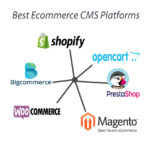 Every successful business needs such an essential thing as strong customer relationships. When it comes down to running a...