Google changed its flight searches to offer price insights, tracking notifications, and assurances to assist users in finding lower airfares. To assist users in finding more affordable flights using Google Flights, the company has added new tools and insights.
Google reveals that search results now include more details on historical pricing patterns, price tracking notifications, and a price guarantee badge in a blog post.
New Research Indicates Best Time to Book Particular Trips
For your destination and travel dates, Google Flights will now show insights on the historically cheapest booking timeframe. This enables you to determine whether rates are normally lower when making reservations earlier or later in the travel period.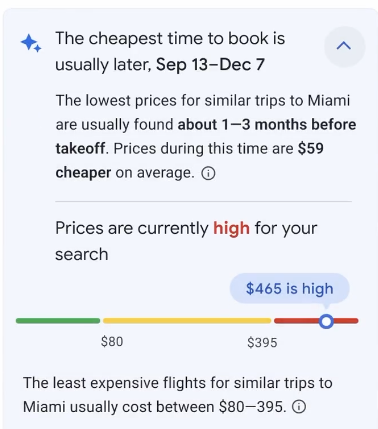 Users are informed if they are in the "sweet spot" for finding the best deal via the program. Which analyses historical pricing data. Because of this, choosing whether to make a reservation right away. Or to keep an eye on rates and wait for a better bargain is made easier.
2023 Booking Trends for Flights
Google has produced estimates for the flight booking trends for 2023 based on past pricing data. The advice from 2022 is still applicable, such as skipping weekend departures or booking a flight with a layover to save money. For Christmas flights and flights to Europe, there are noticeable differences.
For travel in mid-December this year, the cheapest prices will probably be obtained in early October. It has changed significantly from the 22-day window in 2022. To the current low price range of 54-78 days before departure.
The average cost of a flight from the United States to Europe is often at its lowest 72+ days prior to departure. Over time, especially within ten weeks of the departure date. American to European airfares have a tendency to rise in price.
Suggested:
CSV Files are Now Indexable by Google.
How Googlebot Handles Content Produced by AI?