During the last few years, there has been an interest among established bloggers in anonymous blogging so that the...

Many bloggers make their videos on YouTube. Through this, the blogger can help others as well as earn a...

Running a successful blog can be difficult, we agree. However, blogging is definitely something that can give your innovative...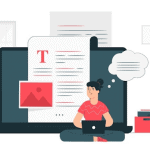 Being a great blogger sounds like the easiest thing in the world, but you need to invest a lot...

Social media is both contagious and essential business visibility! Brands and bloggers can't survive without sharing their products and...

Businesspeople, lawyers, artists, and authors may all seem like pretty different people with different ideas, focuses, and goals in...

It does not matter what niche you choose or if you focus on multiple areas since there are a...

Whether you are trying to build links and establish relationships for your brand/website or simply love writing, guest posting...

If you have a subject that you're passionate about and want to share your thoughts and ideas with the...