If you are a new writer or author who has just finished completing a book, this question "how much...
In 2021, search engine rankings should be the central part of any company's marketing strategy. Whether you run a...
Though few masses argue that there is no difference between a blog and an article at all and they...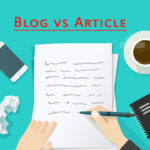 Running a blog is a great way to tell the world about yourself. If you approach it responsibly, you...
You always make Strategies to Increase Search Engine Optimization of Your Blog Posts. A few bloggers may imagine that...
A website is an assortment of related web pages. Nowadays, business owners, entrepreneurs, bloggers, and article writers mostly have...
Are you fed up with your daytime job and want to become a full-time blogger? You are being bored...
Guest blogging can be a very effective way for new and small businesses to reach a bigger audience at...
Content is one of the top driving factors to a successful online presence. If you've heard that 'content is...