Most of the time, both large and small scale businesses need to hire a website designing company in order...

Most organizations and suppliers currently sell an interface, yet why? It couldn't be any more obvious, Mobile phone applications...

Every business needs a website nowadays. It's a fact. Because you should be present online. Your offers must be...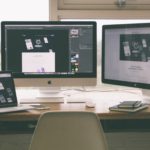 Imagine how effective it would be if communications taking place in organizations were as stimulating as a cup of...

Fonts have become a staple element and key component in many applications, including graphic design and data visualizations. Creating...

Dear Employee, 'Be who you are' -by Boss

Want to learn how to colorize your old picture without using Photoshop? Read this post and you will find...

Animated ad banners have become more common in the graphic design industry as more and more people interact with...

Tasking the time to make sure that your website design is right first time is important as this can...