Fintech marketing is a type of marketing focused on using technology to improve the efficiency and effectiveness of financial...
Digital marketing isn't going anywhere. What I mean by that is, it's going to be everywhere and will affect...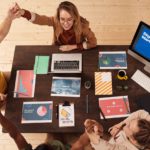 How Visual Marketing Works? A person's eyes are a direct guide to making a decision. A glance will have...
Let's face it. The logo of your business is a part of the brand design. It is just a...
Who doesn't want to promote his/her business online? If you are looking for some great ideas on how to...
How has your business been doing in the shadow of COVID19? This unpredictable period the world has been dragged...
In today's reality, information is perceived to be one of the most important tools in every field. The information...
Nowadays, most companies focus on having a global presence. Due to the advanced technology and a more interconnected world,...
The tradition of doing business has been in a transition since this decade. With the development of the internet...