Even if you have a clear idea of what you want the conclusion paragraph to say, do you know...
Writing is an essential part of any business, whether you're a marketing manager or the owner. Article writing can...
As a content writer myself, I can say with a high level of confidence that writing is an innate...
Ohh so you have chosen the technical writing niche. Good decision. Not a vast number of people choose this...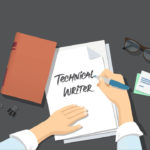 What is a ghostwriter? They can be hired by clients who have already known the ideas and information but...
Do you want to become a better writer? or do you want to hone your writing skills? Mostly, there...
To make money by writing an ebook looks like a lucrative option to earn. It's not as easy as...
UX and UI have been the center of discussion for quite some time now with companies using the terms...
Writing is an art through which you can communicate all over the world. It helps you to explain your...